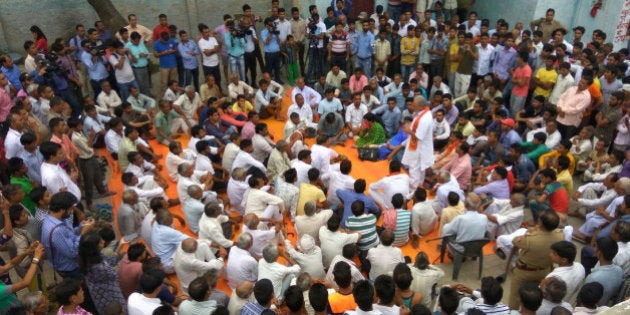 BISADA, Uttar Pradesh --When it was suddenly and violently thrust into the national spotlight in September, last year, following the gruesome lynching of a Muslim ironsmith, Bisada village intensely disliked what was said about it.
The villagers of Bisada spoke of Mohammad Akhlaq's murder as an aberration. Because the character of villages where Hindus and Muslims have lived together for generations are essentially secular, and it takes effort to turn people against each other, the villagers fought the communal taint, and blamed the incident on angry youth, personal enmity and other factors — anything but communal hatred.
It was Hindus who gave the land for the mosque here; we never had violence here even in the days of the Partition; we celebrate our festivals together—these were things that the villagers said then, partly to reassure themselves. They also attempted active mending. Hindus came together to organize the wedding of two Muslim girls. They wanted to believe, and also wanted others to believe, that Bisada was not a communal place.
Things have now changed dramatically in Bisada village, just over 50 kilometers from Delhi, in western Uttar Pradesh, where Akhlaq was murdered by a mob alleging that he had slaughtered a calf. There is communal hostility and unhesitant expression of it. Nobody is apologetic anymore. It is almost as if a slow metamorphosis had set in with the lynching, and over nine months, it is complete. It's now lurching towards a potentially violent flashpoint in less than 10 days.
The arrest and continued incarceration of 18 Hindu men, the compensation paid to Akhlaq's family ("a Hindu would never get such compensation") and a new report that said the meat sample sent for analysis (but not taken from Akhlaq's house) was that of cow or its progeny, have all served to vitiate the atmosphere, with help from politicians keen to foment trouble ahead of the all-important State Assembly polls in U.P. in early 2017.
Now, the Hindus of the village, organized by the families of the accused and political outfits, are demanding that Akhlaq's family members be arrested before 26 June. If the Samajwadi Party-led state government fails to do that, they say, they will do "whatever is needed" to secure "justice". As the day draws closer, Muslim families are living in fear and uncertainty. And under layers of politicized claims, hardly anyone seems to remember anymore that a man was lynched.
Even past goodwill gestures have become tainted by bitterness. The wedding of two Muslim sisters that the Hindu families came together to organize, is now dismissed by the Muslims as just "a big show for the media".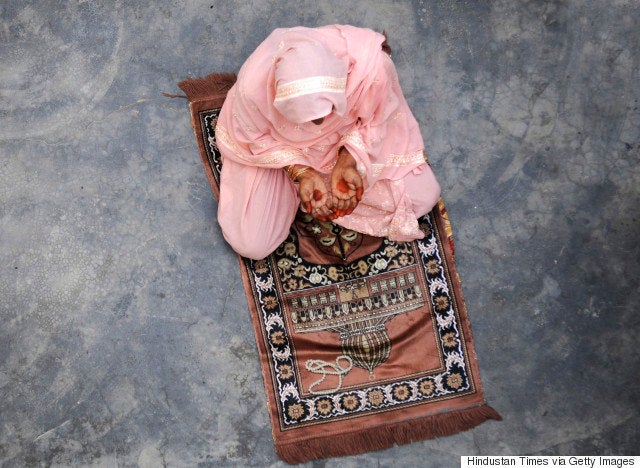 A Muslim woman pray in her home at Bisada village on November 10, 2015
WORK AND FEAR IN BISADA VILLAGE
On Tuesday, Rahimuddin, a carpenter, barely had time to talk since he had to finish work for two Hindu households. The same day, Sushma Sharma, a Hindu who lives in the next lane, came to ask his wife, who stitches clothes, for an extension on the payment of three items that she had given for stitching. "A rat has eaten up one piece, but she will have to pay for it. It isn't my fault that she left it here for so long," Rahimuddin's wife told me.
Hindus outstrip Muslims in numbers, money and power in Bisada. But Muslims are Bisada's lifeline, performing critical tasks, from welding and woodwork to tailoring and fitting bangles during weddings. Missing from their everyday interactions are the niceties and easy banter, which, as one elderly Hindu man put it, "used to come as naturally as the sunlight". Now, one Muslim woman told me, some Hindus "look the other way when you cross them".
Fifty-year-old Iqbal Khan talked about how Hindus and Muslims don't visit each other at home as often as they used to, and he expressed great concern about the anger he sees in the younger generation. "Those who are older still have a respect for the old times, but it is the young men who are angry and aggressive," he said.
It is the young men who are angry and aggressive.
Even though Hindus say that their fight is against the U.P. government and Akhlaq's family members, Muslims fear that the tiniest spark or confrontation could have deadly consequences for them as well. But most of them are poor and they don't have anywhere else to move their large families.
A Muslim woman, who requested that her name be withheld, said that her children have nightmares about violence erupting in the village. "They can't sleep at night. They are young, but they hear things, and they know there is danger," she said.
Rahimuddin wants to get his three daughters out of the village in case there is trouble, but he has nowhere to send them as they have already spent many months at their maternal uncle's home. His eldest daughter even refuses to step out of the house to feed their goats.
Like Rahimuddin, Khan also wants to get his female relatives out of the village. "Everyone has to die either today or tomorrow, but honour is everything," he said.
Everyone has to die either today or tomorrow, but honour is everything.
Not far from Rahimuddin's house lives an elderly Hindu woman, struck by paralysis and heartbroken over the arrest of her two sons for Akhlaq's murder. She believes that they are innocent. Except her neighbours, there is no one left to take care of her.
"You cry for the mother of Mohammad Akhlaq, but not for the mother of two Hindu boys," Rahul Rana, a 21-year-old resident of Bisada village, said to me. "But why would you have tears for a Hindu mother. You in the media are just as sold out as the police. You will always write in favour of Muslims and always against Hindus."
Rana then said that "anything, absolutely anything is possible" if Akhlaq's family members were not arrested by 26 June. "The murder of a cow is the same as the murder of a man," he said.
You cry for the mother of Mohammad Akhlaq, but not for the mother of two Hindu boys.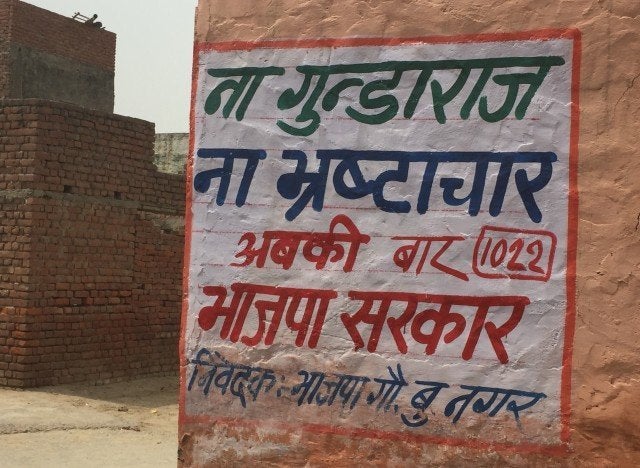 BJP slogan on the wall of Bisada village ahead of the 2017 U.P. State Election.
The grievance of the Hindus is that the police arrested the wrong 18 men from their village under pressure from the state government to appease Muslims. The Muslims say that they are holding out against pressure to make statements to get the accused men off the hook.
This tense situation is routinely exacerbated by right-wing Hindu leaders who bat for cow protection, express support for the families of the arrested men, and call for the arrest of Akhlaq's family members.
Some of the most vocal leaders expressing such sentiments belong to the Bharatiya Janata Party. Over the past month, BJP campaign slogans for the 2017 state Assembly elections in Uttar Pradesh have popped up all over the village.
At the same time, there also appears to be an effort to downplay the party's links or involvement. Sanjay Rana, the father one accused and the uncle of another, had in a previous conversation with HuffPost India spoken effusively about the BJP and its leaders. He was also widely reported at the time to variously be a BJP leader, a party worker, and the party's main pointsman in the village. Now, he is somewhat distant. "Everyone here votes for different parties," he said tersely when asked about his political links.
The murder of a cow is the same as the murder of a man.
While politics has played its part in this deepening mess, the state administration is not entirely blameless either.
There would be less grist for the divisive politician's mill, and for families of the accused to question, if the UP police had conducted a fair, competent and independent investigation.
The UP police first said that the meat sample they had lifted from the crime scene was goat meat, and then after many months released a report of a forensic laboratory test conducted in Mathura, that said that the meat was cow's. Chief Minister Akhilesh Yadav questioned the authenticity of the laboratory report, which was part of an investigation carried out by his own government.
While the U.P. government made no effort to conceal the preliminary report according to which the meat found in Akhlaq's fridge was goat, it did not reveal the findings of the Mathura laboratory test for months, arguing that the results had no bearing on the case. The report was finally made public after pressure from the lawyers representing the arrested men.
While it's true that the finding has no bearing on the murder case, this lent political ammunition to the murder-accused who argue that the state government was trying to protect Akhlaq's family.
Slaughter of a cow is an offence that carries imprisonment of up to seven years in Uttar Pradesh as well as a fine of Rs.10,000.
On Tuesday, Om Veer Singh told this reporter that the system was "biased against the Hindus", fighting back tears. He had just performed the last rites for his mother on Tuesday. His mother's condition had deteriorated after his son Sandeep, was arrested in the Akhlaq murder case. "She died with the name of her grandson on her lips," said Singh, tears streaming down his cheeks. "My son is innocent. He was suffering from malaria. He wasn't even in the mob that attacked Akhlaq. He was so sick that the police had to take him to the hospital even after he was arrested."
The 45-year-old spoke of how he had run from pillar to post trying to prove his son's innocence over the past nine months. "I waited in line to meet the CM for three days, but they turned me away," he said.
She died with the name of her grandson on her lips. My son is innocent.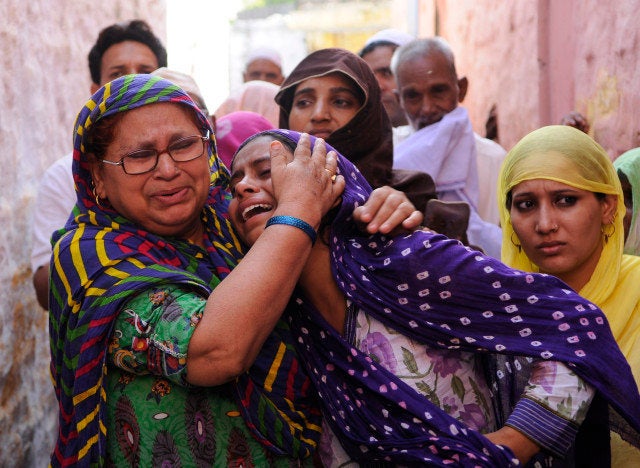 Family of Mohammad Akhlaq mourns during his funeral at their village in Bisada on September 29, 2015.
DO YOU REALLY WANT TO SEE AKHLAQ'S MOTHER ARRESTED?
Even though Hindus insist that their fight is against the "biased" UP government and Akhlaq's family, the fact that they also talk about "restraint" in the face of provocation is frightening for their Muslim neighbours because it suggests an impending flashpoint.
That could be as early as 26 June, the deadline set by the Hindu families for the arrest of Akhlaq's elderly mother, his daughter and his son Danish, who was badly beaten and sustained severe head injuries on 28 September. The family maintains that they ate mutton that night.
"We worship cows, they live in our hearts. Killing and eating a cow is prohibited by law in U.P. So why have his family members not been arrested, why have they been rewarded with huge sums of money?" thundered Sanjay Rana, who is at the head of the campaign to arrest them.
"Is there a separate law for Hindus in the country and a separate law for Muslims," said Rana, unleashing expletives against the U.P. government.
Is there a separate law for Hindus in the country and a separate law for Muslims.
Sitting in his courtyard, surrounded by court documents, Right to Information applications and newspaper clippings, Rana talked about how he was the first one to call the local police after the infamous announcement went out from the temple loudspeaker in Bisada that a calf had been slaughtered. Rana claims that he paid Rs15,000 for Danish's treatment when he was first rushed to the hospital.
"This reply to my RTI application says that I made a call to the police at 10:28 pm, just minutes after the announcement. Now, would I have called the police if my son was in the crowd. You don't think a judge will see that?" he said.
Rana is confident of getting justice in court, and meanwhile he plans to focus on getting Akhlaq's family members, who currently live in Delhi, arrested.
When this reporter asked him whether he really wants to see Akhlaq's elderly mother in jail, Rana said, "Your heart breaks for Akhlaq's elderly mother but not for Om Veer's elderly mother."
Your heart breaks for Akhlaq's elderly mother but not for Om Veer's elderly mother.
So what would happen if Akhlaq's family members were not arrested? He said that lakhs of Hindus would gather from the surrounding villages at a moment's notice, and "they would do everything required for them to get justice."
Waving off my interjection that the state authorities would never allow such a huge gathering in such a volatile atmosphere, Rana said: "You haven't seen the true strength of a Mahapanchayat yet."
Rana claimed that the protests will remain non-violent, but the younger Hindu men in Bisada village sang a different tune.
"If we need to resort to violence to get our rights from this anti-Hindu government then it is because we have been left with no choice," said Rahul Rana, whose friends are among the arrested.
"The boys they have arrested have gone to school, college, had good degrees or were giving entrance exams to get good jobs. Does this government give a damn about their future? No, they only care about the Muslim family, who they are protecting even though they have broken the law," he said.
Both Sanjay Rana and Rahul Rana (unrelated) dismissed the possibility that some Hindus in an angry mob of tens of thousands might target Muslims.
Pointing across the street from where we were sitting, Rahul Rana said, "Do you see those three boys sitting over there. They are Muslims. They are sitting in front of a Hindu door and no one is telling them to leave."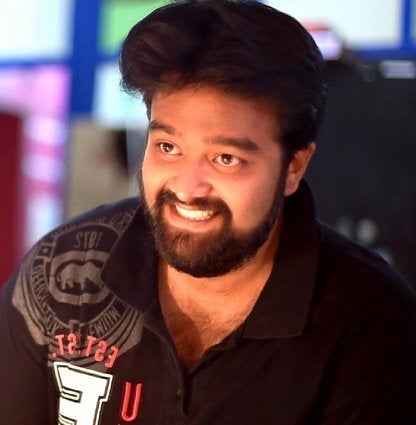 21 Queer Indians Recall The Exact Moment They Came Out To Their Parents