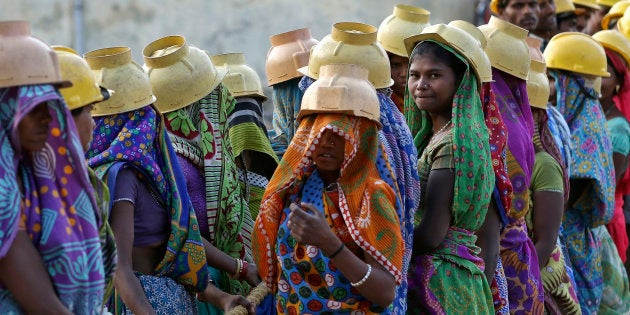 The fact that women's participation in India's workforce is miserable, possibly fails to shock anyone anymore. From India's own census data and government surveys to studies conducted by various agencies, it has been firmly established that there's a very long way to go before as many women start working in India, as men.
Findings of the National Sample Survey (68th Round) results indicated that in 2011-2012, 24.8 of every 100 women worked in rural areas. The corresponding number when it came to men was 54.3. Women's participation was drastically less in urban areas. To every 54.6 employed men, there were just 14.7 working women.
Now, an article published in The Indian Express reports that the participation of rural women in the workforce has fallen sharply in India. It says, that compared to 49% in 2005, only 36% rural women were found to be a part of the workforce in 2012.
Pointing out why that's a matter of serious concern, the article notes: "This is a matter of concern as women's paid employment is known to increase their ability to influence decision-making within the household, and empower them more broadly in society as a whole."
The sharp decline in the number of working women in rural areas, the authors of the article say, is because of the dwindling number of jobs suitable for them. Women in rural areas, who are mostly burdened with responsibilities of running the home and taking care of the family, found it convenient to do part-time jobs near their homes. And the most preferred form of employment would be farming related jobs. "However, the number of farming jobs has been shrinking, without a commensurate increase in other employment opportunities. Our research suggests that more than half of the decline in female labour force participation is due to the scarcity of suitable jobs at the local level," the article observes.
An article published by the International Labour Organisation in 2013 commented that unequal employment of men and women is a pattern that dominates a majority of south Asian countries. According to the ILO, while 80 percent of men in South Asia had been recorded to be employed or searching for jobs, only 32 percent of women seemed to be doing the same.
Steven Kapsos, economist with the ILO, said, "Despite very rapid economic growth in India in recent years, we're observing declining female labour force participation rates across all age groups, across all education levels, and in both urban and rural areas."
The ILO report also observed that the reason behind the decline of women's participation in the workforce in India could be the result of the fact that there are just a handful of sectors that employ women. Also, there are only certain jobs that women get societal approval to do.
"Women in India tend to be grouped in certain industries and occupations, such as basic agriculture, sales and elementary services and handicraft manufacturing," the report states. It adds that these sectors have not seen employment growth, putting a 'brake' on women's participation.
A New York Times op-ed, published in 2015, tried explaining this absence of women from India's work force. "Much of the reason they don't work appears to lie in the persistence of India's traditional gender norms, which seek to ensure "purity" of women by protecting them from men other than their husbands and restrict mobility outside their homes."
The article concluded with suggesting effective policy reforms. The ILO suggested that Indian needs an anti-discrimination policy in place, allowing women to have access to more jobs. It also said that working conditions of women need to be improved in order to increase their participation.
Popular in the Community