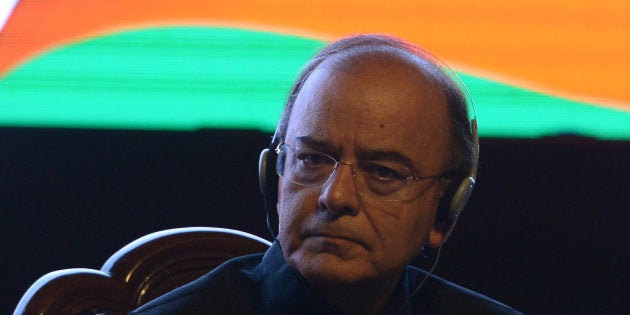 You have got to either admire or worry about the level of frankness Finance Minister Arun Jaitley just brought to the Parliament explaining his rationale behind why the government is letting companies including foreign funded ones to anonymously donate to Indian politicians.
On Wednesday, Jaitley candidly admitted that the new political funding rules that seek to remove restrictions on company donations to political parties are a win for both politicians and companies.
Far from explaining why the government took the step -- that clearly undermines its claim of creating transparency in political funding or how it benefits the general public -- Jaitley said the move will actually help expand the donor pool for political parties, and indicated that opposition politicians should rather thank him for it.
Under the new rules, the government has removed the cap -- currently 7.5 per cent of net profits for the past three years -- and done away with the requirement they disclose which political parties have received the contribution.
Instead of seeing the potential dangers of outside influence in Indian politics, Jaitley was quick to point out that the government last year also made it easier for foreign-funded companies to donate by making changes to the Foreign Contribution Regulations Act (FCRA) 2010, removing earlier restrictions. Many foreign funded companies that operate in India have been barred from donating to Indian political parties so far, Jaitley said, but this will open the door for them to do so, thereby expanding the "constituency of donors."
What companies want
By granting anonymity, the government wants to help donors who "fear consequences," Jaitley said, reminding other Parliamentarians that many political donors have been "reluctant" to donate because of fear of disclosing their identities and claimed that is the main reason why even cheque donations haven't worked.
The new rules would allow companies as well as other donors -- via the proposed 'electoral bonds' -- to donate freely. He has also openly challenged the opposition by saying they could choose to continue to take contributions via just cheque and see how many people would be willing to donate.
"We were restricting the constituency of donors," he said, stressing that donor restrictions only work to increase the temptation for them to make cash contributions, rather than make an "official payment."
In a rare display of bi-partisanship, Jaitley also attempted to woo the opposition by making them see the obvious self-interest in all this.
"The ruling party has to be large-hearted to really frame a scheme ...under which people would be, without fear of consequences, willing to give [contributions] to somebody who is not in power," he said.
Foreign funding apparently only a concern for NGOs
The changes to the Foreign Contribution Regulation Act 2010 go back to last year when the government allowed foreign companies to make donations to political parties, outside the usual scrutiny that non governmental organisations (NGOs) are put through.
Since coming into power, Modi government has led a relentless campaign cracking down on foreign-funded NGOs alleging nefarious activities that are against "national interest." The government has barred at least 14,222 NGOs from receiving foreign funds in the past five years under the FCRA rules.
The retrospective changes to the FCRA, in themselves, remain a huge concern, especially as the government is currently held in contempt for failing to take action on a court order dating back to 2014 when the Delhi High Court ruled that both the BJP and Congress party were guilty of receiving foreign funding from the UK-based mining company Vedanta Resources Plc. and its subsidiaries, violating FCRA rules.
Elsewhere, there are numerous examples when unrestricted and unregulated company donations to political parties have led to undesirable governance outcomes. In the US, for example, the National Rifles Association, a body representing gun companies, wields substantial influence over several members of the Republican Party, who have repeatedly blocked legislation that seeks to restrict gun ownership, despite increasing gun-related violence in the country.
Despite his repeated assurances of cleaning up political funding, Jaitley's candid explanation in the Parliament tells us more about where his priorities lie. By choosing to not even address the concerns of civil society, he made it abundantly clear that the changes in law are not for them and the concerns of the public don't matter.
At worst, complete anonymity can mean that potentially huge sources of corruption and power will forever remain outside of public view.
Popular in the Community