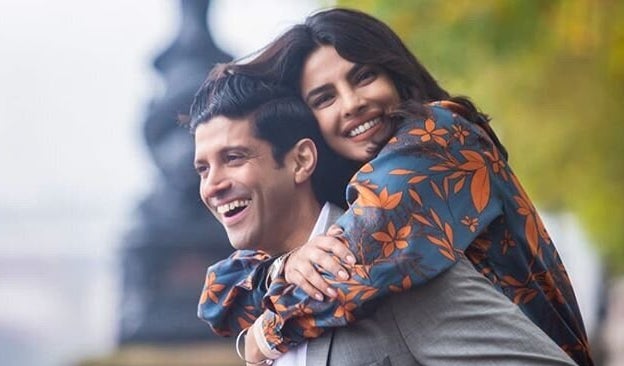 In Reema Kagti's Talaash, a middle-aged couple face insurmountable grief after their only child dies in a freak accident. The death, like most deaths often do, rips their marriage apart and despite sincere attempts to infuse life into the void that stares at them everyday, the ghost of their shared past and the hold of death over life is too overbearing for love to sustain itself.
Also about a couple whose marriage begins to disintegrate after their child is diagnosed with a rare disorder, things are less cynical in Shonali Bose's aching, The Sky is Pink, a movie that's the cinematic equivalent of visiting a therapist. As you lay in the recliner, allowing yourself to be quietly vulnerable, the film reflects and then recognises your pain, leaving behind a trail of hope.
It's a movie that understands and breaks down the specifics of grief, unravels the lingering agony that trauma leaves behind and argues that the fragility of life is precisely what makes it so precious.
It's a happy film about unbearable sadness; a film that has characters who smile while fighting tears, and cry while holding back their laughter. It's a film that pierces the soul, rips the heart apart, and then gently pieces them back together. And it does so with a rare tenderness, a gentle touch that nurses aching wounds by turning them into little specks of strength.
The result is astonishing: you come back feeling a little more alive, euphoric and giddy with warmth, the kind that only a profoundly fulfilling cinematic experience can inspire.
Based on the true story of 18-year-old Aisha Chaudhary, who died of pulmonary fibrosis, a complication she developed later in life as a side effect of a bone marrow transplant she underwent as an infant.
The Sky is Pink recreates and celebrates the life of the teenager and the lengths her parents went to, to shelter their child from a crippling illness. Farhan Akhtar plays Niren, her father; Priyanka Chopra, her mother Aditi, and Zahira Wasim their teenage daughter, Aisha.
The film, it's established early on, doesn't look at death as something that exists in opposition to life, but an inevitability that must be passed through and embraced. In a scene featuring Rohit Saraf, who plays Aisha's younger brother Ishaan, the film also entertains the idea of death as an extension of life, where everybody still exists together.
With a running time of a little over two hours, it's surprising how much The Sky is Pink cramps in. Over the two hours, the film captures the romance and hardships of Niren and Aditi as they struggle to raise money for Aisha's treatment in London, their relocation to Delhi and Aisha's teenage years, and finally, the penultimate months leading to her death. The film has a dramatic colour pallette: London's winters look ominous, the city's red tubes and phone booths popping out as signages of gloom in frames composed mostly of depressing greys. The frames (and the character wardrobes) light up as the film's mood progresses to become more cheerful, with dramatic reds, purples, and yellows illuminating the screen.
Writers Juhi Chaturvedi (Piku, October) and Nilesh Maniyar (Margarita, With A Straw), along with Bose, work on a tight screenplay that's designed to emotional precision: just when your eyes swell up, the film releases the tension by throwing in a lighthearted dialogue (a reference to Modi is especially funny). It's a consistent pattern that saves the film from the horrors of melodrama, a territory which The Sky is Pink mercifully avoids. Instead, it focuses on moments of vulnerability that capture the happy-sad moments of the human experience. Sure, the dark shadow of death looms large over the film's bubblegum-wrapped, glossy universe, but Bose is conscious of ensuring that the film remains a tribute and celebration of Aisha's life rather than a disturbing reminder of her untimely death.
Which is why even in the film's most difficult moments, not a single character, despite being from Delhi, exaggerates or overplays their emotions, but channels it to a place of humour and subtlety. They talk. And when they don't, the silences do the talking. This isn't to say that The Sky is Pink romanticises a terminal illness to make a commentary about how shallow we, the ones with the largest quota of life, are. Nope. Instead, it exposes are own unpreparedness towards death and eventually makes a case for collective healing as a way to exonerate our internalised pain.
Two of the film's most memorable scenes include a dramatic fight between Chopra and Akhtar's characters in a hotel bathroom; another when Chopra's character suffers from a psychotic breakdown. Both scenes - like most of the film - feel like realistic iterations of familiar domestic disquiet. The film has several meta moments too, including a climactic video, which oddly aligns with Wasim's recent decision to quit acting. There are other references, like when Aisha compares her father to ace sprinter Milkha Singh or enacts a dialogue from her second film, Secret Superstar.
While it's simply extraordinary how fantastic Zahira Wasim is in the film - a supremely confident performer whose scenes appear as if they're stolen from her childhood VCR, the film is Priyanka Chopra's show.
Chopra has always been a competent actor, often pushing herself to do roles as varied as Jhilmil in Barfi! and Susanna in Saat Khoon Maaf. But in The Sky is Pink, she carries the energy of a spinning top: firm but a moment away from collapsing. This is an artist at the peak of her craft. She switches gear with effortless ease: one minute she's a helicopter parent, another minute, a hauntingly vulnerable mother. There isn't a single false note here. It's possible that Chopra, like Bose, channeled her personal grief (of losing her father) into the role and the result is a a performance that's hard to look away from.
Farhan Akhtar, who has the perfect mould for the quintessential urban Dad, sinks his teeth into the role of a father caught between projecting strength and managing his vulnerabilities, keeping a smile on his face while containing a bursting dam of tears. It's a measured performance which solidifies Akhtar's standing as an actor.
In making a film about life and death, Shonali Bose has captured everything that exists between it. It's a film that quietly dwells into the invisible yet painful cracks where grief firmly resides, draws it out with affection, and then allows it to just be.
The soul may be ruptured and in darkness, the heart blue with hurt, but the sky the eyes see, that must always be pink.