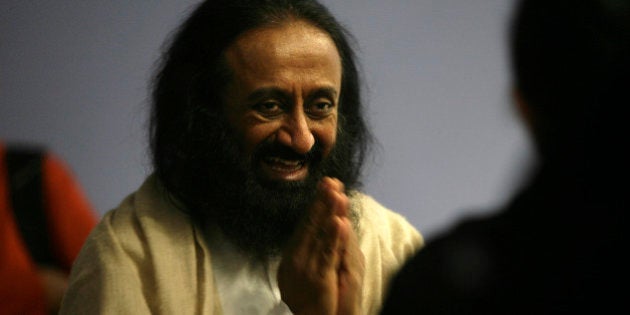 We are a country sorely lacking in perspective. While some of us have been up in arms about the "subsidized" PhD students at JNU, the Indian army has been mobilized to build pontoon bridges for a private event for a spiritual leader. Many of those who have been vociferous about the audacity of a Kanhaiya Kumar raising slogans while enjoying a tax-payer funded education, have been meekly silent about taxpayer money being used to have the army pressed into service for Sri Sri Ravi Shankar's private event.
The World Culture festival organisers had pressed the army to build five pontoon bridges for access to the festival site but had to be content with two. Those who froth at the mouth about the soldier serving in Siachen to guard our rights while anti-nationals callously raise slogans in universities have nothing to say about this. As Rajyasree Sen writes in NewsLaundry: "One would think that the dismal conditions in which they have to protect our borders are bad enough. Now they have to lug construction material around to build bridges for a spiritual guru's private celebrations? Forget any politician speaking up about the misuse of the army, the event is going to be inaugurated by Prime Minister Narendra Modi."
The World Culture festival is supposed to draw 3.5 million people from 155 countries over three days for Art of Living's 35th birthday. Make that 3.5 million minus one since President Pranab Mukherjee has decided to skip it after the bad press though the Prime Minister will grace the ceremony. The National Green Tribunal has already recommended a fine of Rs120 crore. Many of the farmers who have been forced to move, complain about the compensation offered and are aggrieved that standing crops have been mowed down. And now the army has nothing better to do than act as bridge-builders for Art of Living.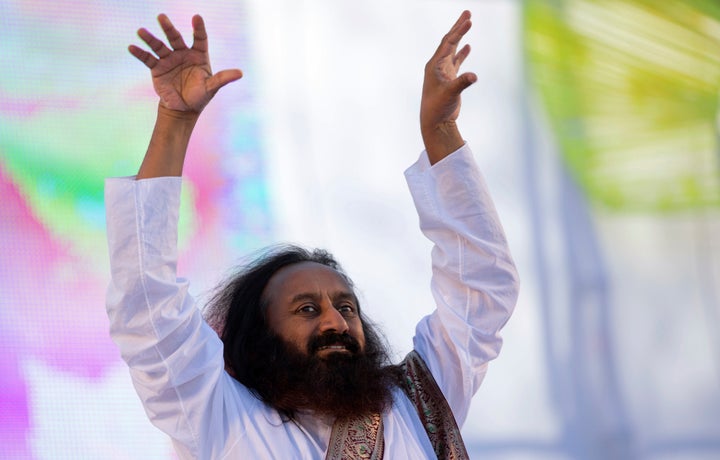 (Founder of Art of Living Foundation Sri Sri Ravi Shankar leads a meditation with thousands of participants in Buenos Aires, Argentina, Sunday, Sept. 9, 2012. (AP Photo/Natacha Pisarenko)
Is Sri Sri Ravi Shankar at all embarrassed by this controversy? Not at all. On the contrary, he has decided to brazen it out. "The Art of Living should be lauded and rewarded for even choosing such a polluted place for a prestigious national event," he tells Zee News.
Excuse us, but why is AOL's birthday party a "national event" anyway? As is usual in such cases, he claims all opposition to the event is "biased". He insists the event is actually generating awareness for an eco-friendly system. He makes no mention of the 405 hectares of riverbank that will be occupied. Or of the 650 portable toilets that present a waste management challenge. Or of the pollution that will be caused by the immense traffic generated by these 3.5 million people.
But DDA tells India Today that while they had granted AOL only 60 acres of vacant land, they took over 150-200 acres including agricultural land. Even if the land is returned after the festival, farmers say it will take months to soften it for cultivation. Is this what AOL means by its claim to a "Holistic vision" where "The Art of Living transforms societies by instilling a vision, making role models, promoting a sense of community and giving people a voice".
What's even more tragic is though a petition has been moved by the Yamuna Jiye Abhijaan, it is probably too little too late. Since the extravaganza is scheduled for this week, a committee set up by the National Green Tribunal says "since extensive and severe damage has already happened, simple stoppage of the activity and removal of all that has been done at this juncture may not serve much purpose." At best a fine might be imposed on AOL but once the stage is dismantled and the crowds are gone, who will follow up on that either? What's even more galling is the AOL website makes pious claims about its "accountability model" which provides "post-impact analysis reports" and its "sustainability model" for its projects.
This leads to a more troubling question. Where was the media in the months leading up to the event being planned for right in the nation's capital? We have woken up way too late. Why is the environment minister not being grilled on this? Did environmental impact laws give this a pass because it was a "temporary" event? Sri Sri Ravi Shankar has friends across the aisles. His relatively progressive views on social issues like homosexuality makes him a liberal favourite as well. The Modi government just honoured him with a Padma Vibhushan. Unlike Baba Ramdev, he courts far less controversy and has so far had a good run of public opinion.
There are millions of people who have claimed benefits from Art of Living programmes. It has touched the lives of over 370 million people claims AOL's website. AOL is huge. We know it already. Did it need the "world's largest peace ensemble" to underscore that point? But then we have become a culture that lives by the dictum "bigger is better."
Thus we want the world's biggest Yoga day celebration. We want to build a gargantuan 600-foot, Rs2,500 crore statue of Vallabhbhai Patel, a man who was 5'5" in real life. And Sri Sri Ravi Shankar wants the mother of all celebrations to celebrate his organization's 35th birthday. It is the art of living irresponsibly, contradicting many of the laudable goals on his own website.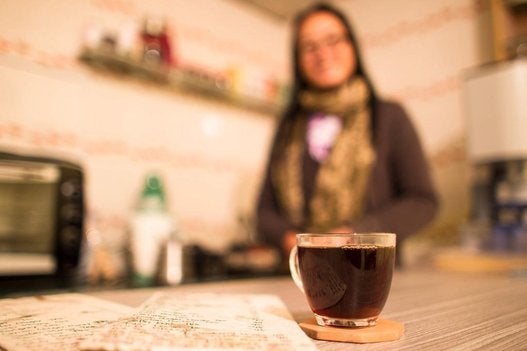 7 Must-Visit Restaurants In McLeod Ganj
Popular in the Community