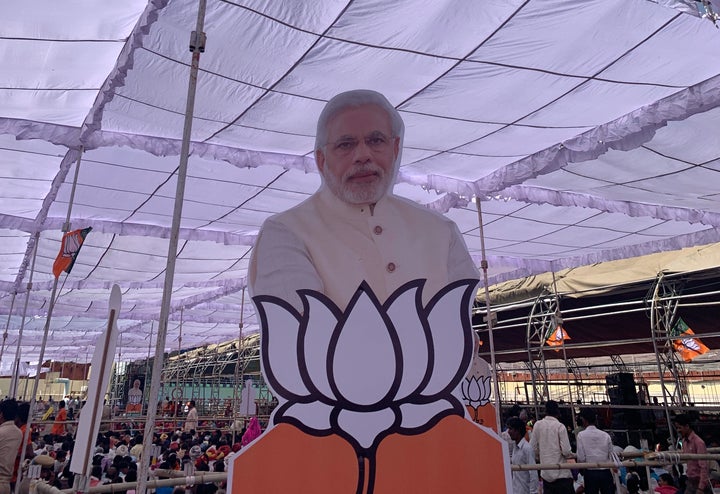 On the way to the Gandhigram grounds in Udaipur, Umesh muttered furiously under his breath. The Uber driver, all of 29 years old, was upset because his driving gig was preventing him from attending Prime Minister Narendra Modi's rally.
"There's only one man who's cleaning this country and that's why the media is framing him with false charges like Rafale," he said, catching me by surprise (I hadn't told him I was a journalist). "And don't misunderstand me, I'm not a blind BJP supporter. I didn't like Vasundhara Raje because she didn't do anything for the state. But Modi, he's bombing our enemies."
We may be in 2019 but fans of Gadar: Ek Prem Katha are still aplenty (maybe that's good news for Sunny Deol?).
Umesh, who said he gets his information from a WhatsApp group that shares "positive videos" about India, set the tone for the rest of the evening, where Modi and other BJP leaders took to the pulpit to deliver chilling messages containing gleeful threats of violence (to Pakistan of course, what did you think?) and twisted references to chest-beating dialogues from jingoistic Bollywood movies.
Udaipur, a city of about half a million people, will vote on April 29. The BJP, which lost the 2018 assembly elections in Rajasthan to the Congress, has been aggressively mobilising support in India's largest state by area, which sends 25 lawmakers to the Lok Sabha.
At the rally itself—Rajasthan police officials estimated some 50,000 people had turned up—the mood was similarly charged. Hyper-jingoistic rhetoric about nationalism dominated the evening to loud cheers from the audience, mostly elderly people from nearby villages such as Badgaon, Chandwas and Dadiya.
Not all of them had turned up because they were undying Modi supporters though.
An old man who had travelled from a village some distance away said he didn't care about BJP or Modi but had come because he was asked to by the village sarpanch.
"They sent a jeep and I was told to get into it. Several jeeps left from our village with about 10-12 people in each," he said.
It was a scene that would have fit right into Peepli Live, the 2010 political satire produced by Aamir Khan.
Several turbaned locals peppered the massive maidan, some as old as 86, braving the sweltering heat. More people told me that they had been brought by their village heads. Skin glistening under the harsh sun, the villagers looked distraught, and sounded disillusioned.
"We are merely a collective of mere vote banks, who'd be forgotten once the circus of election is over," a young man, Santosh Singh, part of a group of daily wage workers, told me.
If this was a '70s Prakash Mehra movie, the collective would've been led by an angry young man who'd swear to fix the system.
But it's 2019 and we are angry young people, sure.
The women were in a separate enclosure, mostly wearing ghoongats and colourful saris, making the place look kaleidoscopic.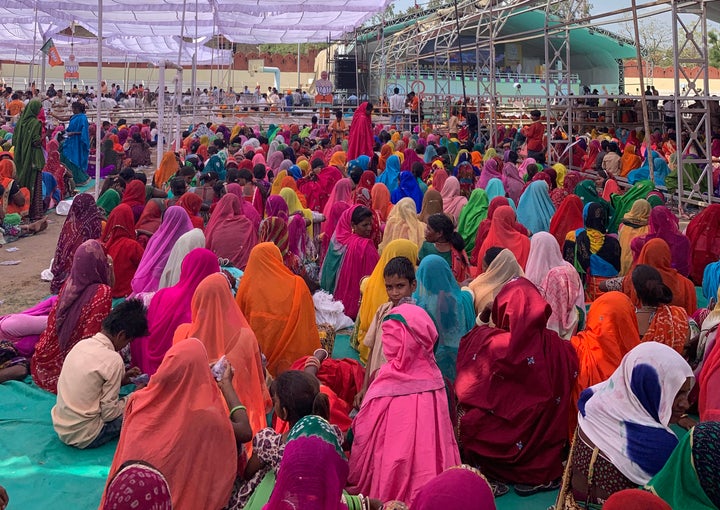 When I ventured close to ask some questions, a policeman stopped me, asking, "Ladies mein baithega ka?" ("Will you sit among the ladies?").
Walking around the ground, it was apparent that every enclosure had a gaggle of BJP volunteers, dressed in those familiar bright orange tees with Modi's photos and the declaration of 'NaMo Again'. Matching bandanas were wrapped around their heads.
The stage was occupied by various local BJP leaders. Whenever a politician said something on the lines of "Bhajpa Zindabad", these volunteers screamed the loudest. The locals were too tired to participate in the spectacle, although they'd let out a cheer sporadically.
The run-up to Modi
Modi had been expected by 4.15 pm, but was late. In the meantime, local politicians took turns at the mike, often muttering sheer nonsense to hilarious effect. A BJP politician went up and sang in an indecipherable tune: "Mewar ki paanch seat humari jholi mein bhardo, bhardo..."
The men, women and children stared back without expression—if you were looking to make a Jaane Bhi Do Yaaro for our times, this would be fertile ground.
Ratan Singh, a 34-year-old who runs a stationery shop in Udaipur, said that, contrary to reports that small businessmen had suffered over the past couple of years, he wanted Modi to win again. "He has bought transparency to the system. As a small-time businessman, GST has made my life easier."
Singh cheerfully sacrificed others to the larger good, saying, "Some have to suffer for the well-being of the nation."
Allegations of corruption, poor governance and caste-based violence were all "media propaganda".
"A BJP politician went up and sang in an indecipherable tune: "Mewar ki paanch seat humari jholi mein bhardo, bhardo...""
Among the attendees who had come of their own will, this was a shared sentiment.
Roshan, a 38-year old laundry worker from the SC community, said that the BJP had given him electricity and internet.
"My village is spread across a hill stretch where it's very difficult to install electricity poles. But BJP made it possible. I also use online banking thanks to their digital push."
All this while, politicians kept taking over the stage, drawing cheers whenever they yelled a nationalistic slogan.
Every speech began with "Bharat Mata Ki Jai", "Vande Mataram" and "Modi Hai To Mumkin Hai."
After an hour a pattern had emerged, one that was followed by Modi when he finally arrived. The politicians would begin talking about the achievements of BJP at the state level—laying roads, electrification of villages, installing gas connections—but soon enthusiastically expand upon their main point: bombing the enemy.
Arjunlal Meena, the sitting BJP MP from Udaipur, went on stage theatrically and boasted about how there had been "no terrorist attacks" in the past five years (a brazen lie).
"And if at all somebody got training and attacked, Modi made sure he didn't go back alive."
Meena reminded me of the sidekick who exists in a commercial potboiler solely to prop up the hero and cover up for his many follies, kind of like Gaggy to the Joker.
"You may have heard that our Army men were attacked. But Modiji wasted no time. Within a month, he took revenge. He went inside Pakistan and took revenge," he said, an apparent reference to the Balakot air strike.
The cheers, one could tell, mostly came from BJP's youth volunteers who were strategically spread across the maidan, dropping water packets randomly at the crowd and waving Modi cutouts.
"ARREY dena hai bhai dena hai, Modi ko vote dena hai," Meena chanted.
One thing was clear — whoever took centre-stage, the focus was always on one man, Modi. From old to young, Modi was omnipresent through the many cutouts. In the rally, a young boy stood next to a Modi cut-out with a Modi mask in hand, the imagery eerily reminiscent of Jordan Peele's Us, where a group of people are haunted by their own doppelgangers.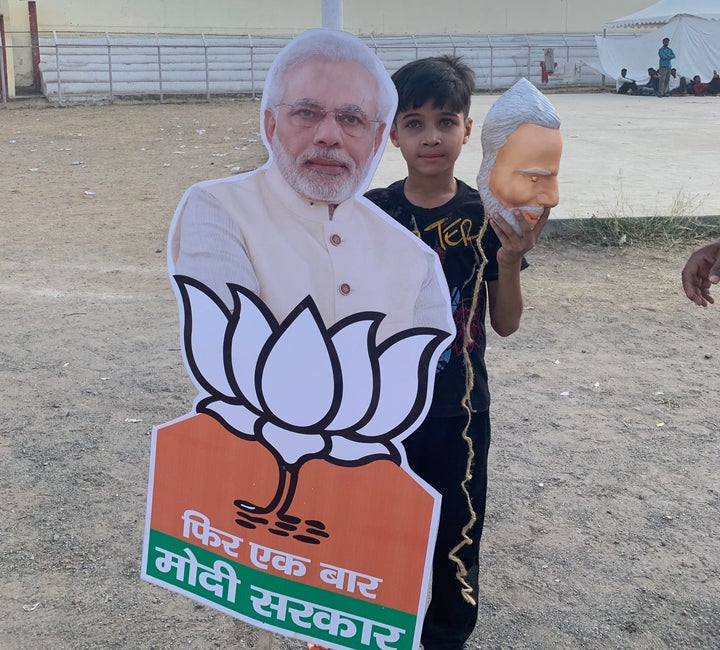 Reel-life inspiration
And when he arrived, a little after 5pm, a collective euphoria took over the crowd. Almost everyone stood up in unison to catch a glimpse of him, some jubilantly raising Modi posters where he's seen rising from a lotus, BJP's symbol.
After reciting a rehearsed greeting in Marwari, Modi spoke about the significance of first-time voters and about getting back financial fraudsters who had escaped the country. "They won't be able to sleep comfortably," he promised.
"The earlier government was lending to their billionaire friends by putting pressure on banks; We are paying the poorest of the poor under Mudra scheme without a guarantee to our tribal brothers and sisters," Modi said.
And then, following the script, Modi segued into rhetoric about soldiers martyred at the border, strategically juxtaposing it with the bravery of Rajput king Maharana Pratap. Just some casual local context.
Throughout his speech, Modi kept referring to himself in third person.
It was a tired script that rested purely on delivery. But it worked and he knew it worked. Men around me, passive at the mention of gas connections, electrification and subsidies, would suddenly spring to life at the mere mention of Pakistan. Throw in some references to the opposition demanding saboot of "our sapoot" (proof of our martyrs, referring to the purported death toll from the Balakot air strikes), and a veritable jingoistic party began on the ground.
That 2013 EC order asking political parties to "exercise great caution while making any reference to the Armed Forces in their political campaigns"?
And how can any reference to Pakistan be complete without this season's flavour, Uri?
"Mewar ka josh kaisa hai?" he thundered.
The opposition's complaints about politicising the Armed Forces? Modi has an answer to that too.
"They say I shouldn't talk about nationalism and terrorism. They can persuade others, but Modi? Not Modi...." he said, his trademark drawl stretching half a second more than usual.
"Of course national security should be talked about. Why not? These aren't Udaipur municipality elections, these are national elections. Congress ruled for 60 years and they don't even know what issues people care about," he said, taking a dramatic pause.
Modi, it seemed, had saved his best line for the end, another reference to Uri.
"Modi….(dramatic pause) ghar mein ghus ke maarta hai," he said.
It was an evening of radical right-wing rhetoric but this one sentence drew the loudest cheers.
It was the kind of low-key vitriol you'd imagine Amrish Puri delivering in Nayak, the 2001 Anil Kapoor-Rani Mukerji starrer.
Ironically, Modi's comment could have embodied many things: every act of violence faced by minorities and Dalits, attacks on intellectuals and journalists, lawyers and activists and subversion of democratic institutions.
And the Prime Minister, who takes pride in never having held a press conference in his tenure, seemed to think that overwhelming 'ayes' from a crowd comprised of his supporters was more than enough.
"Modi sahi raastey pe hai? Modi sahi hai na? Aap khush to ho na?"
"Mumkin hai," the crowd erupted.