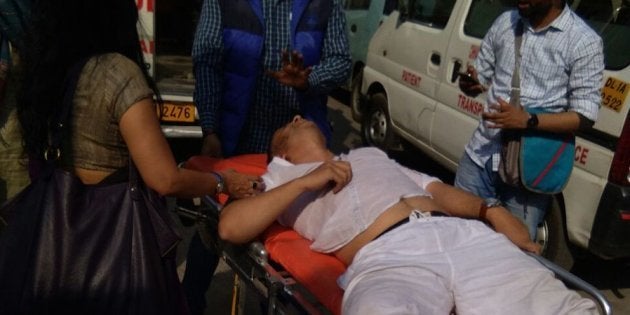 All of last evening there was shock and anger surrounding a particular image that social media users kept sharing - that of Delhi University professor Prasanta Chakravarty, half-lying on the ground, dazed and disoriented, his shirt torn, and a patch of dirt on his face, as mayhem continued all around him on the campus of Ramjas college in the northern part of the national capital.
An attempt was allegedly made by suspected members of the Akhil Bharatiya Vidyarthi Parishad (ABVP) to strangle Chakravarty with his own muffler. He was attacked from behind, pushed to the ground, kicked and beaten up.
"I am deeply anxious about my colleagues and students in this rapidly unfolding scenario. My physical health condition apart, it is obvious to everyone that it is a far better idea to organize systematically, rather than being martyrs, against a powerfully organized force which also enjoys full state support," he said.
Twitter and Facebook are awash with accounts of violence, documented mostly by journalists who were covering a march led by the SFI and All India Students Association (AISA), from Ramjas College to the Maurice Nagar police station, to demand action against the ABVP for disrupting a seminar series at the college a day earlier because JNU activists Umar Khalid and Shehla Rashid were invited to it.
Telegraph reporter Pheroze L. Vincent, who was present at the march, had this to say:
"When the march began despite the violence, this reporter saw several marchers being cornered, dragged away and thrashed by groups led by DUSU president Amit Tanwar, vice-president Priyanka Chhawri, general secretary Ankit Sangwan, RCSU president Yogit Rathi and other ABVP leaders. 'Maro, AISA wala hai,' yelled Yogit as he and his supporters punched JNU student Aman Kumar and this reporter at the Ramjas bus stop.

When this reporter identified himself, Yogit apologised. 'We did not want violence,' he later told this paper. 'But this will continue as long as the communists try to turn DU into JNU. Anti-nationals and their slogans won't be allowed here.'"
A man was seen at the scene, clutching a bloody handkerchief to his head, after being injured in the stone-throwing, allegedly by ABVP members.
Rashid said she was grabbed and dragged by the goons.
Quint journalist Taruni Kumar's phone was snatched and smashed when she started a Facebook Live event from the campus. Hear her recount the horror:
Associate Editor of Catch News, Aditya Menon, tweeted that women were assaulted at the college right in front of his eyes. "I intervened and was assaulted. If that's partisan, so be it," he tweeted.
The violence at Ramjas is a haunting reminder of the protests at JNU last year and the arrest of JNU Students' Union President Kanhaiya Kumar by the Delhi police under sedition laws. Yesterday's protests are also indicative of the growing clout of the right wing in higher academic institutions, considered temples of free thought and learning.
Khalid had to cancel his participation at the 'Cultures of Protest' seminar after threats from ABVP, a group mandated to peddle a new, aggressive and conformist version of patriotism at colleges, and brand anyone diverting from it as an "anti-national."
"Universities are supposed to be safe spaces for debate and discussion. But the events at Ramjas College are a shameful reminder of how intimidation and threats continue to restrict free speech on university campuses," said Aakar Patel, Executive Director at Amnesty International India, in a statement.
No one was spared in yesterday's violence. Teachers who rushed to save their students were thrashed, students came under a shower of stone-pelting, and police lathi-charged indiscriminately. The ABVP, in TV interviews last evening, have denied their role in any violence.
"ABVP members attacked us with stones. Police remained a mute spectator while we were beaten up mercilessly. At least a dozen of us have been taken to hospital. The ABVP doesn't believe in freedom of speech," Kawalpreet Kaur, a member of the All Indian Students Association, told the Hindustan Times.
In a chilling repeat of the sequence of events in JNU, during which it was alleged that students raised anti-India slogans that sparked the ABVP protests, Satinder Awana, former DUSU president and ABVP member, said at Ramjas too "slogans for Kashmir's azaadi were heard". "We won't let DU become JNU," he told the paper. It was later established that not JNU members, but outsiders, had raised those slogans that led to a protracted fight for freedom of expression at the campus.