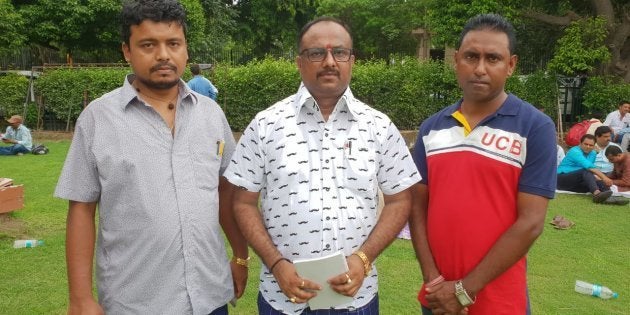 Over the past nine years, Aabhijeet Sharma has made roughly 50 trips to the Supreme Court of India from Guwahati, following up on a petition that demands at least 40 lakh residents of Assam be declared stateless, be stripped of civil rights and struck off the electoral rolls. The publication of the second draft of the National Register of Citizens (NRC) in Assam, which has put approximately the same number of people under the state scanner, has come as a sort of validation for the 44-year-old businessman.
On 20th July, 2009, Sharma moved the Supreme Court with his petition and in 2014, based on it, the apex court ordered the Centre to publish the draft of the NRC by 31 January, 2016. Work on the NRC had stalled in 2010 and resumed after the court pushed the Modi government in December, 2014. The hearings for the case is still on, and in 2013, the court told Sharma that a decision will be taken on revising the voter list once the NRC is published.
The people who have not made it to the list will have to furnish another round of documents to prove that their families have been residents of Assam before 25 March, 1971. The fate of the people who won't be able to prove citizenship as stipulated by the NRC is still undecided, with rumours of deportation flying thick and fast.
Sharma, however, is not sure about the feasibility of the idea of deportation. "Even if the final list has 10 lakh illegal immigrants, will Bangladesh take them back? They won't. And we don't have a proper repatriation agreement with them either," Sharma told HuffPost India on Tuesdaywhile briskly giving directions to his small entourage on how to plan the rest of his day in Delhi.
RAPES, ROBBERIES AND 'MEN IN LUNGIS'
While the NRC has attracted widespread criticism for the desperation it has sparked — in most cases among economically backward minorities in Assam — the issue of illegal immigrants has been a thorny one in the state's political narrative. In this article on The Print, Yogendra Yadav points out that according to census data, between 1991 and 2001, the Assamese speaking population in the state dwindled from 58% to 48%, whereas the Bengali-speaking population went up by seven percent.
An Assamese Brahmin, Sharma heads an NGO called Assam Public Works (APW), which conducted 'research' on the subject of illegal immigrants for a year, before they went ahead and filed the petition at Supreme Court. APW, Sharma said, is constituted of 20 Assamese businessmen who have always been interested in 'social work'. Sharma, who runs a housekeeping and catering business, set up APW in 2000, which he claimed was meant to spread awareness about terrorism.
"We visited villages in Assam and explained to the families the need to stop their sons from joining the ULFA," Sharma said.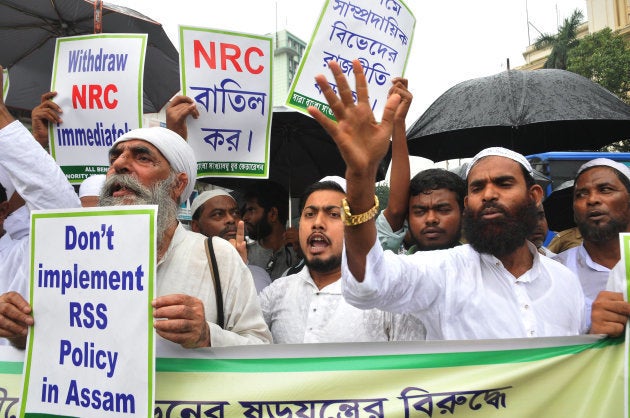 The United Liberation Front of Assam (ULFA) was behind some of the bloodiest incidents of insurgency in the state since it was formed in 1979 to demand a sovereign Assam.
"The insurgency threat reduced considerably by 2008, so we decided to take up a new project," Sharma said. The new project was getting 'illegal immigrants' struck off from the voter list of Assam. In 2017, Sharma accused NRC authorities of misusing funds and faced contempt proceedings from the Supreme Court. He later apologised. Sharma's case is being represented by one Arvind Kumar Sharma, who has refused to charge the organisation a fee for taking this case up. "God wanted us to find him I think," Sharma said.
APW studied the census reports, reports published by the election commission, 'each and every voter list' from 1951 to 2006 and found there are 40 lakh 'excess voters'.
I have a small daughter, she is 13-years-old. Where will I keep her? The main thing that came to my mind is, my daughter. Bangladeshis can snatch her
Sharma admits that neither he nor his father's generation have suffered losses or faced any threat from the alleged illegal immigrants. "But this was always a burning issue, on television, newspapers. We would hear about girls getting raped, girls getting kidnapped, robberies happening," Sharma said. He added that villages of lower Assam and ones in Kaziranga are full of 'small houses' whose residents are 'people wearing lungis and topis'. Sharma alleges that these men and their families can't speak Assamese or Hindi and only speak in 'their Bengali language'.
"I have a small daughter, she is 13-years-old. Where will I keep her? The main thing that came to my mind is, my daughter. Bangladeshis can snatch her," he said.
On pointing out that the people he calls 'indigenous' Indians are equally capable of sexual violence and the kind of hooliganism he accuses 'illegal immigrants' of perpetrating, Sharma said that a major part of the violence the state faces is from the migrants. (This is a recurrent claim made by parties in favour of the NRC. A paper on population growth in Assam, published in the International Research Journal of Social Sciences, says that empirical studies have not been able to prove a relation between rise in crime and the influx of immigrants in the state.)
"It is the easiest to get into India through the north-east, especially Assam. Then get your name into the Assam voter list and then roam around the country doing all sorts of illegal things," said Sharma.
'TAKE THEIR LIVELIHOODS AWAY'
Sharma suggests as alarming plan for economic disenfranchisement of the 'outsiders' as means for his people to 'get back' their land.
In course of the conversation, Sharma often accused the immigrants of being thieves and similar such trouble mongers. On asking if he thought that no migrant makes a living out of honest means, Sharma said, "The illegals? They are doing labour works, they are doing robberies, they doing thieves (sic), every bad thing they are doing and they are also doing the work of labour. They are also doing cultivation. There are rickshaw pullers, taxi drivers, meat sellers, egg sellers, vegetable sellers, they are there."
Does he still think, then, the immigrants have no economic contribution towards Assam? "They have. They are doing that. But that is because our people are not working. The local people of Assam are not working," he said.
"I say, 'haath se mat maaro, bhaath se maaro' (don't beat them physically, take their rice away).
Sharma is under the impression that many Assamese locals who are against the idea of immigrants have taken to protests as a means of income or have picked up guns against the country itself. "They are running on easy money. With donations from powerful people, they are doing protests or the others are becoming terrorists. That is not the way," he said.
"I say, 'haath se mat maaro, bhaath se maaro' (don't beat them physically, take their rice away).
"The moment they have no livelihood here and can't feed themselves they will start leaving," Sharma said.
DEMAND FOR COMPLETE MARGINALISATION
Sharma's preferred solution to the migration problem seems to be complete marginalisation of the people who fail to prove their citizenship.
An issue raised by various critics of the NRC is the fate of the women and children of the families which may not be able to prove they were residents of the country before March 1971. The consequent generations were all born in India and have known this country as their home, so what happens to them if Sharma succeeds in getting his way at the court?
"Children of illegal immigrants will not get to become doctors, engineers or IAS officers."
"Their land will be snatched, they will not get any medical benefits or other amenities that Indians do. They can't become government employees. The government can given them job cards. They will show us the job cards and they can work as labourers for us. Children of illegal immigrants will not get to become doctors, engineers or IAS officers," Sharma said. He also wants the immigrants to not have access to schemes like Assam government's Mamoni (health benefits for pregnant women) and Majoni (financial assistance for the girl child).
Even if they do have the talent and the intent of working their way up in life through education and government jobs, Sharma said these immigrants don't deserve the chance. "How can they do it? They are illegals," he said.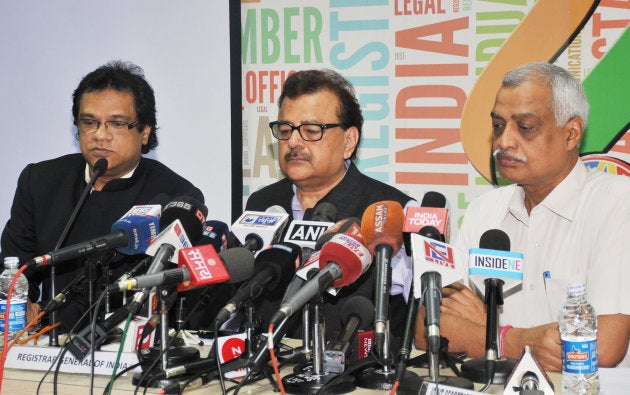 Sharma said that according to The Citizenship (Registration of Citizens and Issue of National Identity Cards) Rules, 2003, the child of two illegal immigrants will be declared illegal, even if he or she was born in India post 1971. He added that he is aware of a case being fought at the Supreme Court where two siblings have challenged this provision and it's up to the court to take the decision.
However, he himself is sticking to the demand that if someone's parents are found to have been illegal immigrants according to the definition in the Assam Accord and the person holds a government job and owns land in Assam, both should be taken away.
"The major problem in Assam with illegal immigrants is that one person can give birth to 20 children. Say for one person's family in 1951, his generation in 2018 is 250-300 people. Aisa lagta hai ki Bangladesh se yahaan bachche paida karna aye (it seems like they have come from Bangladesh to just produce babies). We want to break that," Sharma said.
"OUR FIGHT IS NOT AGAINST MUSLIMS"
"Now if we see, the whole politics in India is smelling of Hindu, Hindu... and we only hear Hindu, Hindu, Hindu. So now differences have risen between Hindus and Muslims," Sharma said.
Pointing out that "too much of Hindu" is also a problem in India, Sharma said that the proposed amendment to the citizenship act where the BJP government promised to provide sanctuary to Hindus and Sikhs from all countries was also a 'dangerous' move.
The Congress, he said, is busy currying favours with Muslims.
"The Assam Accord clearly specified that the people who are coming to India from Bangladesh after 25 March 1971, are illegal Bangladeshis... now there is a shop open for vote-bank politics, be it the Congress, or BJP, they are doing this. The Accord was signed in 1985 and it has been 33 years since then. It took 33 years for this draft to be published," Sharma said.
Sharma, who vehemently denied affiliation to any political party, added that if acting on the NRC led to any violence, the army should be summoned. "The Indian army is good enough to control a small state like Assam," he said.
Does he fear that the NRC will add fuel to the upswing of communally-motivated lynchings that India has witnessed and leave 'stateless' people more vulnerable to majoritarian violence?
"People have to understand, our fight is not against Muslims. It's against non-Indians. But yes, we have to be more careful now to make sure we don't encourage such acts of violence," he said.