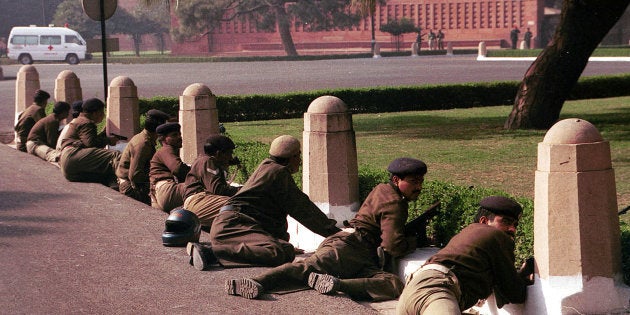 Sixteen years ago, a regular day at work for Indian lawmakers turned into a terrifying ordeal after five armed terrorists, one with explosives strapped to his body, breached the strict security protocol, entered the Parliament building and opened fire in an unprecedented attack on the symbol of Indian democracy.
The ministers had wrapped up the morning's session on 13 December, 2001, and were preparing to leave when gunshots rang out, leading to them scurrying for cover. Many politicians, including then Home Minister LK Advani, were still trapped in the building when the terrorists started lobbing hand-made bombs within the Parliament complex.
A woman Central Reserve Police Force (CRPF) trooper who is believed to have first spotted the gunmen was shot down on the spot.
Parliamentarian Kharbala Sain, who was in the building when the attack happened, told BBC that he heard a "cracker-like sound near the entrance". "Then I saw people running helter-skelter. I saw many people firing at the same time. I couldn't make out who was who. I couldn't understand who the terrorists were and who the police were. My mind went blank."
This video by NDTV captured the terrifying moment the attack started with shots being fired indiscriminately. As the terrorists continued the attack, a TV journalist is heard saying excitedly in the background: "Cut live to Parliament OB, there is firing going on!"
Sirens are heard in the distance.
India hanged Kashmiri separatist Mohammad Afzal Guru after he was convicted of complicity in the attack. The death of Guru, who maintained all throughout he was innocent, sparked protests in Jammu and Kashmir. India blamed Pakistan-based Jaish-e-Mohammad for the attack and accused Islamabad of involvement leading to a border troop escalation for days.
All five militants were gunned down. Nine other people, most of them security personnel and one Parliament staff, were also killed.
These photos documented the drama right after the attack.