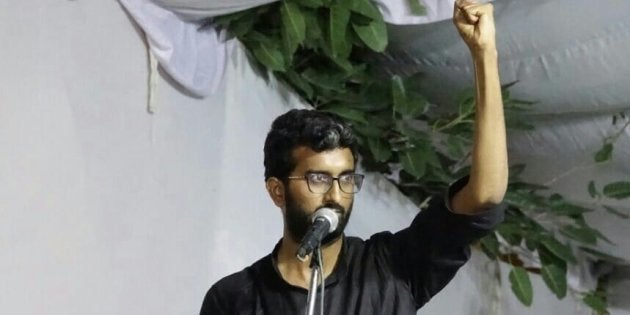 The Akhil Bharatiya Vidyarthi Parishad (ABVP), the Bharatiya Janata Party's (BJP) student's wing, received a major drubbing in the recent Jawaharlal Nehru University Students' Union (JNUSU) elections. The united left front, comprising All India Students' Association (AISA), Students' Federation of India (SFI), Democratic Students' Federation (DSF) and All India Students' Federation (AISF), won the polls, with N Sai Balaji elected the president of the union. Soon after the results were declared, Left students alleged that ABVP students were abusing and assaulting them.
On 17 September, ABVP activists allegedly led a mob to the Vasant Kunj police station in Delhi and threatened violence against the new JNUSU president and other students. ABVP activists have also alleged that students from Left organisations have assaulted them.
Many JNU students and teachers have clashed multiple times with the university administration and right-wing students' groups over the past year. In March, students who took out a march to protest against various administrative and academic issues alleged that the police had stopped them and beat up students. Later, several new faculty appointees were accused of plagiarism. In August, the administration declared that they would deduct the salaries of teachers who went on a strike on 31 July.
After the arrest of Kanhaiya Kumar, Umar Khalid and Anirban Bhattacharya in February 2016 on charges of sedition, students of the university have emerged as the most resonant voices of criticism against the present BJP-led government. The ABVP has lost three elections in a row in the university since then.
Edited excerpts from an interview with JNU's newly-elected student's union President N Sai Balaji.
You have alleged that ABVP members accosted and beat up Left students. What exactly happened?
After the election results were declared, we were very tired and I went back to my room in the Periyar hostel. Some time between 2.30 am and 3 am, a few students came and woke me up saying that ABVP boys are beating up any student they suspect to have voted for us. I went out and saw that a mob of ABVP students with hockey sticks had gathered and were beating students up, who were trying to stop them.
Later, Saurabh Sharma (an ABVP activist) threatened me and hurled all sorts of abuses. When things were getting out of hand, we called the police. Meanwhile, the ABVP members turned towards me and started hitting me. So my friends then said that I must get into the PCR van, otherwise they will injure grievously.
I got inside the PCR van but the ABVP members pushed the door open and three of them got inside and started hitting me again. I somehow managed to push them out and went to the police station to lodge a complaint. There was no SHO there and was asked to come back in the morning.
What happened at the police station?
When I went back to the police station next day to lodge the complaint, I started getting a flurry of texts from friends that 100-odd ABVP members have gathered outside the police station and are threatening to beat me up the moment I get out. I think then the teachers acted and came to the police station to form a human chain.
Even then, while I was sitting inside the station, every few minutes, one ABVP member would loiter in on the pretext of talking to the police and try to intimidate me and make threatening comments while leaving.
However, on the teachers' request, I was escorted back to the campus by the police station.
Have the threats stopped?
On several occasions during the skirmish, the boys threatened to beat me up. When the mob was threatening me, the warden of my hostel, Buddha Singh, was present with the ABVP mob. He did not speak a word against them or try to stop them. Not sure how safe I am at this hostel, so I am staying elsewhere.
The ABVP has lost several elections in JNU before this. Is this the general nature of their response to a defeat?
No, this is not how they have generally responded in the past. But now there's a trend of fascism coursing through the party. The moment they start losing elections, they lose legitimacy. So they remove the mask of democracy from their faces and become more and more violent. There have been increased incidents of violence against Dalits, Muslims and vulnerable people. To accept that they are wrong is not in their ideology. They cannot digest losing an election.
They wanted to win at least a few seats in JNU, because then that would help them start BJP's Lok Sabha election campaign. But unfortunately, their Lok Sabha campaign started with a loss. And this how their Lok Sabha election will look like—this is the first of their many losses.
It is clear that the government sees students as the primary opposition. That's why there has been an unprecedented crackdown on universities.
JNU students and teachers have been at loggerheads with the university administration. What has the latter been doing?
They are using the pretext of violence to turn JNU into a virtual jail. They are saying students cannot go out of their hostels after 10' o clock. They are saying students from one hostel can't go and stay in a different hostel. We are going to meet this with non-cooperation. Last semester also we boycotted all illegal rules. We will not cooperate with the administration until and unless they have taken action against the people who have perpetuated violence.
They are using the garb of violence to perpetuate anti-student policies. They are even now proposing online examinations. They are basically trying to alter the composition of the university.
Why do you think this particular election was so important to ABVP? How did they prepare for it?
They had spent maximum energy, maximum money and maximum effort to win this election. They called three chief ministers to the campus—Assam, Arunachal Pradesh and Manipur—to campaign for them and yet they lost. These chief ministers basically came to tell the north-eastern students that we are a threat to the nation and they should not side with us. They took a group of students to meet the vice-president Venkaiah Naidu as well.