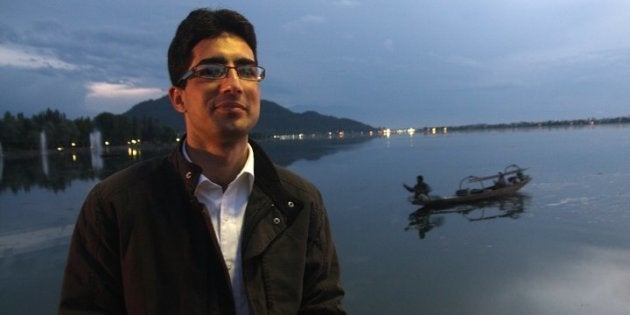 The front-page of Kashmiri newspaper Greater Kashmir declares in glaring red fonts - 'Bloodbath Continues'. A bunch of sub-headlines on the same page sums up the relentless horror that Kashmir continues to live in: two more youths dead in clashes taking the death toll to 40, civilians barred from offering prayers in Jamia Masjid, protests continue despite 'stringent' curfew and thousands descend on Tral to 'pay tributes' to former Hizbul Mujahideen chief Burhan Wani. If you happen to skim through the mainstream national English dailies today, chances are you wouldn't have found any Kashmir-related news on the front-page of most papers today.
The dying interest in news from Kashmir, however, has been swiftly replaced with spiralling jingoism on social media. Twitter and Facebook are still alive with people condemning Kashmiris who are 'supporting terrorists' and examples of what they think a model Kashmiri should be like.
One of the products of that fatuous narrative is an infographic of sorts that juxtaposes the pictures of Burhan Wani and Kashmiri IAS officer Faesal Shah.
This image has caught the fancy of self-proclaimed nationalists and patriots on social media. Some others have taken to sharing solo pictures of Faisal Shah claiming he and the likes of him is the real answer to 'Kashmir's problems'. A majority of the people sharing these memes are non-Kashmiris who have arrived to the conclusion that they indeed know how the Kashmir problem can be resolved.
Shah, however, is not amused by this sudden hero worship he has been subjected to. So late last night, he took to Facebook to write a scathing post condemning the myopic view of Kashmir conventional and social media have when it comes to Kashmir, as represented by the juvenile meme.
In fact, he also warned people sitting miles away from Kashmir, against uncritically consuming 'news' on national media that claims to tell the truth. He also accused the media of dividing the people of Kashmir by spreading falsehoods. Here's what he said:
By juxtaposing my photos with the images of a slain militant commander, a section of national media has once again fallen back upon its conventional savagery that cashes on falsehoods, divides people and creates more hatred.

At a moment when Kashmir is mourning its dead, the propaganda and provocation being dished out from red and blue newsrooms is breeding more alienation and anger in Kashmir than what Indian state can manage.

Personal vulnerability apart, the very fact of becoming a part of a ridiculous debate is something which has disturbed me very much. Have I joined IAS to do a job or to become a part of your sadistic propaganda machine? In fact when I qualified this exam I never thought of spending my whole life scratching the desk and if this nonsense around me continues, I might prefer to resign sooner than later.

I am adding to what my younger colleague Yasin Chaudhary had said earlier in his Facebook post. ZeeNews Aaj Tak TimesNow and NewsX are not going to tell you the truth about Kashmir. Please mind your head.

No Government would want to hurt it's people and when a state kills and maims it's own citizens, it's self-injury and self-decimation of the worst sort, it makes the body-politic bleed as well. So no Government can distance itself from the pain of it's people and all out efforts are being made to contain this crisis and reach out to youth. It is going to take time.

Till then we have to steer safe from spoilers who want to set Kashmir valley on fire just for the sake of TRP.

Let's pray for those who lost their lives and their eyesight in the ongoing turmoil in Kashmir and stand by one another in this moment of truth. I didn't have net access all this while and today once I saw my timeline, I realised it was the time to speak up. Inalillahi wa Ina-ilaihi rajioon.
Shah completed his MBBS from Sher-e-Kashmir Institute of Medical Science Srinagar before joining the Jammu and Kashmir cadre of the Indian Administrative Services (IAS). In the past Faesal had ruffled the feathers of a teacher's forum in Kashmir, who he alleged operated like a 'mafia'. In response, the disgruntled leader of the forum was caught calling him 'uloo ka pathha' and a 'chocolate boy' on video.