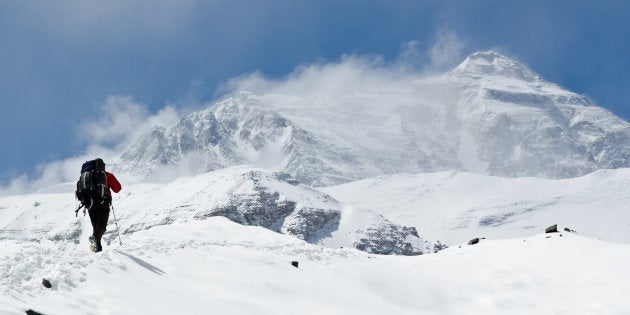 Climbing to the summit of Mount Everest requires enormous will, strength, courage and endurance. No wonder only a few manage to achieve the feat. Towering at a height of 8,848 m, the peak remains a dream even for the best of mountaineers.
Which is why Asha Jhajdiya, who hails from Jhunjhunu in Rajasthan, has ample reasons to celebrate — not only did she climb to the summit of Mount Everest on Monday, the mother of two overcame a case of slipped disc to realize her lofty dream.
As reported by the Hindustan Times, the 38-year-old who works as a nurse at a public health centre in Alwar, began suffering from crippling backaches in 2005. The bouts of backache would render her incapable of walking or even standing. When the pain would become unbearable, her husband would carry her in his arms to the hospital.
The Hindustan Times reported that a combination of physiotherapy and medication finally cured her of the debilitating ailment in 2014. The following year, the family took a trip to Amarnath, which changed everything for Jhajdiya. When she managed to reach Amarnath via Baltal, considered to be the harder route, with much ease, she set her sights on Mount Everest.
Her husband, son and daughter supported her decision. The couple then began to scout for sponsors for her training, approaching politicians, government departments and influential people, but no help materialised. So, eventually, Jhajdiya borrowed money from her relatives and withdrew from the couple's pension savings. They collected ₹28 lakh, which was enough for her expedition and her training at the Himalayan Mountaineering Institute in Darjeeling.
She reached the peak on 22 May at 4:05 am.