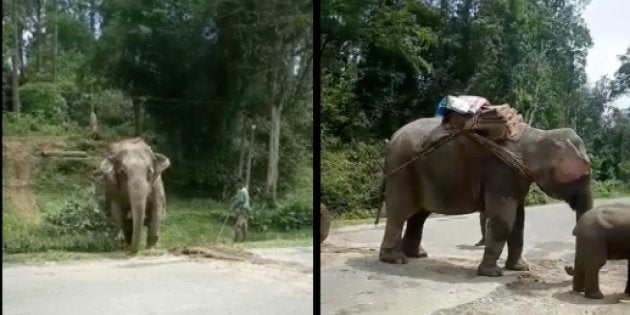 Sadly, cruelty towards animals is not uncommon in Indian society. Be it stray dogs outside our homes or rhinos in the wild, unfortunate treatment of animals reflects callous attitudes that are a cause for concern.
In a video that has sparked outrage on social media, a female elephant is being made to drag a huge log. The animal can be seen struggling and swaying under the burden of the task. The video, which was uploaded on Facebook by Mondeep M. Gogoi, was shot in the Upper Dehing reserve in Assam, around 9 kilometres from the town of Digboi.
The Facebook post was put up in Assamese and, translated into English, reads, "Today while on my way from Sivasagar to Margherita, on the Bhadoi, Panchali to Digboi road, I saw a mother elephant and her calf. It saddened me to witness the pain of the elephant and the calf. In times that has seen so much technological advancement, we should not put so much burden on animals for our chores."
One can also hear Gogoi sighing and lamenting that the elephant is in so much pain.
You can see the video here:
A report in the Telegraph quotes Project Elephant director R.K. Srivastava as saying that the video has been forwarded to the Chief Wildlife Warden, Bikash Brahma, for investigation. The report says that Assam Forest Minister, Pramila Rani Brahma, accepted that such incidents were recurring and has asked concerned officials for a report.