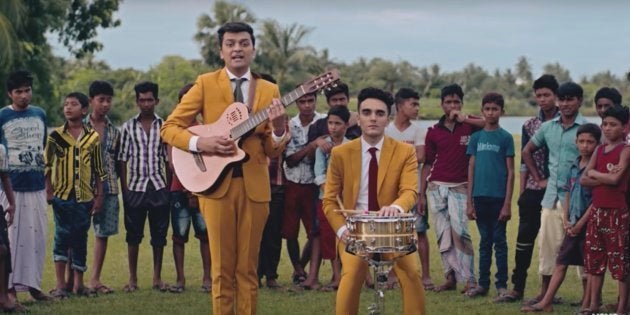 If you have even one 'indie' friend on your Facebook friends list, chances are you've seen this music video on your home feed today.
Kolkata-based dream pop duo Parekh & Singh, comprising singer-songwriter Nischay Parekh and percussionist Jivraj 'Jiver' Singh, have released a music video for 'I Love You Baby, I Love You Doll', the first single off their upcoming album Ocean.
Parekh & Singh is the new moniker for the act simply called Nischay Parekh, which has been part of the Indian independent music circuit since 2013, which is when Ocean had first been released online to strong reviews. Rolling Stone India, for instance, called it "that perfect debut album" and noted that "it's got pop hooks you're not going to tire of very easily".
Three years later, the rechristened act, signed on by UK-based label Peacefrog Records, is all set to re-release their debut album internationally on October 28.
The video for 'I Love You Baby, I Love You Doll' features obvious influences of American auteur Wes Anderson's work (especially his 2012 coming-of-age film Moonrise Kingdom), employing the use of symmetrical frames, flat space horizontal camera pans, desaturated colours, and quaint art direction.
"The idea and the vision was completely Nischay's," says Misha Ghose, who directed the video. "Both the boys are very influenced by Wes Anderson's work, and so am I, so we were very happy to do something inspired by it." She adds that a chunk of the video was shot in a rajbari (royal palace) two hours outside Kolkata that is owned by the family of one of Parekh's close friends.
Prominent indie music journalist Arjun Ravi calls the duo an "incredibly skilled live act" and is all praises for the level of complexity in their songwriting. "They're a great addition to what is called 'monoculture', where great music in any genre can catch on in any part of the world, regardless of where it's from," he says. "Just because a band or an act is Indian, it doesn't mean they need to have classical influences or a sitar or tabla in their music to be considered legit."
Watch the video for 'I Love You Baby, I Love You Doll' below: