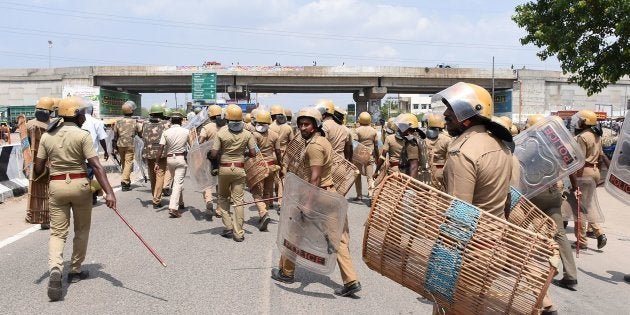 Amid severe outrage across the state over the killing of 11 protesters against Sterlite Copper run by Vedanta in Tamil Nadu's Thoothukudi, the Ministry of Home Affairs has asked the state government for a report on the incident.
Meanwhile the Madurai bench of the Madras High Court has stayed the building of the copper plant in Thoothukudi:
The incident saw severe protests outside the General Hosoital in Thoothukudi where the people who were injured were admitted.
Dr A Edwin Joe, Director of Medical Education Tamil Nadu told ANI, "Forty-two people have been admitted to our hospital till now, few transferred to Tirunelveli medical college to reduce congestion. 10 bodies are in the mortuary here. 17 surgeries have been done."
Opposition parties have also criticised the government over the death of 11 people.
While Tamil Nadu Chief Minister Edappadi Palaniswami said that police had been forced to act "since protesters disregarded a curfew, acted against the advice of police, opposition called it cold blooded murder.
DMK's Stalin called it the mass murder of innocent people:
The DMK also called for a protest on May 25.
The Times of India also reported that Madras high court judge Aruna Jagadeesan had been appointed by the government to probe the incident.
The National Human Rights Commission also sent a notice to the Tamil Nadu government asking for a report on the issue and giving it two weeks to respond to the matter.
It appears that the authorities probably failed to foresee the tragic violence which took place. The agitation against the alleged polluting unit was on for the last more than three months. Keeping in view, the simmering situation, effective precautionary measures and deployment of adequate number of police personnel could possibly avert the unfortunate incident. It also appears from several media reports including those on TV news channels that the police resorted to firing on unarmed protesters without following the Standard Operating Procedure, which tantamount to serious violation of human rights and thus is a matter of concern for it.