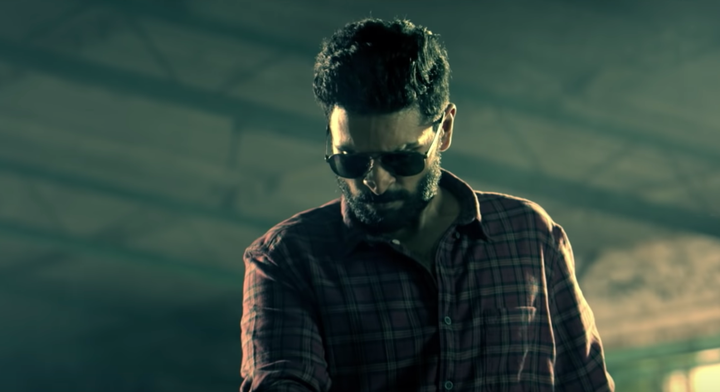 I can imagine how this film might have looked on paper: an encounter cop, a young girl's grieving father and a migrant worker lose everything at the hands of an unequal society and an incompetent justice system. So, they pursue justice on their own.
You may think this has all the makings of an entertaining film, but no.
The film begins like your regular cop-action-drama film. An encounter cop, Birla Bose (Vikram Prabhu) tells his story in first person with his back to the camera as the audience is taken through a montage of songs, scenes of encounters, glorification of custodial violence, hero walking into ladies' toilet in pursuit of an accused, and such like.
There cop is also in a whirlwind relationship with Mythili (Hansika Motwani) whose rich father got her a job at prime minister's office (the father declares this in his first meeting with his future son-in-law).
However, the film doesn't truly find itself until MS Bhaskar reveals the film's central plot point — the rape and murder of a young girl. He asks Birla Bose to help him get justice. From there, the film changes, but doesn't get any better.
Thuppakki Munai is contradictory for the most part and confusing in its worst. The hero compares extra-judicial murder to unsuccessful surgery. "Sattathukku edhira naan onnume pannaliye ma," (I'm not doing anything against the law), the hero argues with his mother.
He also compares policemen to god — "kovila moodittalum deivam thoongava mudiyum?" (even if the doors are shut, can god really sleep?) And Mythili, Hansika's character, uses the word 'accused' to mean criminal.
For a film focusing on violence against women (VAW) — much sweat and tears are shed posturing about this — it has a very skewed view of what is considered violence against women.
In a scene, police officers film, rough up, blackmail and harass a couple for kissing by the beach. The hero — apparently a warrior against violence — calmly watches the atrocity play out. We are told he is guarding a rape accused so that he can murder him later. But a couple of scenes later, he goes on to lecture the couple about not "taking the woman" to places like a beach because apparently kissing by there amounts to 'inviting' trouble.
The temperament of the film is equally unsteady. A song glorifying the 'encounter-specialist hero' is followed by a serious and melodramatic walkout by his mother. A poignant narration by MS Bhaskar is followed by bland inaction. A fight scene begins by quoting the Buddha.
Also, nothing seems to provoke deadpan Vikram Prabhu into showing emotions on his face.
Everything in this film feels familiar — music, dialogues, villain's mannerisms.
Thuppakki Munai is a predictable, bland and an unentertaining 'thriller'.
Popular in the Community