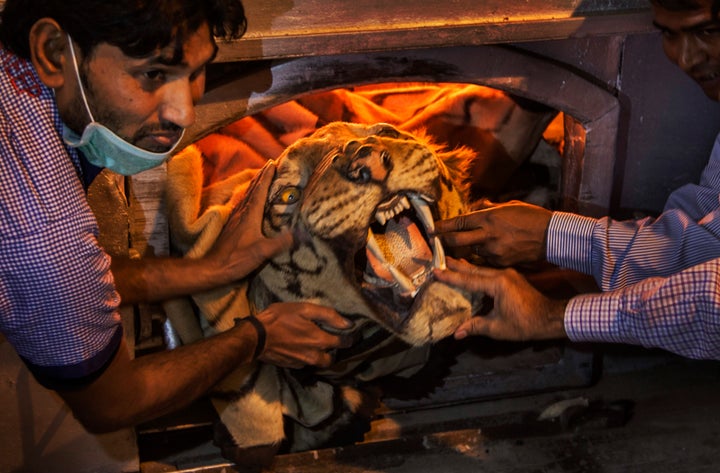 NEW DELHI—The announcement that India's tiger population has increased 33% since 2014 has prompted understandable celebrations, but a review of official data also indicates a worryingly high number of "unnatural" tiger deaths.
"Unnatural deaths" tallied by HuffPost India include tiger deaths during accidents, conflicts with humans, killings by poachers for illegal trade, as well as seizure of body parts traded illegally.
175 tigers died "unnatural" deaths in the five years up to 2018 according to data compiled from the National Tiger Conservation Authority (NTCA) database, with the reasons for 87 more deaths still under investigation.
Another 239 tigers died of natural causes like illness and old-age, the data show — adding up to a total of 501 tiger deaths since 2014. For comparison, it is worth noting that as per the latest tiger census, there was an increase of 761 tigers since the estimates declared in 2014.
High tiger mortality due to "unnatural" causes and the human-tiger conflict—which grabbed headlines most recently just two days before Prime Minister Narendra Modi announced the tiger census numbers—are the two serious challenges affecting the big cat's long term survival that have been ignored in the current celebratory mood, wildlife expert Tito Joseph said.
Huge Demand For Tiger Body parts
2016 was a particularly bad year for tigers. As per official data, 111 tigers died, making it the worst year for tigers in the seven years since 2012. 51 of these deaths were 'unnatural' while 60 were declared 'natural' deaths.
"There is a high illegal demand for tiger's body parts that is why they are killed in high numbers," said Tito Joseph, Programme Coordinator for the Wildlife Protection Society of India (WPSI). "We can't alone stop this because orders are not coming from India. Orders are coming from outside the country and huge money is involved."
"Several organised gangs are working on it. It needs a thorough intelligence-led enforcement to stop this," Joseph continued, adding that the problem is serious enough for India to cooperate with neighbouring countries to stop illegal trafficking of tiger body parts.
When asked what countries India needs to cooperate with, he said, "We believe that demand is coming from China and other South-East Asian countries and Nepal and India are the victims of this. If demand is coming from those countries, we have to work with them to reduce demand in their own countries. Otherwise, there is no solution for it. Killings will continue."
"We believe that demand is coming from China and other South-East Asian countries and Nepal and India are the victims of this. If demand is coming from those countries, we have to work with them to reduce demand in their own countries. Otherwise, there is no solution for it. Killings will continue."
Notably, Joseph also confirmed that WPSI's tiger mortality database shows higher numbers of deaths of tigers caused by poaching as compared to the government's numbers. For instance, while the government put the figure of tiger deaths due to poaching and seizures of body parts for 2018 at 21, WPSI put the figure at 34.
According to the figures for 2019 as well, this pattern is visible. While the WPSI database puts the number of tiger deaths due to poaching and seizure of body parts at 31 till last week, a recent written response by the government to a parliament question about tiger deaths due to poaching and seizures put the figure for 2019 at 12 deaths till 19 June.
Joseph said WPSI considers seizures the same as poaching deaths since both involve murder of tigers for illegal trade in the animal's body parts.
The difference only lies, in a majority of cases, in the fact that seizures mostly happen in cities where the body parts are traded and poaching may be caught in the protected area itself or in nearby areas.
He pointed out that, since there are five more months left in 2019, there is a high probability that there may be more deaths of tigers due to poaching this year as compared to the last which saw 34 deaths.
The NTCA database differentiates between deaths due to poaching and other unnatural deaths as well as seizures.
To a query about the discrepancy in databases maintained by the WPSI and NTCA about tiger mortality, Joseph said, "Maybe the government is taking time to verify the records. If a tiger died in old age, we can understand that but if a tiger died in 3-4 years of age, it should be treated as suspected death. In case of seizure of body parts, it's easy to say that it's come from a poached animal."
NTCA chief Dr Anup Kumar Nayak was unreachable for comment. His office staff said he was busy in meetings concerning the International Tiger Day.
The human-tiger conflict is another major issue facing the big cat. When villagers in Pilibhit killed a tiger last week, its video was shared widely, serving as a reminder for what many believe is a problem that could only aggravate in the forthcoming years.
Experts say well-known protected areas like the Jim Corbett National Park and Tadoba-Andhari Tiger Reserve have also witnessed high number of instances of human-animal conflict, predominantly between tigers and humans.
Joseph said, "there is a risk of human-tiger conflict increasing due to rise in tiger population". He explained that "Protected areas need to be connected through corridors for animals to move from one area to another because protected areas are like islands. Right now all corridors are encroached upon so animals are stuck in between and that increases the chances of conflict."
The issue came to the attention of parliamentarians and some of them recently asked the government questions about the impact of the human-animal conflict on humans residing near protected areas like national parks and sanctuaries.
According to a written response given by the environment ministry, 224 people died due to the tiger-human conflict from 2014 till 2018. A large number of these deaths were concentrated in West Bengal, Maharashtra and Madhya Pradesh.
Deepak Baij, Congress Member of Parliament from Chhattisgarh, who asked a question about attacks by wild animals in the Lok Sabha spoke with HuffPost India.
"Tigers are India's heritage so their protection is the government's duty," he said. "But tigers are not being looked after well enough in the protected areas, that is why they venture out in search of prey or water into residential areas and attack humans. This creates risk for the safety of both tigers and humans."
Environment Ministry schemes to minimise the human-animal conflict, Baij said, have largely failed.
"Their schemes are not effective," Baij said. "The government should plan effective schemes to address the problem."
Given the seriousness of the two issues described above, Prime Minister Narendra Modi's assertion at the launch event for the Status of Tigers in India-2018 report that "with almost 3000 tigers, India is among the biggest and most secure habitats" seems at best a partial description of reality.