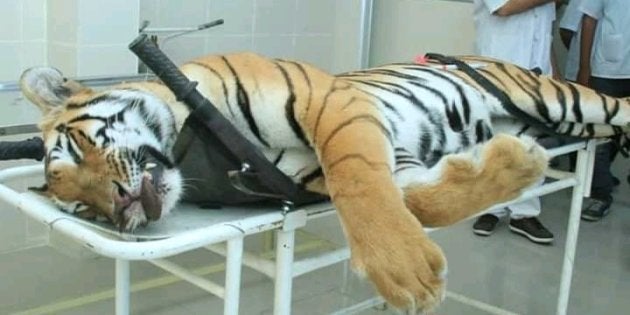 Union Minister for Women and Child Development Maneka Gandhi has termed the killing of an alleged man-eater tigress, Avni, by a sharpshooter in Maharashtra's Yavatmal district on Saturday as a "ghastly murder by a criminal".
Tigress Avni, who was accused to killing 13 people within a span of last 24 months in the Ralegaon forest area of Yavatmal, was killed by Asghar Ali Khan, the son of a professional hunter Nawab Shafat Ali Khan from Hyderabad, on Saturday after a two month long massive hunt by over 200 forest department personnel and amidst a campaign to save the tigress by wildlife lovers and activists across the country which also witnessed petitions all the way up to the Supreme Court of India.
In a series of tweets from her official Tweeter account on Sunday, Gandhi said that she was deeply saddened by the way tigress Avni has been brutally murdered.
Gandhi also took strong objection for roping in sharpshooter Khan and his son for the hunt.
She also claimed that Khan's son was not authorised to kill the tigress.
Maharashtra's Forrest Minister S Mungantiwar had claimed on Saturday that no violation had taken place while killing the tigress and everything was done as per the Supreme Court Directives.
"For the first time in India's history, high-ranking officials like the PCCF and Additional PCCF remained for over two months in the field and personally supervised the operation. We are committed to both conservation and people's safety." he told The Indian Express on Saturday.
The Principal Chief Conservator of Forest (Wildlife) Maharashtra A.K.Mishra had claimed on Saturday that Asghar Khan killed Avni in "self-defence".
"Our team was on vigil as it was a market day at Ralegaon. A lot of people called us to say they had seen the tigress. So we stationed a patrolling team with a tranquilliser gun along with Asghar Ali Khan (the sharpshooter) in a vehicle. Finally, around 11 pm, one of our foresters, Mukhbir Sheikh, managed to shoot a tranquiliser dart at her. But she got furious and charged at the team, forcing Asghar to shoot in self-defence from a distance of about 8-10 metres. The tigress lay dead in a single shot," Mishra told The Indian Express.
Gandhi has said that she would take up this matter "very strongly" with Maharashtra Chief Minister Devendra Fadnavis.
Popular in the Community