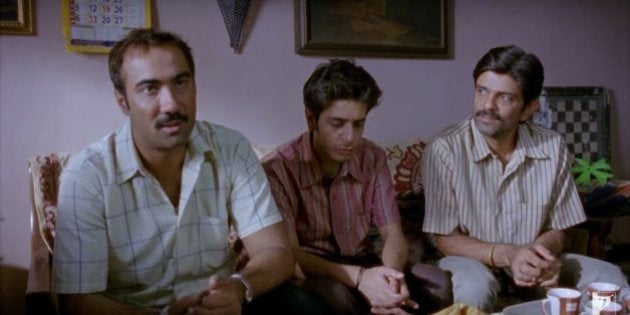 A scene in Titli depicts a universal moment in the lives of Indian families: the arranged marriage rishta. In this, a family of men — Vikram (Ranvir Shorey), Bawla (Amit Sial), their father (Lalit Behl) — are shown talking about marriage prospects between their youngest brother Titli (Shashank Arora) and the other family's daughter Neelu (Shivani Raghuvanshi).
It's a familiar scene, and one we've seen several times before: two unwilling youngsters being forced into an arranged union. While the film has already told us that this is being done against Titli's wishes, we have to assume the same about Neelu, who looks visibly uncomfortable throughout.
You can see that she's somewhat rebellious — she's the only one dressed in a fashionable sleeveless top while her sisters (twins?) are dressed far more conservatively (let's skip past the fact that she doesn't look related to any of them). A little later, we also learn that she's having a hot-and-heavy affair with a married man.
Which is why, later, when she realises that she's been married into a family of goons who rob and occasionally murder people travelling on the highways around the National Capital Region, her decisions don't always make sense in the context of what we know about her character.
This highlights my larger problem with Titli, an otherwise gripping film by Kanu Behl that subverts the Bollywoodian concept of a 'family drama'. The story is somewhat preposterous and riddled with niggling holes that prevented me from embracing it fully. However, in the context of contemporary Hindi cinema, it's an impressive directorial debut from the writer, who showed us with Love Sex Aur Dhokha (2010) how good he is at capturing the nuances of middle-class Delhi.
He does the same here, by introducing us to a family that lives in a lower-class neighbourhood so shady that apparently everyone knows they're criminals, but no one talks. We know this not because the movie shows it to us, but because one character mentions it. This over-reliance on telling rather than showing turns out to be a regular pattern followed by the script, penned by Behl and Sharat Katariya (Dum Laga Ke Haisha), which hides its inadequacies behind the cover-fire of naturalistic dialogue-writing.
On the other hand, the milieu depicted comes across as extremely credible. The family lives in a depressing apartment that has pink and green walls. The oldest brother Vikram, who is extremely hot-headed and violent, works as a security guard at a mall. Bawla, younger than him, is a quiet, behind-the-scenes manipulator who makes feeble attempts to keep the peace before eventually siding with Vikram. The youngest, Titli, is a scrawny youth usually dressed in striped t-shirts who dreams of getting the hell out of this place.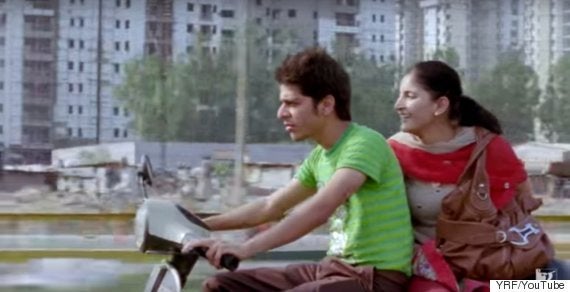 Shashank Arora and Shivani Raghuvanshi in a still from 'Titli'
What works for Titli is the bang-on casting by Atul Mongia and a wonderfully consistent ensemble. Shorey is the pick of the lot, channeling raw anger in what is surely a career-best performance. Newcomers Arora and Raghuvanshi also turn in great work, while Sial and Behl lend able support. Nifty screenwriting and directorial touches — such as a mini-montage set to an All India Radio broadcast, or some of the family members' peculiar, hereditary tendency to retch while brushing their teeth — stand out. Special mention must also be made of Namrata Rao's brisk editing, which brings a relentless, infectious energy to the film. It's a pity this film has to release with an intermission, because it really doesn't need one.
The larger questions, however, remain unanswered and unsatisfactorily so. I couldn't fully buy some of the choices made by the characters, about whom we only know as much as we're told. A lot that happens seems to be shoehorned in instead of coming across as organic, but because the film is so competent on various other levels, it escapes detection.
Titli ties everything up with a somewhat contrived, fairy-tale-ish ending, but at least the packaging is satisfyingly gritty. In other words, it's like a plate of chicken curry in which the gravy is delicious, but the pieces don't have as much meat as they should.



Popular in the Community