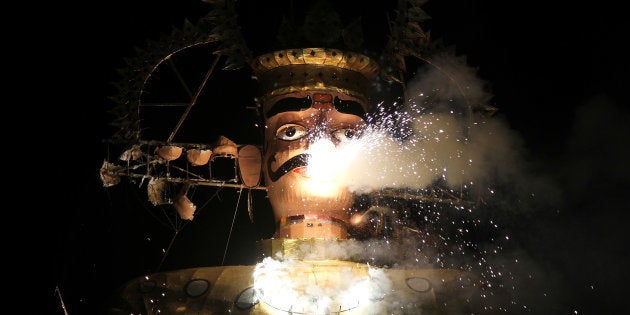 BHOPAL -- Tribal groups in Madhya Pradesh have opposed the practice of burning effigies of Ravana on Dussehra.
Asserting that it hurts their sentiments as Ravana is their deity, these groups have warned that they would file FIR against those who burn effigies on Dussehra.
While there has been tribal opposition to the burning of effigies of Ravana on Vijayadashami occasionally in the past, this is the first time that a strong and coordinated campaign has emerged in one part of the state.
"It is insulting for us to see the effigies burning. We worship Ravana and Meghnad. These are our ancient traditions and our sentiments are hurt," tribal leader Dilip Dhurve told the media.
Tribal leaders RS Uikey and Prem Singh Salam said that Ravana is not a demon but rather a deity for tribals.
The opposition has emerged in the tribal-dominated Betul district.
The Adiwasi Vikas Parishad, a tribal group, has given a memorandum to the district administration, stating that burning Ravana leads to animosity between different communities.
In a protest organized in Sarni recently, tribal groups raised slogans in praise of Ravana.
In Betul, scores of tribals reached the collectorate and demanded a ban on the practice. They said that it was anti-national to call Ravana a demon.
Tribal groups in Athner have met officials and given a similar call.
The Gondwana Gantantra Party (GGP) has also said that the practice would be opposed strongly. "We have been opposing it for many years but they don't pay attention. This year, we will take legal action", said the party office-bearers while handing over a memorandum to the district administration in Amla town.
GGP is a political party that has contested elections and had legislators in the MP Assembly until it split few years ago. It still has a strong cadre and presence in tribal areas in Madhya Pradesh.The party has said that everyone including the Dussehra committee organizers should respect the sentiments of the tribals and avoid any such act that will hurt the tribal populace.