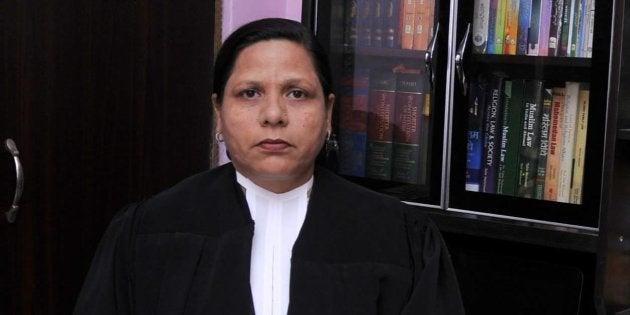 NEW DELHI — On July 17, Farah Faiz, a lawyer who filed a petition to abolish the practice of triple talaq, and Maulana Ejaz Arshad Qasmi, a Muslim cleric, appeared on a television channel to argue over the proposed changes to the law.
Faiz and Qasmi are familiar foes, having crossed paths in several television studios in discussions that quickly devolve into name calling.
This time was different: Faiz and Qasmi stood up mid-way through the show, each waving their hands in the other's face, before Faiz hit Qasmi on the head. Qasmi responded by lunging at Faiz, and hitting her across the face, before he was physically restrained by another studio guest. Qasmi has since been arrested.
In an interview with HuffPost India, Faiz offers her versions, explaining why she hit Qasmi and why she feels it is important to participate in televised arguments that are "debates" only in name.
In course of the argument, you whacked Qasmi first. Why did you do it?
He used a lot of abusive language against me. The kind of expletives he used and in the past he has used, I couldn't bear it.
Did you regret hitting him or thinking later than hitting someone is not a way to argue?
Not at all. Actually, an attack is an attack — be it verbally, be it physically. You can say I did it as self defence. I didn't hit him, I practiced self defence. Had I not hit him, he would have misbehaved with me and abused the women even more. It's a 'slap' in your language, in my language, it is self defence.
It is being argued that this entire fight was staged to divert people's attention from the recent spate of lynchings of Muslims. The hashtag about this incident was trending around the same time the #TalkToAMuslim was.
People can say anything. We are free in India. Everyone has freedom of speech in India. But reality is totally different. If you watch the entire video, this man started misbehaving first, I didn't. He was provoking me and he had his mind set. If there was any manipulation, it could have been on his side. I have not manipulated anything.
You run an organisation called Rashtravadi Muslim-Mahila Sangh. Is it associated with the Rashtriya Swayamsevak Sangh's Muslim Rashtriya Manch or any political party?
No, I don't have a tie up with any party or any organisation. But I am very inspired by Mohan Bhagwat ji,especially his working style. The RSS has existed since before him and its working was very different then. But now it's different.
You must have realised that far-right Hindutva activists occasionally try to paint Muslims as problematic as a community itself.
I am married with a non-Muslim. His name is Vinod Verma. And both often go overboard about this fact. "This is not Farah Faiz, this is Laxmi Verma. She is not a Muslim, she is a Hindu.." These maulanas accuse me of not knowing Islam, but do they think others can't read and figure out what Islam says and teaches?
The kind of polarisation that is there, it is often seen that one incident is used to demonize Muslims as a community. Are you afraid that this incident will be used to stereotype Muslims?
Yes, definitely! Definitely the BJP will use this incident and they will create an issue for it. And they will use this issue at the time of election.
What do you feel about that?
Honestly, I don't care. Politicians hai, badtameezi se baaz nahin ayenge (Politicians will never mend their ways.)
My demand is do whatever politics you want to but the rights that a woman should have, you have to give it to her. There are family laws for every religion, why shouldn't Muslims also have it?
If you are making a great pomp and show about caring about women's development, claiming that you care a lot about Muslim women and pompously declaring you are moving a bill against triple talaq...you can't just sit at that. Bring bills against polygamy, against nikah halala, offer a complete family law package for Muslims like Hindus have. Or like Christians or Parsis have.
Just because you have some maulvis as your stooges and you keep them happy. You give them important posts. Then during elections, you use them to polarise people — people get divided into two segments and you walk away with the election.
Were you acquainted with Qasmi before you went for that debate?
Yes, I had met him in many debates during the hearing of triple talaq. I had also complained against him and his accomplice, Sajid Rashidi in Noida's Sector 20 police station in 2017. But they did not register a FIR at that time.
They had misbehaved exactly the same way with me during a debate on an Urdu channel. Rashidi had abused me on a Hindi channel called Samachar Plus as well. They used really abusive language and hurled expletives directed at my son and daughter, who have no part to play in this. He was turned out of a studio once, and then made to participate from a separate isolated room.
I went to file a complaint against them on 25 May, 2017.
What reason did the police give to not file the FIR?
They said it's a very controversial issue. They can't just file an FIR against these maulanas.
'We can't create an issue', they said. Then we met a DGP in the Lucknow police headquarters. He told me, "People keep saying things like this. Now you see, people call police names all the time. Now, should we file FIRs against all of them?
Now what could I have done after that? Who will you go to?
So when I didn't get any relief from the police station, I lodged a suit in the criminal court, under Section 156. That application is pending.
For the past one year, these men have been receiving notices from the court, but they have not been signing and receiving the notices. So I think, they have been seething against me for a while and that came out.
I went to a News18 debate where these men were there, before I went to the Zee News debate. Even there, these men behaved reprehensibly with me. I ignored Qasmi. When he saw that I am barely responding to his boorish behaviour, he told me, "You will speak only when you are in a condition to speak isn't it?".
I called up the SHO of my local police station in Ghaziabad where I live and said this man has been threatening me and he may just do something. The SHO said that when I meet him for another debate, we will be in a district which will not be under his jurisdiction so he won't be able to do much. My husband said, 'Don't speak to Qasmi, only answer the questions the anchor asks'.
When I turned up at the Zee office, I met the anchor and immediately showed her the court papers and explained my situation. I also expressed my concern and told her that they may try to misbehave with me again. But she said, "Don't worry at all, you sit." I joined the debate only after that.
I think he had made up his mind to attack. The moment he started to address me in the debate, he started talking to me indecorously. He was using 'tera', 'tu' (Hindi pronouns meant to informally address someone or slight someone) right from the beginning of the debate.
You showed your documents and told them about the conflict going on. Yet, why do you think they invited him to participate in this debate? Do you think they should not have invited them?
Absolutely. Even I said that so many times. But these TV people usually say that if these men are not exposed on television and people don't see what kind of people they are, how will they now how horrible these men are? When they come and talk, only then people will know the truth about them.
It is their show, their management, their people. If you insist too much, they will just say, 'you don't come then'. But I should be able to talk about the atrocities women face because of laws like triple talaq right? And television reaches many people.
If I don't come or boycott, it would mean I have lost, or I am wrong. So I thought, I should not be silent about this. If I get scared and back off, it will mean a win for these maulanas only. They will find more ways and places to hurt and humiliate us.
I mean, given the work I am doing, I have to face them somewhere or the other, right?
The All India Muslim Personal Law Board (AIMPLB) has said Qasmi never officially represented them, (he is mentioned as a 'general member' on their website) but they have not condemned his behaviour.
They will never do it, they will never condemn his actions. Just see, it's not like the first time these men claimed to have appeared on behalf of the AIMPLB. They have been doing this for the past two years since the debate around triple talaq began. And senior members of the board have participated alongside them in various debates. Then you never said, that 'these guys don't represent the law board'. You have never informed any channel prior to this that they don't represent you, you never tweeted about it. Suddenly, you are distancing yourself from them? They just want to save their own backs.
Prior to this have you face threats of physical violence?
The personal law board has always been aggressive. Their opinion is women like me are 'na-mazhab' (without religion), there's no place for them in Islam. They don't know the shariat, they have no relation to Islam.
Once in 2016, I was attacked on a train. I am a fairly familiar face, so I guess some men followed me. Don't know who sent them. They got onto the train from Delhi and after it had left the station they started abusing me and pushing me around. I fell and fractured my left arm. When my co-passengers tried to catch them, the train pulled into the Ghaziabad station. They got off and fled.
Once, I had organised a rally in my hometown Saharanpur to spread awareness against triple talaq. A group of these men had gathered and were opposing the rally. Then they surrounded the bus and tried to intimidate me and my teenage daughter.
In traditional Muslim families, elders ask children to look up to maulvis and clerics as people who are well-read, who know about religion, culture and life. By default, many of them think that what these maulanas do is always right. So when they see people like Qasmi hitting a woman who is going against him on television, they'll think this is the right way to deal with women who oppose them to question them right? This is toxic.