Years ago, at a conference in Istanbul, Ramesh Agarwal was listening to a presentation on transport when suddenly he heard the speaker say, "India is world's number one." Agarwal, the chairman and managing director of India's leading packing and moving service, was thrilled—though his grasp of English was weak, he understood that India was top in something. Acknowledging the compliment, Agarwal began to applaud loudly. But when the rest of the audience only gazed at him in shocked silence, he stopped clapping.
"I looked around, and immediately realised I had done something wrong," he told HuffPost India, speaking in Hindi. "I asked around, and that's when I realised the presenter had said India was leading the number of road deaths in the world."
Agarwal returned to India and began researching. He found that thousands of people die in road deaths each year—in 2014, the number was over 140,000—and one of the factors resulting in the accidents was lack of sleep. Drivers, particularly those who drive commercial vehicles and travel long distances for days at a stretch, just don't get adequate rest, causing them to crash.
"I felt like I got an electric shock. I felt so guilty."
Though there are no official data to establish the number of deaths caused by sleep deprived drivers, anecdotal evidence suggests that deaths due to 'sleep debt', or drowsy driving, are common enough to warrant alarm.
According to a study done by All India Transport Welfare Association (AITWA), an industry body of transporters, an estimated 26,650 people died (out of a total of 139,091 deaths) as a result of drowsy driving in 2012. In 2013, this figure was 24,081 (out of a total of 137,423).
The next few years, Agarwal said he made his case to several government representatives, urging them to address the problem. In the meantime, he met drivers in Uttar Pradesh, Haryana, Andhra Pradesh, and Rajasthan, asking them why they didn't get enough sleep.
"All of them laughed at my question and asked me where did I think they could sleep," he said. "Even though now trucks manufactured by good companies are more comfortable, they can't sleep in them for extended periods of time because of security problems."
It is rare for them to have uninterrupted sleep for more than two or three hours a day. Most of them use "kali goli (black pills)" to stay awake, they told Agarwal.
"These are basically opium-based pills," he explained. "I felt like I got an electric shock. I felt so guilty."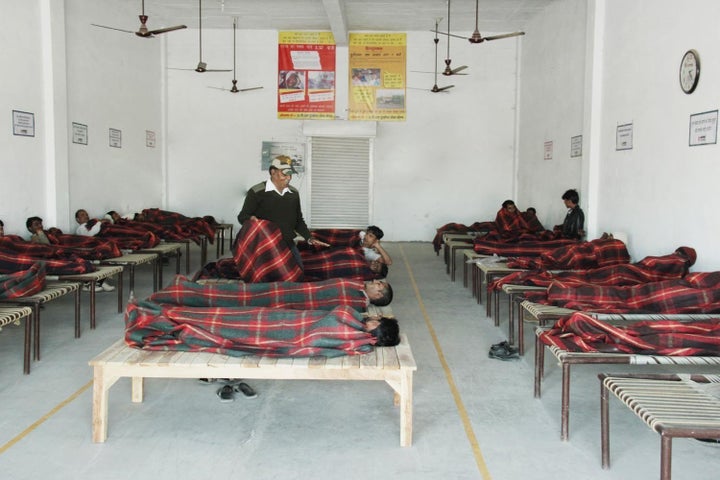 The Nindra Daan Kendra in Jaipur.
The constant lack of sleep shortens their normal life span, and many of these drivers are unable to have regular married lives — over a fifth of them remain unmarried. Perhaps this is why there is a huge shortage of truck drivers in India—AITWA estimates that every day, some 23 lakh vehicles can't be used because no one is available to drive them.
When he got no response from the government, Agarwal said he approached his younger brother Rajinder, who is involved in labour rights. The brothers decided that the best way to help the drivers was to build a space for them to sleep between long drives. In 2012, Agarwal built a 500-bed 'Nindra Daan Kendra' or dharamshala (rest house), which has bathrooms, barber shops, a laundry room, ambulances, parking, and security guards. It is situated on the national highway (NH-8) between Jaipur and Ajmer. As many as 30,000 trucks pass through in a given day, Agarwal said.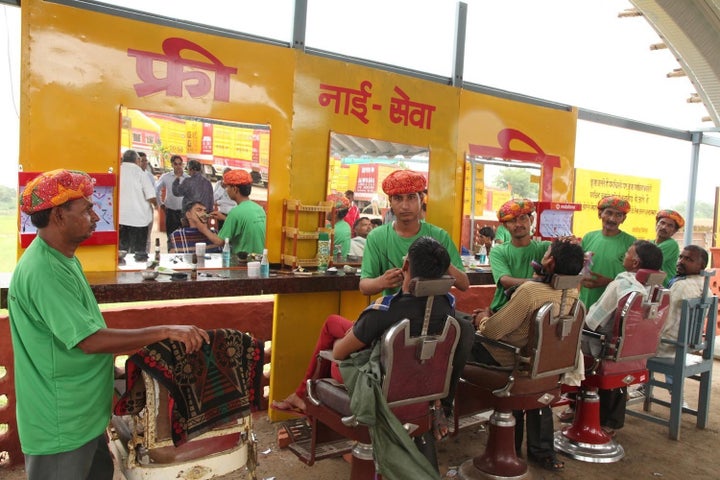 A free barber shop at the Nindra Daan Kendra in Jaipur.
A second facility with 250 beds is scheduled to be opened near NH-6 in Malkhapur, on the route between Surat and Kolkata, later this month. Both are open for drivers round the clock and completely free of charge — all they have to do is sign a statement that says they will use the facility for six hours to catch up on sleep.
Agarwal's team estimates that around 41 lives are saved every month on the Jaipur stretch alone, thanks to the initiative.
"I want to change the mindset against these drivers, who are the backbone of this industry," said Agarwal. "They are neglected and need to be given their dignity and lives back."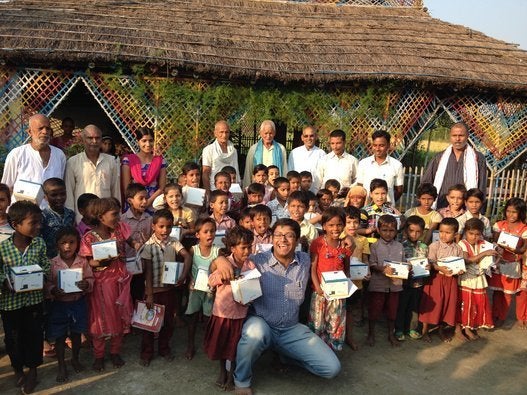 7 Ordinary Indians Doing Extraordinary Things