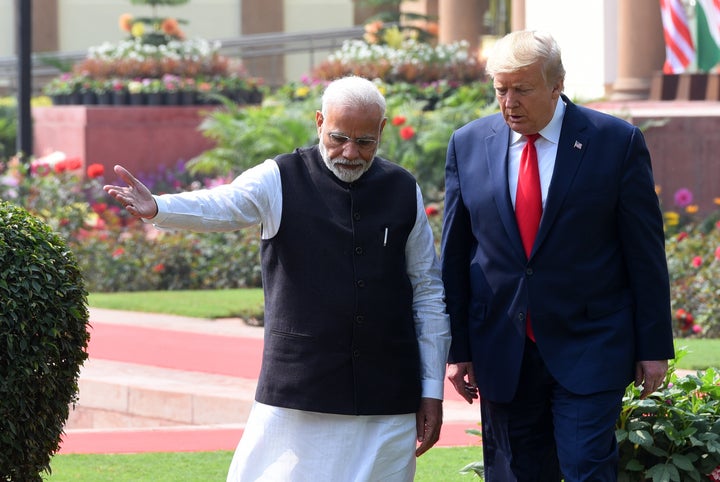 A day after US President Donald Trump said that India could face retaliation if it doesn't clear the exports of hydroxychloroquine, the Central government said it had lifted its ban on export of the drug "in view of the humanitarian aspects of the pandemic"
The ministry of external affairs said India had decided to licence paracetamol and hydroxychloroquine in appropriate quantities "to all our neighbouring countries who are dependent on our capabilities."
"We will also be supplying these essential drugs to some nations who have been particularly badly affected by the pandemic," the ministry said.
Last week Trump said he had sought help from Prime Minister Narendra Modi to allow the sale of hydroxychloroquine tablets ordered by the US to treat the growing number of coronavirus patients in his country, hours after India banned the export of the anti-malarial drug.
Trump is deeply invested in the idea that the malaria drugs will show a benefit, and has personally pressured US federal health officials to make them available, Reuters had reported on Saturday.
On Tuesday, The New York Times reported Trump has personal financial interest in Sanofi, the French drugmaker that makes Plaquenil, the brand-name version of hydroxychloroquine.
The report also said: "If hydroxychloroquine becomes an accepted treatment, several pharmaceutical companies stand to profit, including shareholders and senior executives with connections to the president."
On Monday, Trump said that India has been taking advantage of the US on trade for many years and he would be surprised if the country was to stop export of hydroxychloroquine to the US.
"So, I would be surprised if that were his decision. He'd have to tell me that. I spoke to him Sunday morning, called him, and I said we'd appreciate your allowing our supply to come out. If he doesn't allow it to come out, that would be okay, but of course there may be retaliation. Why wouldn't there be?" Trump said.
On Tuesday, Indian government said that it had lifted restrictions on the export of 24 pharmaceutical ingredients and medicines made from them. India is the world's main supplier of generic drugs.
"After having confirmed the availability of medicines for all possible contingencies currently envisaged, these restrictions have been largely lifted. The DGFT has notified lifting restrictions on 14 drugs yesterday. With regard to paracetamol and Hydroxychloroquine (HCQ), they will be kept in a licensed category and their demand position would be continuously monitored. However, the stock position could allow our companies to meet the export commitments that they had contracted," the government said.
Why Hydroxychloroquine?
Hydroxychloroquine, an old and inexpensive drug used to treat malaria, is seen as a viable therapeutic solution by President Trump to coronavirus.
Use of hydroxychloroquine has soared in the United States as more than 355,000 people have tested positive for the novel coronavirus. More than 10,000 have died of the virus in the country.
The US president announced on Twitter last month that hydroxychloroquine, when combined with azithromycin, has the potential to become "one of the biggest game changers in the history of medicine."
Several of Trump's top health officials, including Dr Anthony Fauci, director of the National Institute of Allergy and Infectious Diseases, frequently caution that it is too early to promote hydroxychloroquine until results from more rigorous trials are available. While some studies suggest a benefit, "we've got to be careful that we don't make that majestic leap to assume that this is a knockout drug," Fauci told cable network Fox News on Friday.
The Trump administration has already created a national strategic stockpile of 29 million doses of the malaria drug, anticipating that its test results on more than 1,500 COVID-19 patients in New York is yielding positive results, the Press Trust of India reports.
India has received similar requests to lift the ban on drug's export from several other countries including immediate neighbours Sri Lanka and Nepal. The government has said that it is reviewing its export ban order.
Doctors and pharmacists from more than half a dozen large healthcare systems in New York, Louisiana, Massachusetts, Ohio, Washington and California told Reuters they are routinely using hydroxychloroquine on patients hospitalised with COVID-19. At the same time, several said they have seen no evidence that the drug has any effect on the virus.
The Indian Council of Medical Research (ICMR) has also recommended the anti-malarial drug for those involved in the care of suspected or confirmed cases of the coronavirus and also, for the asymptomatic household contacts of laboratory confirmed cases.
While rigorous US-led trials are underway and randomised, controlled trials of the drugs are being conducted in countries like China, Brazil and Norway, experts say hard evidence on the efficacy of hydroxychloroquine in treating Covid-19 could be months away.
Until the evidence is in, "each institution is setting their own treatment guidelines," said Dr Otto Yang, an infectious disease specialist at the University of California, Los Angeles Medical Center. "There is simply no data," he told Reuters. "It is a matter of opinion, and opinions differ."
(With inputs from PTI and Reuters.)
(This article has been updated with a quote from The New York Times.)