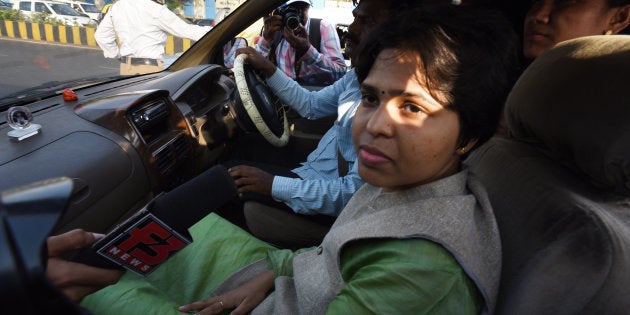 PUNE -- Rights activist and Bhumata Brigade president Trupti Desai yesterday said she thrashed a 25-year-old man at Shikrapur village on Wednesday for allegedly raping a girl under the pretext of marriage.
Desai has circulated a video, purportedly showing her and one of the members of her outfit, beating the man in full public view in the village, around 60 kms from Pune.
Following the incident, local police have arrested the man, identified as Londhe, and registered a case against him under sections of 376 (rape) and 313 (miscarriage without woman's consent) of Indian Penal Code.
"Londhe had allegedly promised the 24-year-old girl that he would marry her and had physical relationship with her between March 2014 and October 2015. He forced her to undergo abortion," a station duty officer said.
When contacted, Desai told PTI that the concerned girl had approached the police station in the past against the man.
However, the woman did not register complaint as Londhe convinced her that he would marry her, but reneged on his word.
"When the girl came to me with the complaint, I even met his (Londhe') father and pressed marriage demand, however, he too refused to accept and said that they would settle the matter by giving some money to the victim.
"Since the response of the man's family angered us, we decided to catch hold of him and teach him a lesson. Today, we thrashed him in full public glare and forced police to take the complaint of the girl," Desai said.
When asked why did she take the law in her hand, she said, "Whenever there will be violence or such cases against women, I would take the law in my hand."
Desai had campaigned successfully against the age-old tradition barring women's entry in temples at Shani Shingnapur, Kolhapur and Trimbakeshwar.