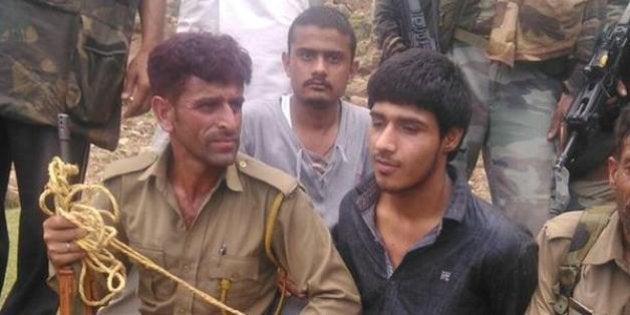 NEW DELHI -- Home Minister Rajnath Singh has condemned the attack on Wednesday by two gunmen, who ambushed a security convoy on the Jammu-Srinagar national highway in Udhampur, killing two Indian soldiers and wounding 14 others.
The preliminary interrogation being conducted in Jammu has revealed that both gunmen are from Pakistan, Singh told the Rajya Sabha today. The Home Minister identified them as Mohammad Naved from Faisalabad, who was captured alive, and his slain partner, Mohammed Nomin from Bahawalpur. The police recovered two AK-47 rifles along with some magazines and grenades, he said.
Singh condemned the "mindless violence" in the strongest terms, and expressed his confidence that interrogations would reveal their "modus operandi" and activities across the border.
The Home Minister also expressed his deepest sympathies for the two Indian soldiers - Constable Subhendu Rai and Constable Rocky - who lost their lives while engaging the two gunmen until reinforcements arrived. Both men were laid to rest in a special ceremony on Thursday morning.
Besides ex-gratia compensation and jobs for their families, Singh said that the government will consider honouring the two soldiers with gallantry awards.
D.K. Pathak, chief of the Border Security Force, told reporters today that Constable Rocky was the only jawan, who was armed in the convoy, which was carrying 44 other soldiers. If Rocky had not engaged the militant then the other soldiers would have been killed, he said.
Singh also said that he would recommend the state government recognising those villagers who risked their lives to help capture the gunmen.



Popular in the Community