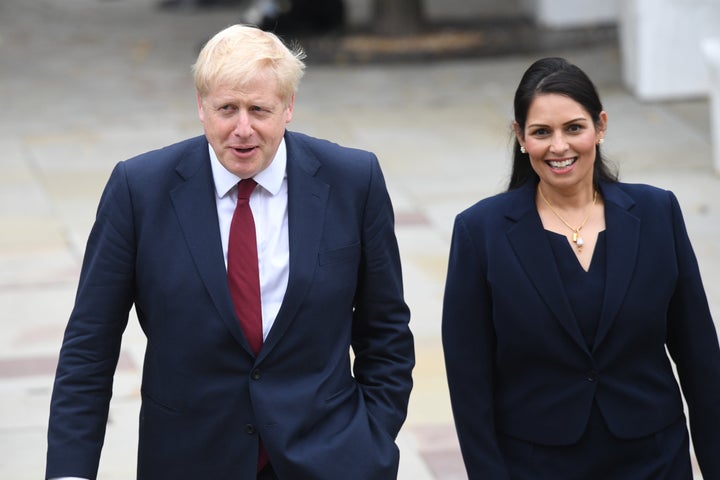 Home Secretary Priti Patel has launched an attack on Jeremy Corbyn over immigration, accusing him of a "surrender" of Britain's borders.
Vowing to "end free movement once and for all", Patel said she would introduce an Australian-style points system, adding: "And one that is under the control of the British Government.
"Because, let me tell you something. This daughter of immigrants, needs no lectures from the North London metropolitan liberal elite."
The sharp attack comes after Prime Minister Boris Johnson faced anger over his use of language in the House of Commons, with MPs – many of whom have received death threats – saying phrases such as "surrender act" put them at risk.
Patel told the Conservative party conference in Manchester on Tuesday: "Do we really want a Labour Home Secretary who would leave our communities and our country less safe?
"A Labour party who won't even attempt to take back control of our borders. Because they want to surrender our border control and extend free movement."
Delegates at the Labour party conference in Brighton earlier this month voted for Corbyn to defend free movement even after Britain left the EU.
Patel also accused Corbyn of leading attempts to thwart Brexit. Labour is promising to renegotiate a Brexit deal and to put it to a second referendum versus Remain.
Patel has also announced a £20 million funding package to tackle county lines drug gangs and £25 million for a "safer streets" fund.
It comes after ministers earlier this week announced that 10,000 more cops will be trained to use a taser.
″I am equipping police officers with the kit and tools they need to protect themselves and others from harm," Patel said.
Johnson has made law and order a top priority for the next general election, telling voters he will fund 20,000 new police officers.
Statistics released in January showed that there had been a 19% rise in violent crime in 2018.
The number of homicides – including murder and manslaughter – rose from 649 to 739, an increase of 14%, in the 12 months to the end of September 2018.
It is the the highest total for such crimes since 2007.
Patel told the Conservative party conference: "To the police service: We back you. And to the criminals, I simply say this: We are coming after you."
It underlines the tough new approach to law and order the Conservatives are taking.
Justice Secretary Robert Buckland earlier revealed the government would end the automatic early release of serious violent and sex offenders at the halfway point of their sentence.
It means dangerous criminals will now serve at least two-thirds of their sentences, and rapists could face up to two more years in jail.
"We owe it to victims to make this change," he said.
Popular in the Community