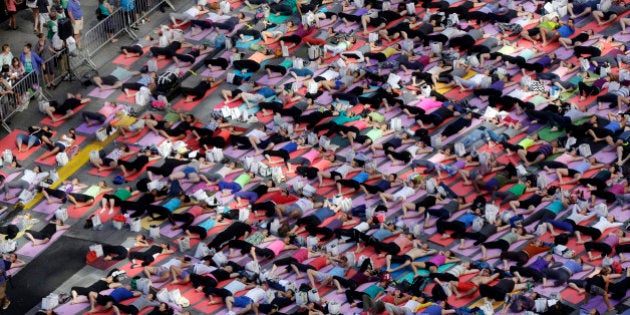 United Nations: The UN General Assembly will take up an India-led resolution today to declare June 21 every year as 'International Day of Yoga', with an unprecedented 175 countries joining as co-sponsors, less than three months after Prime Minister Narendra Modi proposed the idea.
The draft resolution would recognise that "yoga provides a holistic approach to health and well-being," echoing Modi's remarks to the annual General Assembly session in September.
Besides proclaiming June 21 as the international Yoga day, the resolution would recognise that wider dissemination of information about the benefits of practising yoga would be beneficial for the health of the world population and invite all Member and observer States, organizations of the UN system and other international and regional bodies to observe it in order to raise awareness of the benefits of practising yoga.
The resolution was prepared by India and informal consultations were convened in October by the Indian mission in the UN General Assembly where views on the topic were expressed by other delegations.
Garnering overwhelming support, 175 countries in the 193-member General Assembly have joined as co-sponsors as on December 9th, the highest number of co-sponsors ever for any UNGA resolution.
It is also for the first time that such an initiative has been proposed and implemented by any country in the UN General Assembly in less than 90 days.
In suggesting the June 21 date, Modi had indicated that the day has special significance in many parts of the world, being the longest day in the northern hemisphere.
The resolution would be adopted under 'Global Health and Foreign Policy.'
The initial official document circulated to the General Assembly, known as the L document, had 130 member states joining as co-sponsors, again the highest ever number of co-sponsors for such a document.
Significantly, overwhelming support for the Modi's initiative has been reflected in the various key nations that have come on board to co-sponsor the resolution including the five permanent members of the Security Council - China, France, Russia, the UK and the United States.
Several Asian, European and Latin American countries and nearly 60 per cent of African nations are also co-sponsors including Afghanistan, Argentina, Australia, Bangladesh, Bhutan, Brazil, Canada, Cuba, Egypt, Germany, Iran, Iraq, Israel, Japan, Kenya, Mexico, Myanmar, Nepal, South Korea, South Africa, Spain, Sri Lanka, Syria, Thailand and the UAE.
The President of the UN General Assembly Sam Kutesa and UN Secretary General Ban Ki-moon are also expected to issue congratulatory statements once the resolution is introduced by India's Permanent Representative to the UN Ambassador Asoke Kumar Mukerji and adopted.
Yoga is the 5,000-year-old Indian physical, mental and spiritual practice that aim to transform body and mind.
Popular in the Community