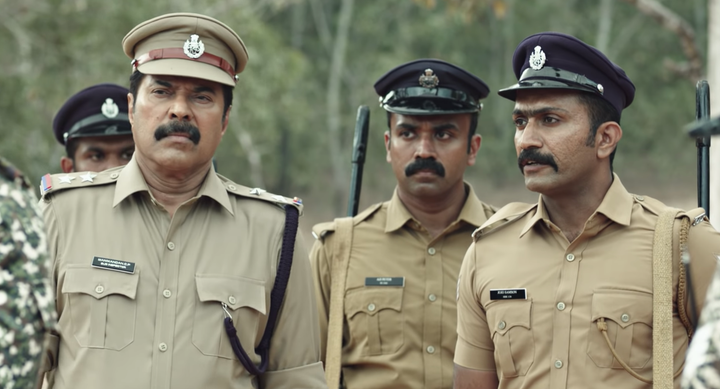 A few minutes before the interval in Unda, a few cops from Kerala, who are posted at an isolated, rundown polling booth in the middle of a Chhattisgarh forest, find themselves being the target of a flurry of gunshots. As they muster all the courage and guns that are available and fire back, their senior, SI Mani sir (Mammootty), staggers onto a chair, sweaty and numb. As the camera focuses on his ashen face, we end the first half staring at an ordinary, vulnerable policeman who apologises to his juniors the next day and admits that he has never chased thieves in his career and no idea what to do when faced with bullets.
Wikipedia may slot Unda as megastar Mammooty's nth outing as a celluloid cop, but what sets it apart is that his character is a subversion of all the cool, all-knowing policemen he has played on screen so far. Mani Sir is aged, has a small paunch and fears for his life and family. On one occasion, you see him weary and clammy as he curls up on the floor and you find yourself getting panicky over his heart condition. When the ITBT Commandant talks down to him, he only nods and turns to his junior for translating it from Hindi. Mammootty is superbly convincing and real as he lives the role of SI Mani. His intro is a beauty and succinctly sums up the man and his attitude: a man tries to gently steal a purse from another man's pocket, only to realise that a policeman is watching him. As he quietly slips it on the ground and leaves, SI Mani gently allows himself a smile. Everything is there in that smile, world-weary, duty-bound and kind.
But then, Unda, directed by Khalid Rahman, is the story of ordinary policemen like those, and its beauty is that it never forgets that. Nine such cops, who are deputed under Mani sir, are clueless and anxious about what's in store for them in Maoist-ridden Chhattisgarh, where they are assigned for election duty.
If you think too much about it, Unda really floats on a thin storyline. But it's how Khalid crafts the scenes, drizzling them with humour, satire, suspense (aided by some terrific background score by Prashant Pillai) and sensitivity, that makes it a compelling watch.
He gives each of these havildars and constables a definitive character sketch and allows them space and thoughtful conversations that help shape them for the viewer. There is Jojo (Shine Tom Chacko), Mani sir's second-in-command, who likes to throw his weight around. But then he is also going through an imminent divorce. Biju (Lukman) who is mourning over his wife's desertion and his own caste identity. Gireesh (Arjun Ashokan) who is savouring the excitement of a romance and Aji Peter (Rony David), who happens to be his future brother-in-law. Naushad, who fantasises about being an actor one day, or Gokulan, who has left his pregnant wife to join the camp. They are all people with complexities, uncertainties, fears and anxieties.
The junior-senior dynamics, the gentle and cruel ragging that ranges from casteist slurs to vulgar curiosity about personal lives, are all in here. Biju is constantly taunted about being an 'Adivasi' by his colleague. When they later survive a bombing together, the latter apologises, saying that "that man is dead now". There are no fiery speeches or easy advice about bravery or nationalism, just simple powerful lines borne out of fear and the need to survive.
"When you have a superstar headlining the narrative, it's often tempting to allow him to take the reins (as has happened in most of Mammootty's recent outings) but Khalid overcomes that"
The doctor-turned army officer they meet at the camp, the local Adivasi man who talks about identity politics and their land being snatched away are unforgettable images. It tells us about police forces who are often forced to survive with minimal resources and amenities, about helpless senior cops who are not equipped to take on bigger dangerous missions, about tribal minorities in India who are still reeling under water scarcity, caste oppression and land attacks. There is a hilariously ironic scene where a cop propels himself over a tree and shoots (with rationed bullets) on the attackers. But none of it hits the target and Mani sir shouts in exasperation: "Can't you even get one right?"
When you have a superstar headlining the narrative, it's often tempting to allow him to take the reins (as has happened in most of Mammootty's recent outings) but Khalid overcomes that, coming up with a sensitive balancing act that never lets the star overpower the narrative.