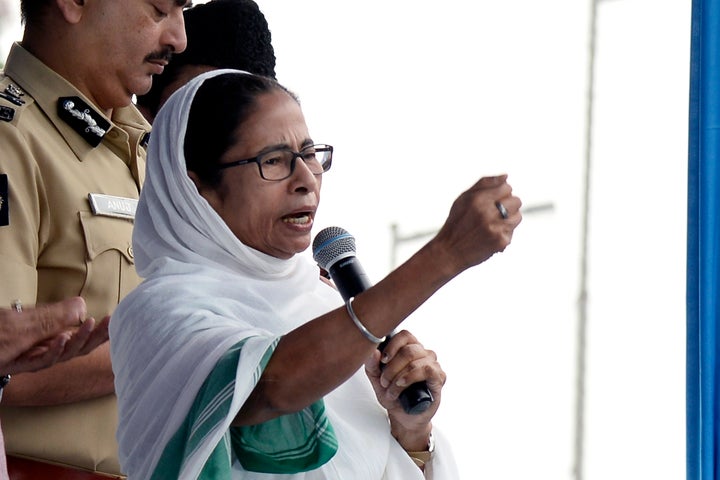 NEW DELHI — Kabir Suman, a well-known Bengali singer, writer and political activist, had just walked into a recording studio owned by a popular music channel in Kolkata when the television started beaming a press conference by Biman Bose, a member of the Communist Party of India (Marxist)'s influential politburo.
The year was 2006, the CPM had stormed back to power as a continuation of an unbroken run of forming governments in the state since 1977; and Buddhadeb Bhattacharya was firmly ensconced in Writers' Building as the Chief Minister. But out in the streets, Banerjee had become a regular and somewhat incredulous fixture at the city's many dharnas.
Banerjee had entered the urban Bengali consciousness as a tireless protester — photos of her being dragged by her hair, lathicharged and hauled across roads by police were a regular in vernacular newspapers through most of the late 90s and early 2000s. But by 2006, she was making enough noise for the old men of Left politics to take notice.
"Or oto bukei ba lage kyano? (why does she always get hurt on her chest?)', Bose said in his press conference, mocking Banerjee. Bose's smug, self-satisfied demeanour rankled Suman, the musician.
"It was infuriating, that tone," the 70-year-old Suman recalled. Despite being someone identifies himself as 'pro-Left', Suman cancelled the day's meeting and headed to the protest site to meet Banerjee, the subject of Bose's ridicule.
In the long years leading up to 2011, when the Left Front seemed impregnable in Bengal before it suddenly folded like a house of cards, Banerjee invited the kind of sustained, eager mockery that very few politicians did. As late as months before the 2011 elections, when Banerjee was on the cusp of overthrowing the CPM, she was routinely caricatured in school skits.
In one school fest this correspondent attended, a boy of about 15 wrapped himself in a faded grey sari, held up the ripped pallu and screeched: "Look, look, they have torn my saree," to parody the common perception that Banerjee complained about everything. The auditorium erupted with laughter.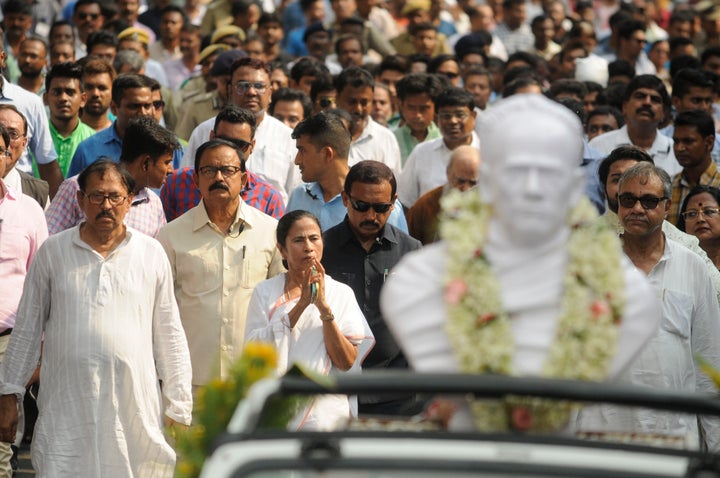 Thirteen years on, as Amit Shah and the Bharatiya Janata Party (BJP) plot Banerjee's political demise, Kolkata's chatterati— journalists, political commentators, and cultural gatekeepers—are chuckling again. The media's coverage of Banerjee's actions is once again focused on her rage, and supposed irrationality in the face of Shah's presumed "political genius" — a now commonly accepted euphemism for the BJP's hate-mongering that is so polite that it stretches the limits of language.
"It's like she is digging her own grave," filmmaker Aparna Sen told NDTV in a recent interview, adding that Bengal's "civilized urban elite middle class" are now "pro-BJP".
A day after the 2019 Lok Sabha elections, a WhatsApp forward doing the rounds of Kolkata said, "Narendra Modi is proof of what happens when men don't marry: they do great things and lead countries. Mamata Banerjee is proof of what happens when women don't marry: they are irritated and irritate everybody else." Suman pointed out how Banerjee was being called 'pishi' (aunt) by political opponents and general people to trivialise her politics.
But then caricatures of Banerjee have always been rooted in class and gender: Where her predecessor Buddhadeb Bhattacharjee, who chain-smoked 555 State Express cigarettes right up to his government's demise, was invariably seen as measured, unflappable and reasonable, Mamata has always been caricatured in a manner familiar to women who speak their mind — angry, irrational and shrill.
In these caricatures, she is shown as someone who drops the 'r' in problem, who inserts an unnecessary 'the' in sentences, who screams and shouts. While giving a quote to reporters, a CPM leader once compared her to prostitutes in Sonagachi, Bengal's biggest red-light area.
While much of the criticism that has come Banerjee's way is rooted in sexism, there's a much more real fear voiced by those who supported her while she was in the opposition, but parted ways when she came to power—that she and her party have morphed into the sort of political front that she once raged against. Much like the CPM, the Trinamool today is capricious, dictatorial and quick to use the coercive powers of the government against presumed opponents.
In the run-up to the 2019 elections, many saw Mamata Banerjee as the great liberal hope who would stand up to the BJP juggernaut (often forgetting that Banerjee herself had no qualms in doing business with the right-wing party when Atal Bihari Vajpayee was prime minister). Yet, her track record in Bengal suggests their hopes may have been misplaced.
"Banerjee was intolerant of criticism and it became evident a long time ago," filmmaker Anik Dutta, whose film Bhobishyoter Bhoot faced a ban, told HuffPost India.
As Bengal remains on the boil, with reports of violence coming in every day, Suman pointed out that Banerjee is up against forces that she may herself have led to Bengal. TMC's alliance with the BJP — Banerjee was the railways minister in the Vajpayee government until she quit the NDA— could have been responsible for BJP finding ground in Bengal. "Prior to TMC's alliance, no party in Bengal had allied with right-wing parties like BJP," he said.
WHAT IS TRINAMOOL CONGRESS?
"Dori dhore maro taan, raja hobe khan khan (Pull the rope, and the king will fall into pieces)."
In the state elections of 2011, these lines from Satyajit Ray's film 'Hirak Rajar Deshe', or In The Land of The Diamond King, were often painted on walls across the state. Facebook statuses, that surfaced on this correspondent's timeline around the same period, also often referred to this line to describe the political atmosphere in the state at the time. The metaphor was lost on no one: In the film, a despotic king keeps his subjects starving and in penury, while he fills his coffers with riches. Anyone who protests is subjected to a 'brainwashing' device. These lines are uttered near the climax, when the subjects finally awaken and pull down a massive statue of the king.
In Bengal, the task of toppling the statue fell to Banerjee and the Trinamool Congress — a party of perennial opposition that she had pulled together by sheer force of will. In 2009, for instance, Suman — the musician who had been so turned off by the CPM — agreed to fight the general elections on a Trinamool ticket.
"I told her I was not very interested in being a part of a party and all. I am a political person, but not a person of politics. But she said, 'Suman da, please do it for me, please help me win'," Suman said. He fought and won the election, he insists, on a 'party ticket', but never fell in line with Trinamool Congress as a party. The singer recounts that he did not see much in TMC as a party, but liked Banerjee and her relentless nature. "She is a revolutionary, a rebel, a street-fighter," Suman told HuffPost India.
In 2011, when the state election results were finally declared, The Telegraph announced her victory on the front page with the illustration of a fist smashing through a red brick wall.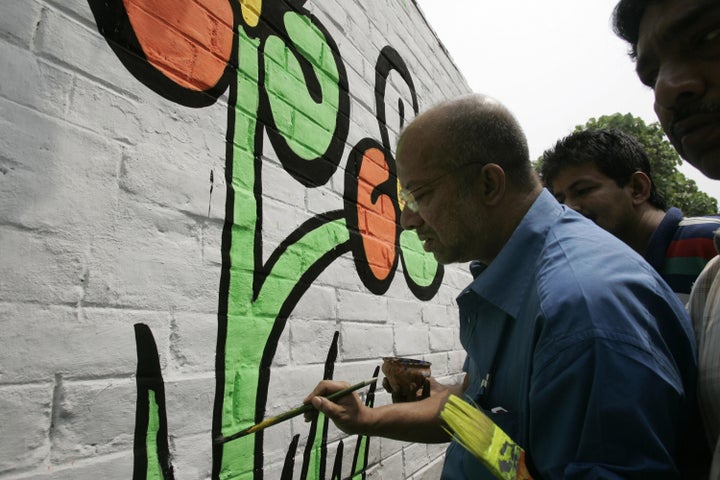 Once Banerjee won, she was tasked with building a politics that went beyond a simple rejection of the Left.
"The problem with TMC now is, people don't know what they stand for. The CPM stands for something, the BJP, however vicious, also stands for something. Like it or not, they have made Hindutva an issue they stand for," Suman said. "What is TMC about?"
Mamata Banerjee, it was clear, stood for Mamata Banerjee — but what else?
"The party is her and she is the party," Suman said.
DIDI AFTER POWER
Suman fell out of favour with Banerjee soon after she came to power. "I liked Mamata a lot, but could not agree with everything she said," Suman told HuffPost India.
A large contingent of Left supporters had parted ways with it over Buddhadeb Bhattacharjee's handling of the Maoist insurgency. In 2007, a stir against land acquisition in the settlement of Nandigram left 14 civilians dead. The land was meant for a Special Economic Zone.
Similar protests broke out in Singur over land meant for a Tata factory. An ostensibly communist government was seen to be ordering police action on farmers at the behest of one of India's richest men. Banerjee was quick to spot the opportunity, and positioned herself as the saviour of the poor.
Once the Trinamool came to power, Suman and Banerjee fell out over her demands for military action against the Maoists.
In defiance to Banerjee's line, Suman composed and wrote songs on Kishenji and Chhatradhar Mahato, Maoists leaders he considered victims of state oppression.
A few months after Banerjee became the CM, Suman said in an interview to Outlook magazine: "She then told me, I can remove you in just one second, but am not doing so at the moment."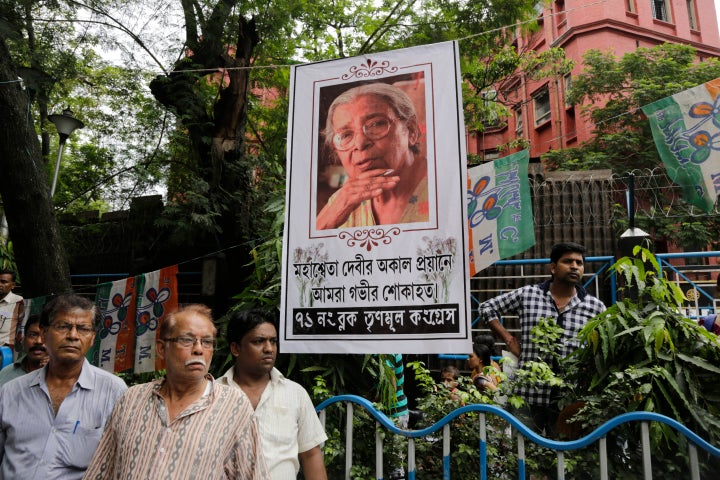 Mahashweta Devi, a writer and Magsaysay award winner and vocal critic of state oppression till her death in 2016, was similarly wrong-footed by Banerjee's rapid volte face on the Maoist insurgency. In a 2010 interview with this correspondent in Kolkata, Devi said all political parties in the country frustrated her. Banerjee, however, gave her hope.
"I have had political leaders trying to coddle up to me for years. But nobody is as hard-working as Mamata. She has no frills, no demands, nothing. She walks for miles, eats nothing all day," she said. "One day while speaking to her, I asked her what she was eating. 'Eito muri batasha' (Here, puffed rice and sugar candy), she told me. I have seen her eating just that in a long work day. I keep telling her, please eat properly."
Devi supported Banerjee in 2011 and was occasionally seen at programmes with her despite her advanced age and ill health. But within seven months of Banerjee coming to power, Devi called Chief Minister a 'fascist' after the latter refused permission for a march organised by the Association for Protection of Democratic Rights, a civil society organisation.
Soon, Banerjee banned protest marches by organisations she decided were pro-Naxalite.
"No one can impose a ban on our democratic rights. All of us have the right to express our views in a democratic set-up," Devi said. "It's nothing but a fascist act."
Banerjee allegedly dismissed Devi's outcry as "drama" though she did not take Devi's name. Speaking to reporters outside Writers', Banerjee said, "She (Mahashweta Devi) is very old and I respect her age. I will not say a word against her… But I must add that I am not liking the fact that some people are taking advantage of her age and forcing her to tell lies."
Recollecting the episode, Suman said it was a difficult time. "Mahashweta Di was heartbroken," he said.
MUSLIM 'APPEASEMENT'
The BJP's strategy against Banerjee is simple and time-tested: they have sought to portray her as someone who has reached out to Bengal's Muslim population at the cost of the state's Hindus.
Sugato Bose, a history professor at Harvard University who fought the general elections in 2014 on Banerjee's behest and won, cited a popular Bengali poem written by Kazi Nazrul Islam to describe Banerjee's approach to religion.
The poem goes: "Mora eki brinde duti kusum, Hindu, Musholman' (We are two flowers on the same stem, Hindu Muslims)."
Suman, Banerjee's former ally, said Banerjee had been guided by the findings of the Sachar Committee, which submitted a 400 page report on the status of Muslims in India in 2006. In sum, the committee found that India's Muslim community had been severely economically marginalised. "The Sachar Committee Report had revealed that Muslims had been left behind during the long decades of communist rule. Something needed to be done to give equal opportunity to Muslims in education, employment, credit and housing," Bose added.
"When the Sachar Committee report was published, it clearly said that Muslims in West Bengal were the worst off, economically," Suman said. "How is it wrong if she is trying to get them at par with others?"
Bose, however, also noted the political implications of her actions.
"Perhaps she should have been more careful not to give the impression of acknowledging religious leaders as the spokespersons of the entire community," Bose said.
Bose's observations may be applied to a wide spectrum of India's secular parties: The Congress, the Samajwadi Party, and the TMC have consistently chosen to empower the influential and conservative Muslim clergy rather than the community.
Bangladeshi writer Taslima Nasreen's experiences bear this out. Nasreen moved to India in 2004 after spending a decade in exile after she fled Dhaka in 1994, when a Muslim fundamentalist group issued a fatwa against her.
A year previously, Nasreen's book Dwikhandito, or Split in Two, was banned by the Left Front government for supposedly offending the sentiments of the Muslim community. In 2007, when Bengal was still ruled by the nominally atheist communists, she was forced to leave Kolkata after Muslim leaders in the city revived a fatwa against her.
At the time, Nasreen said, she counted on Banerjee as an ally as the latter was a relentless critic of the Left. In 2012, a year into Banerjee's first term as chief minister, Nasreen's novel 'Nirbashon' (Exiled)" was set to be released at the Kolkata Book Fair. Nasreen still did not dare visit Kolkata, fearing her safety.
"Nirbashon", Nasreen told HuffPost India, was a scathing and critical account of the Left's legacy in Bengal, outlining how it succumbed to extremist elements.
The morning the book was to release, the largest auditorium in the fair grounds had been booked for a panel discussion, reporters had started streaming in and copies of the books with Nasreen's autograph on them had been stacked for sale.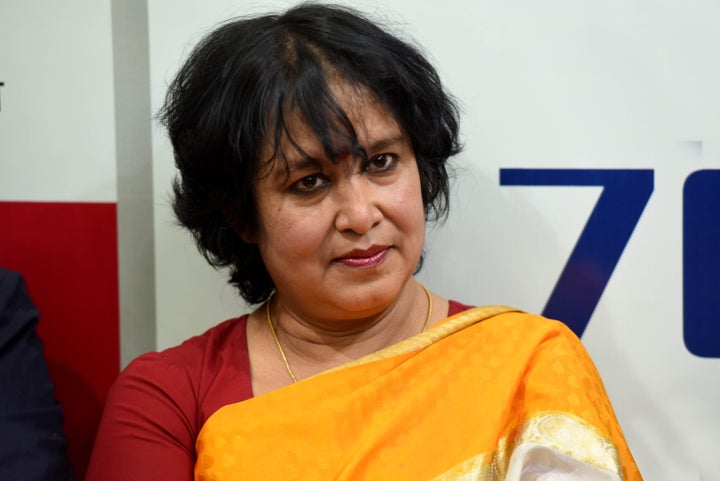 But hours before the event, a procession of men shouting slogans against Nasreen started hovering around the periphery of the fairground. An hour later, the book launch had been cancelled. While there was no official ban on 'Nirbashan', but it's sale and publication was opposed violently, making it virtually impossible for anyone to get a copy of it in Kolkata.
The man who allegedly orchestrated the entire episode was Idris Ali, a Trinamool Congress leader known to be a strong link between Banerjee and the Muslim population in the border districts of Bengal. This summer, Ali was TMC's MP from Basirhat, a Muslim majority area which witnessed a spate of violence on Sunday, leading to deaths of both BJP and TMC workers.
"One of my books was supposed to be made into a 46-episode tele-serial. Shooting had begun, the producers had invested quite a bit of money in it," Nasreen told HuffPost India. "Suddenly, I was informed that the serial had been scrapped."
The makers told her they were under 'immense pressure' from the 'government' to stop shooting and they felt compelled to do so, even at the cost of losing money. Bengali newspapers stopped publishing her writings.
"I am not anti-Muslim. I want Muslim people to have access to education, progress and opportunities," Nasrin said. "I also want their women to be free, lead lives of dignity, not be stifled by personal laws that are against their well being."
Banerjee, Nasreen said, was pandering to male Muslim clerics — 'mullah appeasement' she called it — at the cost of bringing "real development" to the community.
"It was most ironic. Nirbashon was a criticism of Banerjee's arch rival CPM and her government stopped its release," Nasreen said.
Nasreen said that it has been difficult for her to come to terms with the fact that she had to face the ordeal in a democracy and not a 'Muslim, fundamentalist country'. "The mullah appeasement policies of Banerjee are no different from that of CPM," she said, adding she felt proud about the chief minister's rise in politics as a woman but the latter handling of Nasreen's plight was worse than CPM's.
ONCE A PROTESTER, ALWAYS A PROTESTER
Filmmaker Anik Dutta, whose political satire Bhobishyoter Bhoot faced a ban from the government earlier this year, somewhat embodies the Left-leaning elite's frustration with Banerjee, which eight years ago, made her look like a saviour of the masses. Several times during his conversation with HuffPost India, Dutta used the words 'cultured and educated' to describe Left leaders in contrast to Banerjee. He also admitted that the Left was 'elitist' in many ways, and that may have contributed to Banerjee's popularity with the masses.
Dutta pointed to the state of the film industry — always doing the bidding of the Trinamool Congress and its leaders — as symptomatic of how Banerjee has been running the state. "I was sent out feelers through producers and fellow directors to hold a special screening for the CM and the government. The police also reached out and wanted to watch the film," he said, adding there were objections to the films right from the day he started shooting.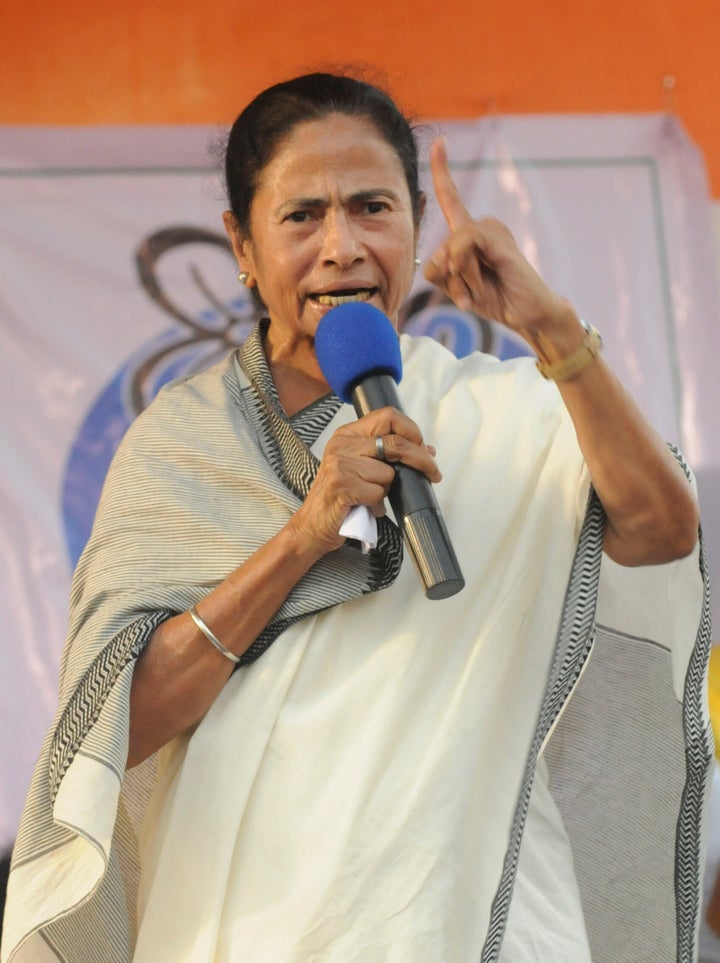 "We finished the shoot in a guerilla-like fashion," he said. Dutta painted a disturbing picture of the party and CM's hold on the film industry. "There was this one time, all shoots in Tollywood were cancelled overnight because the CM wanted all the actors at some political rally. Imagine the kind of losses," he said, adding that there was an 'unwritten rule' that it was compulsory for everyone to turn up at the government's various award functions.
Sugato Bose, the Harvard professor, however disagreed. "I have found her to be prepared to listen. For example, I was able to garner her support to work for the India-Bangladesh Land Boundary Agreement on the Parliamentary Standing Committee on External Affairs by assuring her that I would carefully balance the national interest, the state's interest, and the human interest of the people inhabiting the borderlands," he said.
Dutta's was not the first film which ran into trouble with Banerjee. Kangal Malshat, a film directed by Sumon Mukhopadhyay and starring Suman, also ran into trouble with censors for depicting Banerjee's oath-taking ceremony is an allegedly problematic way.
However, Suman, the star of the film, has made up with Banerjee, though he remains deeply critical of her party. The reason, he said, was because he found Banerjee to be way more pluralistic than BJP as a party as the latter's chances of forming a government in West Bengal becomes a strong possibility. "If there is anyone who can defeat the communal forces of the BJP, it is her. We need to reorganise the party, get our priorities right and surge ahead," he said.
While he hoped Banerjee puts her soul into the party like she did in the past, Suman also said she was a victim of a 'sickness' that is the anti-Muslim sentiment propagated by the BJP. "It is gaining currency at the moment."
"Also, Bong Marxists who got jealous. They are so jealous that they are not red anymore, they are green with jealousy. They couldn't tolerate the fact that a common Bengali woman, who couldn't pronounce English words like them, defeated them," Suman said.
Popular in the Community