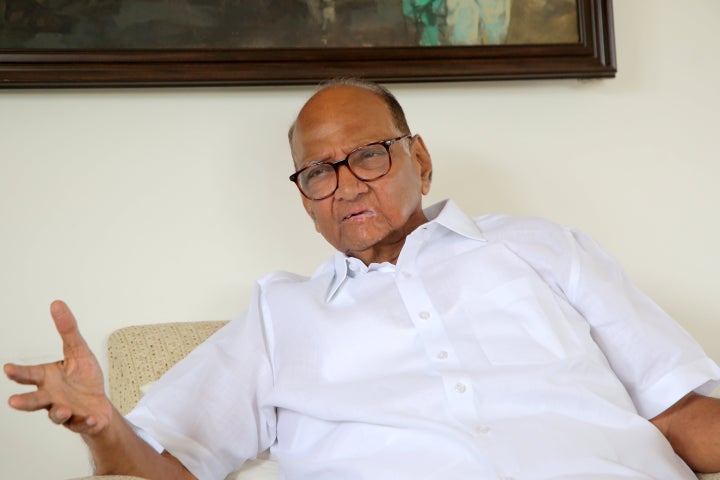 PUNE, Maharashtra: Months ahead of the Maharashtra Assembly election, the Nationalist Congress Party (NCP) has been shaken by a number of defections by party members to the BJP and Shiv Sena which are in power both in the state and the centre. Party supremo Sharad Pawar, however, is putting up a brave face, telling HuffPost India in an interview that he has faced bigger challenges in his decades-long political career.
He also opened up about losing his cool at a press conference recently, possibly for the first time in his long political career, which caused a lot of speculation in Maharashtra. The incident had occurred after a journalist asked Pawar about reports of one of his relatives quitting NCP to join the BJP.
However, he accused Narendra Modi government of using central investigative agencies such as ED and CBI to target opposition leaders.
"This government is acting selectively and taking actions against political leaders who do not belong to their thinking by using certain investigating agencies and sending them behind bars and trying to damage their image in the minds of people," he said while taking a dig at PM's "constant foreign tours"
The 78-year-old veteran politician, whose party won just 4 out of 48 seats in the general election in May, also accused the Rashtriya Swayamsevak Sangh (RSS) of effectively running the central government.
"It is unconstitutional. It is direct interference by a certain section who is not elected and who has no authority," he alleged.
Pawar also said that many NCP leaders are keen on a tie-up with MNS chief Raj Thackeray, who has been campaigning against the BJP for some months now. But the final decision will only be taken if alliance partner Congress agrees to it.
Pawar also dismissed rumours of rift within his own family as just "gossip".
Edited excerpts from an interview:
What went wrong in the 2019 Lok Sabha election? What do you think helped BJP get such an overwhelming majority?
The last Lok Sabha election was not a normal general election. There was an atmosphere in the country where, by and large, and especially a sizable section of the younger generation, were admirers of Mr. Modi because of certain actions he took on the India-Pakistan border in Kashmir. A message was sent that he is a strong leader, especially due to action after the Pulwama incident. The mood of the country, on the eve of the election, got totally changed. Prior to this (Balakot) action, the atmosphere in the country was that everybody was unhappy with the Modi government. The economy was in the doldrums, law and order situation was bad and (same was the case) with agriculture. The investment climate had been disappearing and some communal atmosphere against certain segments was fomenting in India in those (pre-election) days. The mood of the country was not happy or in favour of the BJP. With this background, everybody was expecting that the Modi government will go but because of this one action (Balakot), the situation got totally changed. In India, any leader, particularly from the government side, whenever he tries to take strong action against Pakistan, the country gets charged and such a leader always gets support. You recollect Indira Gandhi's action of dividing Pakistan and the election immediately after that, the Congress got practically a two-thirds majority. A similar situation is taking place now.
They (BJP) have succeeded in the Lok Sabha election, but now people have started realizing about other issues. The industries sector is in very bad shape, quite a large number of people are losing jobs. Maruti, one of the biggest car manufacturers in India, has also removed quite a large number of people. A statement came from Mahindra that they have no choice but to discontinue with quite a big number (of people). Unemployment is a serious issue today. There is no investment climate. On the agriculture front, the percentage of suicides in India, and especially in Maharashtra, is quite serious.
"I don't think the present prime minister has visited any state, or particularly a state like Maharashtra, which is facing serious drought and floods. ""
In Maharashtra, one part is witnessing flooding while some other parts are facing drought, with even drinking water not being available. In such a situation, the expectations of the public at large, with the Delhi government or the state government, are to take the issue seriously and stand behind the affected people. But nobody is seeing the presence of the government on the ground. In fact, as I recollect, Maharashtra has faced drought previously also. Even (then) prime minister Jawaharlal Nehru had visited Ahmednagar when the district was witnessing severe drought. Mr.Gandhi, Narasimha Rao, Manmohan Singh and almost all prime ministers would visit such areas. But I don't think the present prime minister has visited any state, or particularly a state like Maharashtra, which is facing serious drought and floods. Nowadays, if you have to read or know something about our prime minister, you have to read or see international newspapers and news agencies only, because his presence in India is rare. He (PM Modi) is continuously outside India for this or that reason. I don't say it's not important, it is important but when our own country is facing serious issues, one cannot neglect that.
The situation is similar in the state as well. The state leadership doesn't take any interest (in solving problems). There was a serious flood in western Maharashtra recently but I saw the visit of the Chief Minister for a few hours only once and then nobody was seeing what was happening or who is helping people. Rehabilitation work has to start early but the present administration practically is not interested in it at all. A similar situation was witnessed in the Marathwada drought. I did not see the state leadership (CM) taking any interest in visiting there, studying the ground-level situation, organizing cattle camps, organizing relief. The entire focus and will are not there. (At the time of Lok Sabha) the mood of the people in the country and in the state after the Pulwama and others was favourable to Modi, but we are witnessing an exactly opposite situation today ahead of assembly elections.
You have been out of power for the last five years now and on the eve of this election, many people close to you, many of your loyal partymen, are switching over to the BJP and Shiv Sena. The scale of defections is large.
It's not only in my party. It always happens (ahead of elections). See, there are two types of elements in any political party. One committed to the ideology of the party and ready to face any situation whether the party is in opposition or in government. Then there are certain elements with no clear-cut ideology. Their approach is to be associated with the relevant players to get success. When the situation changed and especially after this Lok Sabha election, a message of 'Modi, Modi, Modi' has gone everywhere. A certain section in my party or Congress may have started feeling that they had five years in opposition and if a similar situation were to occur after this election, there would be ten years in opposition. Those with ideological commitment did not bother about 10 years or 15 years (in opposition) but the section who did not have this commitment thought of joining the ruling section and get some opportunities either in the legislature or in government, which is why they are shifting.
But in my own observation, this type of situation we have seen previously also. In 1978-80, my strength after the election was 62-63 and we were in opposition. Out of these 62, within two months after the election, 55 of my colleagues left and they joined the ruling party and I remained a leader of five MLAs. From the recognized leader of opposition in the house, I was reduced to a leader of five people. But we worked really hard and in the next election, we came in power. So this (desertions) is not something new and it's not only here (in Maharashtra). Prior to getting a comfortable majority in West Bengal, Mamata Banerjee's total strength was very less. A similar situation was witnessed in Tamil Nadu when prior to getting a two-thirds majority, Jayalalithaa had practically lost all seats. This happens sometimes. This is a democracy and its roots have reached every corner. So somebody wins, somebody loses. It's not new. One has to continue working.
What do you have to say about opposition leaders getting ED and IT notices and inquiries? This is also causing desertions.
For the first time in India, we are seeing the misuse of investigating agencies by the government against the opposition. We never saw this before. We have seen Emergency during Mrs.Indira Gandhi's rule, but it was different—there was no selective action like we are witnessing now. In Emergency, the action was against those who were opposing the government approach. But within 18-19 months, there was an election and Indira Gandhi and the Congress party faced a rout in it. She herself lost the election, her son lost the election. Most of the CMs lost the election. That had shown that the people of this country do not compromise on the issue of basic democratic rights. If somebody is trying to bring a lot of restrictions and curtail the basic rights, people will react. But this time, the approach (of the Modi government) is different. This government is acting selectively and taking actions against political leaders who do not belong to their thinking by using certain investigating agencies and sending them behind bars and trying to damage their image in the minds of people. Look at Mr. Chidambaram, one of the senior-most Congress leaders, who happened to be the former finance minister and home minister and has a reputation of being a competent parliamentarian and administrator. But now he has been arrested and sent to jail and it looks like the courts have taken a different approach to his pleas. I heard that they have kept ready half-a-dozen cases against him. It's a vindictive action. Whenever people get an opportunity to express their views, they defeat such an approach.
"This government is acting selectively and taking actions against political leaders who do not belong to their thinking by using certain investigating agencies and sending them behind bars and trying to damage their image in the minds of people.""
Do you think such acts damage the political culture of India?
Nobody has imposed curbs on the basic democratic rights, except at the time of Emergency, which is being done now. India's reputation is that of the largest democracy in the world. Nobody has tried to assault that except at the time of Emergency. Now, they (Modi government) are not following that (Emergency) route. They are following the selective route and selective actions are being taken against important opposition leaders. This is damaging political culture.
"About Mr. Raj Thackeray, many of my party colleagues do feel that we should try to associate with him. Congress has certain reservations about it"
Is this the toughest election of your political career?
Not really. As I have mentioned, I have seen worse situations than this.
Your party is focusing on some regions of the state and not the entire state. You are focused on western Maharashtra, not Marathwada, Vidarbha or Mumbai?
That is not the situation. We got a big number of seats from Marathwada. It is true that we are weak in Mumbai. We are following coalition politics with our partner Congress. If some of our partners have got a strong base in certain areas, we associate with them. We give full freedom to them. In Mumbai city, as compared to NCP, Congress has a better presence, cadre, and better base. In order to defeat BJP-Shiv Sena, we have to support that section that we are taking secondary position. It's a political compulsion.
Are you keen on an alliance with Congress? Is it going to happen? Are you also going to induct people like Raj Thackeray or Prakash Ambedkar?
We already have an understanding with Congress and there is an alliance and we are going to contest together. We are negotiating on seat distribution. Now there is a question of other political parties. We would definitely like to associate with people committed to the cause. About Mr. Raj Thackeray, many of my party colleagues do feel that we should try to associate with him. Congress has certain reservations about it. But Congress being our senior partner, we have to see that there is a perfect understanding between all of us when we talk of inducting a new partner (in the alliance). On Raj Thackeray's induction issue, we are yet to reach an understanding. We are discussing it. I cannot say that they (Congress) are totally negative but I am not the only person and our party is not the only party to decide it. Our other partners have to be taken in confidence before taking a final decision.
Do you see a revival for the Congress? What are your thoughts on Priyanka and Rahul Gandhi?
I honestly feel Congress will revive. Whether we like it or not, in this country, Congress is an organization that has a presence in every corner of the country. It may be effective or ineffective, but the presence is there. When people want some alternative, people do support Congress. In 1977, Congress was practically routed but in 1980, they won again. You like it or not, this Gandhi-Nehru family is important to keep the Congress united. The Gandhis are the cementing force in Congress's ideological section. The Gandhi-Nehru family succeeds in bringing all sections of the Congress together.
After the Lok Sabha elections, there was talk of an NCP-Congress merger. Is this right?
This is all just media gossip. There were no talks like that.
You have been targeting Narendra Modi, Amit Shah, Devendra Fadnavis and other individuals. But they all emerge from a school of thought called the RSS. None of them can dare to publicly speak against the RSS...
The invisible authority behind the present ruling party and dispensation is RSS. Without consulting the RSS, no major decision is taken in this country today. One RSS person is deputed to every BJP minister or administrator as an OSD or in another capacity. That person's job is to see that things are going as per the RSS ideology.
But the same BJP would accuse Sonia Gandhi of controlling the Manmohan Singh government. Now you have RSS doing the same thing?
That perception (Sonia Gandhi controlling Manmohan Singh) was wrong. I was a senior minister in that government and I never saw any such interference. And what is wrong with consulting your party leadership? During UPA's term, there would be discussions between the party and the government because political parties are connected with people. I was a member of many committees but I did not witness a single instance of direct instructions from Sonia Gandhi. But now, on every government action, there is a close watch of the RSS on a day-to-day basis.
So isn't that unconstitutional?
It is unconstitutional. It is direct interference by a certain section who are not elected and who have no authority.
During one of your party programmes, you asked your partymen to use Mahatma Phule's pagadi and not Puneri Pagadi (which is identified with Brahmin culture). Why did you do that? Is this a signal that you are returning to Bahujan politics?
Mahatma Jyotiba Phule was one of the tallest social reformers in our country who fought for the weakest sections of the society, and his fight was not communal. Phule and Ambedkar dedicated their lives for the upliftment of weaker sections and we do believe in their teachings and Phule's pagadi was a symbol. Social equality can be achieved by following the path shown by Phule, Shahu and Ambedkar. If a majority section is deprived of basic rights and if somebody wants to serve the country, what should be his priority? It should be to serve the weakest section.
Are you implying that the present government in the state and the centre are not committed to the welfare of the weaker sections?
I won't totally say 'no' but that thirst to work for the marginalised is not there. I don't say they are anti-marginalised but there are other parties whose thirst is to work for the upliftment of the weaker sections.
People have raised multiple allegations of corruption against you related to land, money etc. Why don't you respond to such things? Even now, there is a bank scandal in which your name is being raked up.
One fellow made an allegation that Mr. Pawar belongs to a particular party and some elected representatives named in some scandals belong to that party. But are you going to blame me for allegations against others? I don't respond because it is a total lie. After some time, people do start realizing that nothing was correct and all these were false allegations. If I start replying to allegations, I would end up giving importance to those who are making wild allegations.
But has this not created a perception? People say Sharad Pawar owns huge properties or has a lot of money.
(Laughs) Someone should show it then. I 'll be the happiest person. Except my agricultural land in Baramati, if someone shows one inch of land, I 'll be the happiest person.
What do you think of EVMs? Do you believe EVMs are absolutely tamper-proof?
You see, generally people at large have no faith (in EVMs) and when a sizable section of the society doesn't have faith, the election machinery or the Election Commission has to take the issue seriously. There are certain technocrats who have shown us how EVMs can be manipulated by certain chips. I am not an expert on this but some people have shown, so it is the duty of the ECI to go in-depth and take everyone in confidence to try and resolve the issue.
Only repeating that everything is correct and not resolving the issue is not correct.
Apart from you, four other members of your family are in politics and there were reports that the third-generation—Rohit and Parth—is competing with each other. Is everything ok in the family?
Yeah, everything is all right. Certain newspapers and sections of the media, who need some gossip, use this type of thing and they generally try to project something to attract readers. It is all gossip.
Who do you see as your political heir?
There is no question of an heir. I will not suggest anybody. Everybody has to prove his mantle in public life. People at large have to accept you. For instance, my daughter is not interested in state politics. She is interested in Parliament. She has been rewarded for her work in Parliament.
Your nephew Ajit Pawar has been deputy CM and minister for a long time. He is a prominent politician from the Pawar family but he doesn't even find a mention in your autobiography. Your daughter, meanwhile, has written its foreword.
The book was about me. Whatever I have written is about me. I have not mentioned Parth or Rohit either in that book. Supriya wanted to write the foreword so she wrote it.
What do you think about the Maratha Kranti Morcha?
Everyone tries to project that the Maratha community has been benefiting from power, which is not correct. If someone from the community becomes the CM, he can't look after only his caste or community, he has to look after the interest of the entire state. The Maratha Kranti Morcha was a reaction of youngsters from weaker sections in Maratha community. It was not organized by any party or leader.
You see, you have to respect each other. If I start making wild allegations against you, you would certainly not like it. If a journalist is asking questions, it's their job. But if some section are asking questions despite not being journalists but as individuals who belong to some other sections, it is not correct. The journalists present in that meeting removed that person, I did not.