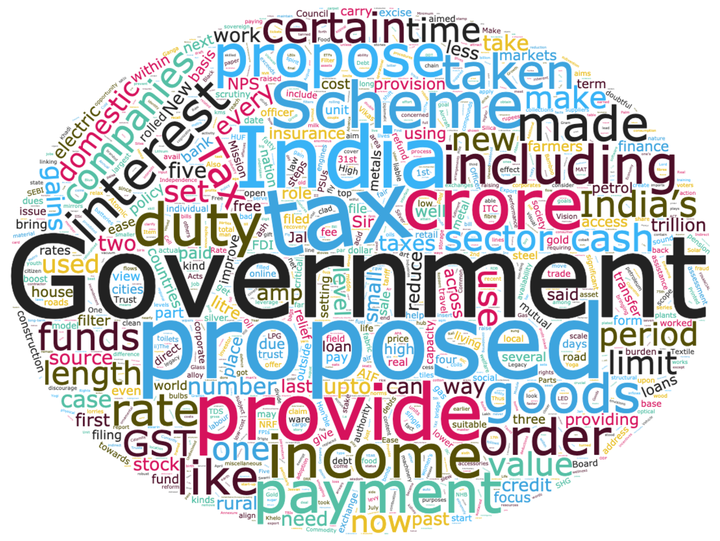 Finance Minister Nirmala Sitharaman delivered her first Union budget, making a number of announcements in her speech. Amongst other things, the government has looked for ways to increase the use of Aadhaar, including stating that people will now be able to file taxes without PAN cards, as long as they have an Aadhaar. Petrol becomes more expensive and there will be additional surcharges on the super rich.
The government has also promised relaxation of FDI norms in media, aviation, and insurance, while it also promised that all Indians will have access to safe drinking water by 2024. With so many announcements, it'll take a little time to fully understand the nuances of this budget, the first for the returning Modi-government, but a quick look at the language used in the speech gives us a peek into what the priorities of the government were.
Running the text of the speech through a text analysis software on the Internet, we were able to count the frequency of different words, and the word that is repeated the most in the Union Budget for 2019 is Government. On the other hand, despite the huge jobs crisis that India faces right now, the finance minister barely mentioned jobs. And while electric vehicles were termed a priority, there was only one passing mention to Lithium batteries, which are termed a major roadblock.
Government was the most used word in Sitharaman's budget speech, occurring 97 times, while proposed followed at 94, and tax was there 89 times. In contrast, jobs shows up only twice, first when talking about developing the aviation sector, and creating "aspirational" jobs, and second when talking about the Pradhan Mantri Kaushal Vikas Yatra, where Sitharaman talked about preparing youths to take up jobs overseas.
On the other hand, the word scheme shows up 36 times, tax 22 times, cash 21 times, and start-up 19 times. Water shows up 25 times, while electricity was mentioned a scant six times. And while its not so obvious from the word-cloud, Aadhaar turned up 21 times in the budget.
Popular in the Community