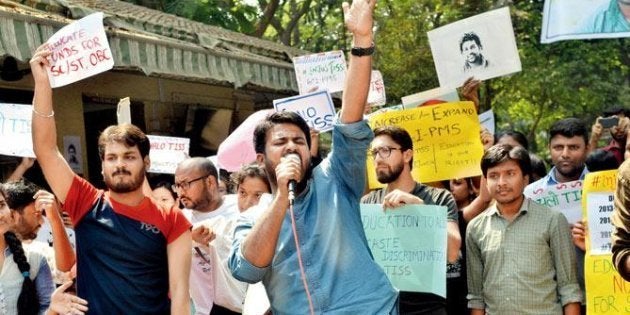 NEW DELHI — There is a concerted effort to silence voices critical of the ruling Bharatiya Janata Party (BJP) and its politics in India, student leaders who have been protesting against right-wing intimidation told HuffPost India. The activists were responding to an attack on former Jawaharlal Nehru University (JNU) student Umar Khalid earlier this week in New Delhi.
Hours after the incident, a number of people, including some journalists, had questioned on social networks whether the attack had taken place at all. Others went a step further to suggest that the assailant, who had a gun, shouldn't have missed his target. Khalid, who submitted his PhD thesis to JNU earlier this month, is not new to the vitriol. He has been at the receiving end of a stream of abuse on social media for more than two years.
The Delhi Police, who found CCTV footage of the fleeing attacker, have confirmed that the attack was not staged, though they were not sure if Khalid was being targeted. Two men have claimed responsibility for the attack in a video doing the rounds of WhatsApp. HuffPost India couldn't independently establish the veracity of the video.
While the attacker's identity and motive are still unknown, the students who spoke to HuffPost India said that it had only been a matter of time before the combination of political persecution and social media hatred emboldened someone to take an extreme step. They pointed to the murder of journalist Gauri Lankesh last year by people associated with Hindutva organisations as evidence of this.
Across campuses in India, students critical of the ruling party's politics are witnessing a strong pushback from the government, university administrations and state machineries. In 2017, student activist Pooja Shukla was thrown into jail for 26 days for waving a black flag at Uttar Pradesh Chief Minister Adityanath when he visited Lucknow University. Shukla later joined the Samajwadi Party as a full-time political activist and has been at the receiving end of intimidation by the police, who have conducted random searches at her house and detained her on more than one occasion.
"The attack on Umar... and the response to it is evidence of the fact that student activists have now become the eyesore of supporters of a certain ideology," 23-year-old Shukla told HuffPost India.
Twenty-six-year old Fahad Ahmad has spent the past couple of months running from pillar to post to get admission to a doctoral course which he had qualified for two years ago. Ahmed had enrolled for an integrated MPhil-PhD degree in social work at the Tata Institute of Social Sciences (TISS) in Mumbai, which allows a student to start on his PhD immediately after he completes his MPhil.
However, the former general secretary of the students' union of TISS faces a hurdle in pursuing his education. He had spearheaded a movement against the TISS administration after it rolled back the waiver of fees for SC, ST and OBC students earlier this year. Beginning this February, Ahmad had led protests that included sit-in demonstrations, blocking of the university gates and surrounding administrative offices. In May this year, he refused to accept his degree certificate at the convocation as a mark of protest.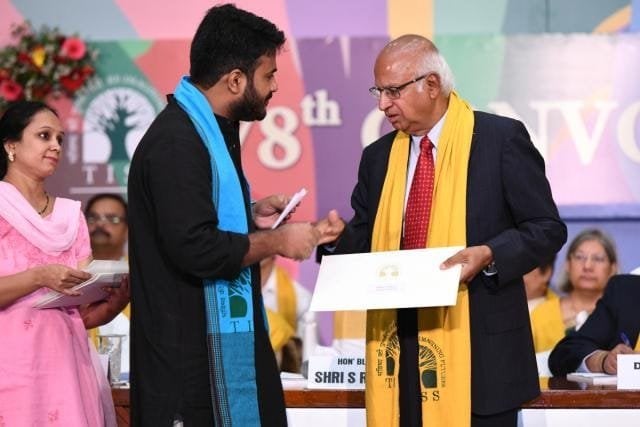 Soon after the convocation, TISS sent Ahmad a two-page letter, saying he had "insulted" the institution by refusing to accept his certificate. It also said that an enquiry has been instituted against him and other students. The letter, a copy of which is with HuffPost, also informed Ahmad that the university is 'not in a position to forward your documents for the release of JRF'.
"My father is a farmer in Bareilly and my mother a homemaker. I depend on the JRF (Junior Research Fellowship) scholarship from the UGC to support my education," said Ahmed.
However, a UGC policy that withholds a scholarship if there is a disciplinary enquiry against a student means that Ahmed has not received his stipend for four months. Ahmed says that his being a vocal critic of the central government's "anti-Dalit and anti-minority politics" had put him under the government's scanner and that the university administration was trying to curry favour with the government by making an example out of him.
"For the longest time, I did not refer to my being Muslim during political interactions. But right now, this country is at a stage where I cannot be in denial of the fact that my religion is closely related to the persecution I have faced," Ahmed said. He added that the country did not need an attack on Khalid to wake up to the fact that the government's new enemies are students.
Professor PK Shajahan, who was the dean of student when Ahmad was supposed to receive the degree certificate from the chairman S. Ramadorai, who also happens to be an advisor to the Prime Minister, said that the student refused to accept the degree. "He also wanted to speak about his issues on the stage. When he was asked not to, he refused to accept the degree and walked away," Shajahan said.
The letter the university later sent to Ahmad said that he 'in a way, insulted the chairman'.
The students also met education minister Prakash Javadekar, who Ahmad claimed, rejected their pleas about the fees.
"There's barely any opposition and the parties themselves have far from clean images. Protests by students, on the other hand, have proved to be more impactful in consolidating opinions against the BJP. No wonder then that they are cracking down on us," he said.
Ahmad's concerns are echoed by Shivangi Choubey, a 21-year-old student of Banaras Hindu University (BHU) who was recently 'debarred' from the institution for taking part in protests against the administration and the conservative, Hindutva right-wing politics on campus. Chaubey, who is part of a liberal, anti-Hindutva student's group in BHU called Joint Action Committee, told HuffPost India that she was known as a vocal critic of "everything the BJP and any religious, conservative political groups" represent.
"I had participated in a protest last year against a woman who was harassed by men on campus and the administration did not take concrete action against it. Later, I campaigned for the deadline at women's hostels to be extended," Choubey said. During one such protest earlier this year, she and some other students went to confront chief proctor Royana Singh and a heated argument followed. The next day Singh filed an FIR against Choubey under Section 307 of the IPC for "attempt to murder".
"She concocted a host of lies, but couldn't back it up with proof. Her medico-legal certificate only found that she was suffering from hypertension and could not find any evidence of physical assault like she had suggested. So police called us for questioning but did not arrest us as there was no evidence against me," Choubey said.
Singh confirmed the fact that she had filed an FIR alleging 'attempt to murder' but the police gave Choubey a clean chit.
Singh confirmed the fact that she had filed an FIR alleging 'attempt to murder' but the police gave Choubey a clean chit. She added that though Choubey and the students didn't physically assault her, they broke a glass door, shards from which injured Singh. "Their intentions were not right," Singh said.
Singh also rejected claims that Choubey was being targeted for speaking against the political regime at the Centre. "She had been claiming that she has not been given a character certificate, but we did give it to her on 13 August. The university did everything possible to help her get admission to a different institution since she was debarred from BHU.
Choubey countered that claim and said the university was compelled to do so since she had spoken against them widely.
Both Ahmed and Choubey said that they faced threats through various channels—unofficial communications from university officials, police and acquaintances —of being thrown to jail on serious charges.
"It's not just the government. The government's politics emboldens a certain group of people who then take it upon themselves to go to extremes, knowing the government will probably be on their side. That's what happened in JNU, that's what happened to me. They want to shut up political voices within campuses by taking us out and that's what they have managed to do in BHU in my case at least," said Choubey.
Sudhanshu Vajpayee, a former student of Lucknow University, was rusticated in 2015 after he got into a scuffle with Akhil Bharatiya Vidyarthi Parishad (ABVP) activists on the campus. The ABVP activists had tried to disrupt a seminar against love jihad which activist Kavita Krishnan was addressing.
"I challenged the university's decision to rusticate me in court and in 2016, the court put a stay order on their rustication. By then, I had already started a masters' degree course at an open university. Just before I went to apply for an MPhil course in 2017, the university got wind of my intentions and re-appealed against the court order stopping my rustication. So my studies are on hold again," 28-year-old Vajpayee told HuffPost India.
The attack on Khalid, said Vajpayee, sounds like the beginning of another long struggle for students in a country where they have emerged as one of the primary voices of dissent against divisive Hindutva right-wing sentiments.
Popular in the Community