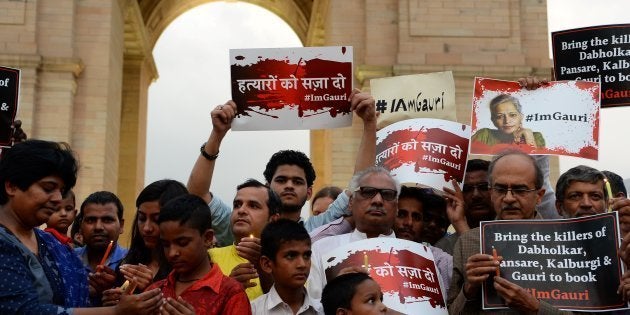 Ravish Kumar is absolutely right. Narendra Modi cannot control who follows him. But he certainly has a choice about who he follows, at least on Twitter.
At the protest meeting at the Press Club of India, Kumar asked: "A person called Nikhil Dadhich, who is followed by Prime Minister Narendra Modi on Twitter, wrote that all the pups were raging at the death of a dog. Will the Prime Minister care to explain what is his compulsion between following such people?"
Dadhich who says he is "honored to be followed by PM Sh. @narendramodi ji" had tweeted in Hindi after the murder of Gauri Lankesh that a bitch had died a dog's death and all the pups were bawling and accompanied it with two winking emoticons. Later after an outcry broke out, he claimed it was an "incident in my lane" and had no link with Lankesh.
So he's apparently happy to be the kind of man who gloats about the death of an actual dog and its bereaved puppies.
But Dadhich is not the issue here. People like him have the right to be jerks and to expose their nastiness for the world to see. Let's hope he never has pets. And no particular ideology has copyright over such inhumane nastiness. The issue is why Modi keeps following them.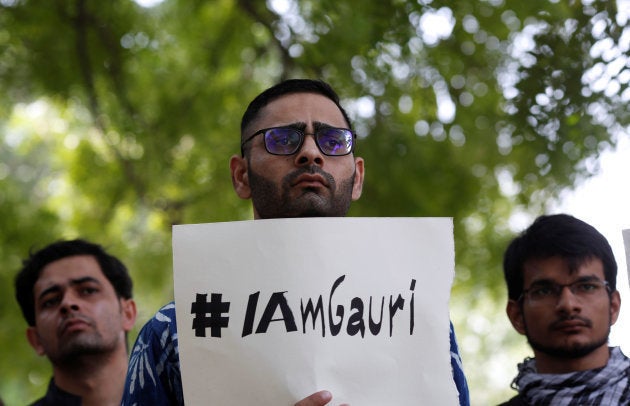 Modi, of course, is in Myanmar, safely away from the turmoil in India. His critics have pointed out that yet again the prime minister is silent even though this killing brought back memories of the deaths of rationalists MM Kalburgi and Govind Pansare. His supporters have pointed out that just like Kalburgi and Pansare, this killing happened in a state ruled by the Congress and law and order is a state subject. Anyway the Prime Minister cannot be expected to comment on anything and everything that happens in India just because others think he should.
Fair enough. But if he unfollowed those who openly spew hatred, he would be making a valuable point even if it's a limited one.
But at this juncture one wonders if we have just reached a rhetorical dead end of sorts. Nobody really expects the prime minister to comment sympathetically on issues affecting groups with whom he is at ideological odds. Why should anyone expect him to suddenly start doing so now? What's changed between say Mohammad Akhlaq of Dadri and Gauri Lankesh of Bengaluru?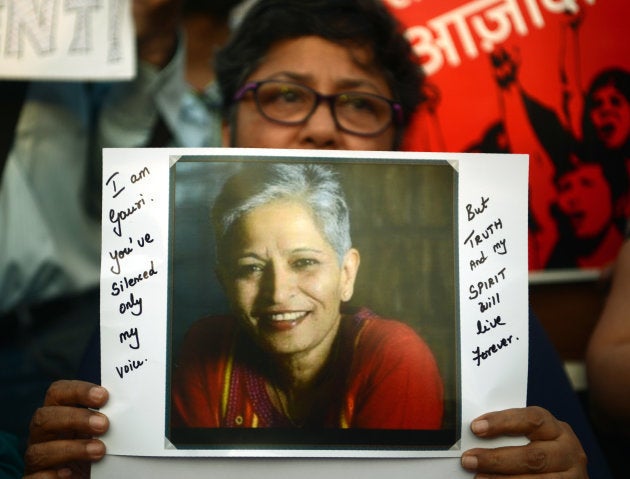 IT minister Ravi Shankar Prasad should be commended for a forceful denunciation of those who were expressing their glee at Lankesh's murder.
Expressing happiness on the killing of anyone is shameful, regrettable and totally against Indian traditions. Social media is not for that.

— Ravi Shankar Prasad (@rsprasad) September 6, 2017
That he needed to have to tweet something that should be self-evident is itself horrifying. Whataboutery is to be expected in these cases. We are used to stories about why someone has tweeted so many times for X and not at all for Y. But to go from whataboutery to ill-concealed glee strains at the basic notions of civility.
But the reaction of some of the better-known trolls to Prasad's attempt to inject some civility shows that they do not really care for even virtual finger wagging from their own. They promptly turned on him as well. "Yes SM is only for Hindu bashing," retorted one.
"Disgusting attitude towards their own supporters. What do they expect? We will keep tolerating," complained one Twitter user. This shows even Modi has little to gain at this point by indulging, even in a tweet, those who are implacably opposed to him. It is bound to be dismissed as too little too late by them and will enrage many of his supporters as pandering to those who stand for everything they oppose.
Modi's election has certainly empowered certain groups who feel they have a greater right to India than others.
Modi's election has certainly empowered certain groups who feel they have a greater right to India than others. Mere words will not turn that clock back. If cattle vigilantes think that the new rulers of Delhi are their guys, sympathetic to their cause, they will brush aside Modi's comments about lynching as words that are just meant for public consumption. Modi has more than once condemned, fairly strongly, those who take the law into their own hands. It's not that lynchings have immediately stopped. Modi's words are no magic bullet and when they come after weeks have even less efficacy.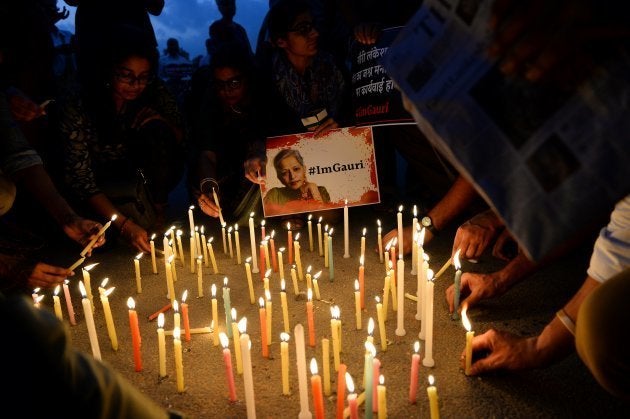 Only law and order can stop lynching, not sermons even from someone like Narendra Modi. If his stern warnings are not followed up by stern and swift exemplary action on the ground they are toothless.
It also inadvertently builds up the aura of Modi even more as some all-powerful strongman.
In that sense the drumbeat about the silence of Modi itself is becoming pointless. Or rather it only serves to make a limited point about Modi himself and his politics, reinforcing each side's viewpoint. It will achieve little to apprehend Lankesh's killers or prevent another such murder from happening. It also inadvertently builds up the aura of Modi even more as some all-powerful strongman. Everything becomes about Modi. Everything is possible if he and only he speaks up. It's as if his tweets can move mountains, stop bloodshed, end lynchings and solve murders.
But the greatest failure always is law and order on the ground. When police are beholden to politicians and investigations go slow or speed up according to political expediency, few have confidence that justice will be done or the truth will be known. That in the end is the real problem, the real crisis, our real failure. Until we can fix that, until we are able to hold politicians accountable for that, complaining about the silence of a Narendra Modi is mere handwringing.