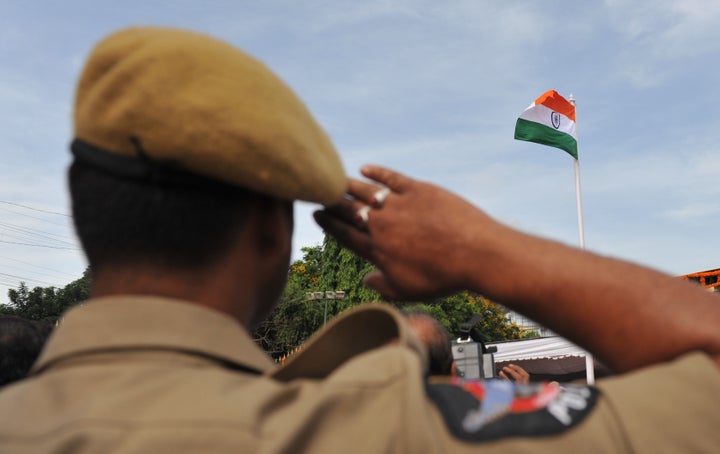 LUCKNOW, Uttar Pradesh — In 2002, Jasvir Singh took over as the Superintendent of Police (SP) of Maharajganj district in eastern Uttar Pradesh. He was 34-years-old, unafraid and an idealist, so the young Indian Police Service (IPS) officer looked into the criminal cases pending against Yogi Adityanath, then Member of Parliament (MP) from Gorakhpur, and booked him under the National Security Act (NSA).
Singh said he refused to withdraw his case for preventive detention against the sitting MP despite pressure from politicians of the Bharatiya Janata Party (BJP), who were in power at the Centre at the time, and the Bahujan Samaj Party (BSP), which formed the state government. Two days later, he was transferred to the Food Cell of the UP police.
In a recent conversation with HuffPost India, Singh said, "There can be no compromises in criminal offenses. I am an IPS officer, it should stand for something."
Sixteen years after his sixteen-day stint in Maharajganj, Singh continues to float in the backwaters of the Indian Police Service (IPS), and Adityanath is the chief minister of UP. His government has withdrawn a case related to Adityanath violating prohibitory orders in 1995, and has decided against prosecuting him for making a hate speech in the midst of the communal riots in Gorakhpur in 2007.
Singh, meanwhile, has become a pariah of the IPS. The police officer says he has paid a price for trying to hold politicians and ministers to account.
One year after he slapped the NSA on Adityanath, Singh accused Raghuraj Pratap Singh aka Raja Bhaiya, then food minister in the Mulayam Singh Yadav government, of corruption in the Lakhimpur Kheri food scam. He was transferred out of the Food Cell of the UP police.
In his 26 years of service, Singh has held posts — entailing actual police work — for only six months. For the remaining 20 years, the IPS officer has been stuck in dead-end postings, with little to do. Detested by his superiors, shunned by his colleagues, he has been written off as a troublemaker.
If Singh is anguished about the wasted years, the police officer does not let on. He does say that taking a stand and sticking is better than being a "career bureaucrat."
"They want loyalty to political persons. This is totally unconstitutional," he said. "If we don't resist, things won't change. Resisting is the most rewarding thing especially when there is a big allurement."
"I am an IPS officer, it should stand for something."
Police officers who "resist" risk committing harakiri on their own careers. Those who refuse to accommodate the interests of politicians are shunted to nondescript postings in remote corners of the country. Challenging politicians paves the way for indefinite exile. A narrative of incompetence is forged around them. They are dismissed as cranks and misfits in the bureaucracy.
A recent example is Rajnish Rai, the IPS officer who arrested three other police officers in connection with the 2005 Soharbuddin encounter case. Rai was suspended when he sought early retirement.
"They want loyalty to political persons. This is totally unconstitutional."
When asked if he sees himself as a role model for young officers who might be at the crossroads — agonizing over kowtowing to politicians for the sake of their careers — Singh asks why a big deal is made of something that should be "normal."
"You don't need to be a messiah to perform your duties. Normal duties demand that you act with absolute integrity and total allegiance to the constitution," he said.
While some argue an intransigent nature is antithetical to the government service, the IPS officer bristles when he hears the term "middle path."
"I became a police officer to serve the public, not politicians. There is no middle path when you are serving the people. You have no option but complete adherence to the rules of the service," he said. "You have got to be honest."
Under the present Adityanath-led BJP government, which is accused of resorting to extra judicial killings to maintain law and order, Singh has no work. Even if he did have a "mainstream" posting, the police officer fundamentally disagrees with "encounter" killings becoming the norm.
"You are killing people in the name of democracy. How does that happen?"
Speaking of "encounter" killings under any political regime, he said, "Only rival gangs are eliminated. It is not even equitable elimination?"
"There is no middle path when you are serving the people."
A day in the life of an IPS officer
Singh, who never married, is also a civil engineer and a lawyer. His requests to argue cases for the UP police, he says, were turned down.
Singh is now serving as ADG (Additional Director General of Police) Rules and Manual in UP, a post that requires him to do no work.
"I go attend office. There is a small room. I sit there from 9:30 am sharp. I take my lunch like a school boy. I have 40 to 50 books that I have got privately. I keep reading one after the other and at 6:00 pm sharp, I leave without doing any work," he said.
Initially, Singh had refused to take up the position. The IPS officer told his superiors that there was no posting as ADG Rules and Manuals and there was nothing for him to do. His superiors told him to do "research" and write a paper on his any topic of his choosing.
Singh said that he wanted to study why the Rules and Manual cell was created in 1984, the duties of previous officers assigned to the cell, and why it continued to function. "You are paying salaries to people for more than 24 to 25 years. What public interest has been served?" he said.
His proposal was blocked.
It is a travesty that in a vast and lawless state like UP, which needs all the policing it can get, officers like Singh are given no work. Taxpayers also deserve to know why the state government is spending public money on the salaries of officers who sit idle all day.
Singh says that all he required to do is sign the paperwork marked to all the ADGs in the state. "I'm being paid whatever an ADG is entitled to without any public job being done. This is the most unbelievable thing," he said.
""I'm being paid whatever an ADG is entitled to without any public job being done."
A question of competence or political interference
Singh says that inconvenient officers like him are made out to be either inept or impractical, but this is a myth propagated by the polity, the government service and the media.
In 2007, when the Mayawati government came to power in UP, Singh was posted to Muzaffarnagar, which was then in the throes of gang wars and burglaries. Initially refusing the position, Singh told his superior officers that he would go only if he was allowed to work in the same post for at least three years.
Singh says he brought the gang wars to a halt and solved 40 burglaries in 38 days. He was however transferred out for arresting the district head of the BSP.
Singh recalled that his junior officers were afraid to say anything to the BSP district chief, who was drunk and blocking traffic in the middle of the day. "I went and held him by the hair, put him in the gypsy, put him in jail, and imposed the NSA on him," he said.
Around 25 Assembly lawmakers told Mayawati that BSP would not win a single vote if he was allowed to continue in Muzaffarnagar, Singh recalled.
"Their definition of competence is that I should have gone to the district commander of the BSP with folded hands and touched his feet and offered him a cup of tea," he said.
Singh says it is impossible to work in a "system" that allows politicians to bully officers.
"You have unleashed a bunch of goondas on people. They are committing all kinds of crime and the duty of an IPS officer is to protect them and then only you will be given a posting," he said.
The Supreme Court has time and again called for an end to political interference in transfer and postings of government officials. In Prakash Singh versus Union of India, a historic judgment on police reform delivered in 2006, the Supreme Court said that Police Establishment Boards (PEB), comprising senior officers, would decide on transfer and postings.
"Even in the face of the Supreme Court judgment, there is no transparency around postings. We know that arbitrary and frequent transfers with political motivations are still going on," said Devika Prasad, Coordinator of the Police Reforms Programme at the Commonwealth Human Rights Initiative (CHRI). "The resistance of giving up political control over the police is so strong. It is entrenched."
"The resistance of giving up political control over the police is so strong."
In addition to the PEBs , Prasad said the Supreme Court had underlined the need for security of tenure.
The 2018 CHRI study on compliance of the Supreme Court judgment said, "all states have constituted Police Establishment Boards on paper. However, Arunachal Pradesh is the only state which partially complies with the directive on compliance."
"Can you tolerate a system where political protection becomes the mainstay of public service? Is this democracy?" said Singh. "There should be a system that promotes honest people."
"Can you tolerate a system where political protection becomes the mainstay of public service?"
'Thickening'
Treading the straight and narrow can be lonely. It takes a toll which is not just professional, but personal as well. His seemingly stubborn attitude has cost Singh his friends and the support of the tight-knit circuit of government officers. His interaction with his colleagues are limited to superficial greetings.
"My own batch mates whom I like, they don't like to talk to me. They have become part of a system which they think Is the standard, which is mainstream, and they want to know why I am out of the mainstream," he said. "You lose a lot of friendships. I really regret that."
Singh, who has a passion for bhangra rap, finds solace in music, and taking care of his mother, who teases him about his "honest ways." "She says the sepoy across the road has made a house worth two crores and you cannot make two rooms after working for 26 years," he said.
"You lose a lot of friendships. I really regret that."
His father, who was a Lance Naik in the army and then a farmer, had a high regard for police officers and wanted him to be one. "He was very impressed by police officers, he wanted me to be one, but an honest one," he said.
Singh believes his stubbornness is rooted in his farm boy upbringing. He recalls mornings when his father would wake him up at three in the morning and take him farming. These early mornings spent ploughing fields, he believes, "thickened" him.
"There were several court cases and departmental inquiries against me, but a departmental inquiry seems a small thing," he said. "It's easier than waking up and ploughing the fields at three in the morning."
Popular in the Community