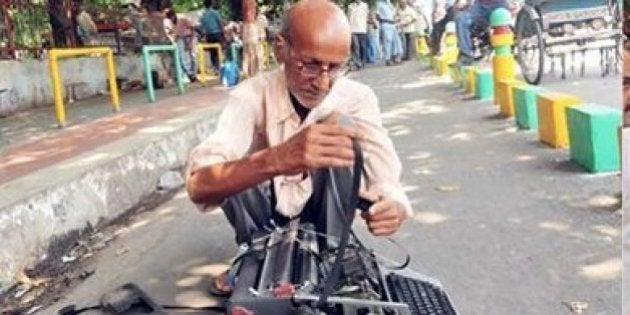 For last three decades, 65-year-old Krishna sits outside GPO, earning Rs 50 daily after spending 10 hours at work. The typewriter he owned was his only source of livelihood.
On Saturday morning, sub-inspector Pradeep Rai asked him to vacate the spot at Lucknow's posh Hazratganj. When the elderly man protested, the cop reportedly abused the him and kicked the typewriter repeatedly till it broke into pieces.
Rai has now been suspended after photographs — clicked by a photojournalist while passing through the area — of the incident went viral on the social media.
Uttar Pradesh Chief Minister Akhilesh Yadav on Saturday evening ordered the suspension of the sub-inspector for his 'unethical behaviour' and also bought two new type writers for Krishna.
The chief minister's office tweeted that Akhilesh had instructed the Lucknow DM to meet Krishna Kumar immediately and help him with necessary support while adding that the principal secretary (Home) and the DGP have been asked to sensitise police officers, asking them to be polite to the public.
At night, on the instructions of Akhilesh, the DSP and SSP visited Krishna Kumar and handed over a new typewriter. They also apologised to him for the unethical behavior of the policeman, the CMO tweeted.



Popular in the Community