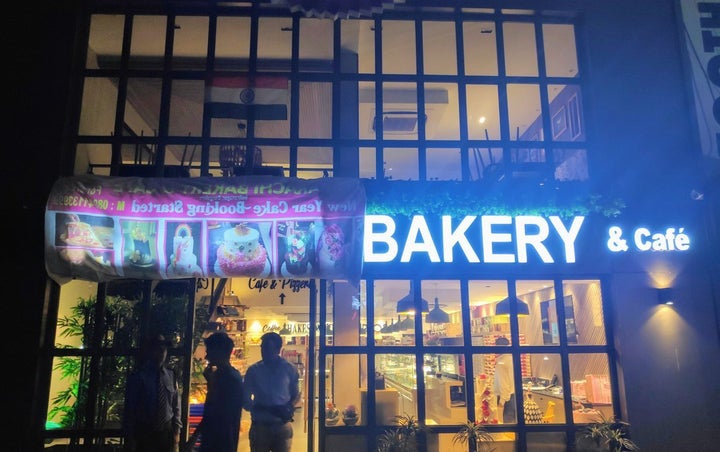 NEW DELHI — "Are you Hindu or Muslim? Do you have any Muslim employee? What is your connection with Pakistan?"
These were some of the questions that a group of 15 to 20 unidentified men fired at the manager of a Karachi Bakery outlet in Bengaluru.
"These people were not educated. I tried to explain to them that we are 100 percent Indian, but they did not want to listen," the manager, speaking on condition that his name not appear, told HuffPost India over the phone.
"I tried to explain to them the history of the bakery, how it got its name, the family structure, but they did not want to listen. They only wanted to abuse. They only wanted to talk about religion," he said.
Karachi Bakery, famous for its fruit biscuits, was founded in 1953 by a man from Sindh, Khanchand Ramnani. In 1947, during the partition of India, Ramani moved to Hyderabad. Now run by his grandchildren, the Karachi Bakery is based in Hyderabad, Telangana and has outlets across the country.
On Friday evening, the unidentified men forced the Indira Nagar outlet of the Karachi Bakery in Bengaluru to cover the 'Karachi' part of its name.
The men harassed them for 30 to 45 minutes and then covered up the board that says Karachi Bakery with a white cloth, the manager said. "They did not want it to be hidden. They wanted to smash it," he said.
The attack on the Karachi Bakery comes ten days after 49 soldiers were killed in Kashmir by a suicide bomber, a 19-year-old Kashmiri, who was working for the Pakistan-based militant group, Jaish-e-Mohammed. India has blamed Pakistan for one of the deadliest attacks against the security forces in Kashmir. Pakistan has denied involvement.
In the backlash following the attack in Kashmir's Pulwama district on 14 February, Kashmiri students and traders have been attacked and harassed by right wing activists in different parts of the country. Hundreds have returned to Kashmir. A Pakistani was killed inside a prison, but Jaipur jail authorities says this was after a fight broke out over the television volume.
The men, the manager said, claimed to know men in the Indian Army.
In a statement, Karachi Bakery said, "The essence of Karachi Bakery is absolutely Indian by heart and will remain so. We request everybody to refrain from any kind of misconceptions."
When HuffPost India spoke with the manager on Saturday afternoon, he said the sheet was still covering the board outside the shop, but the employees were in the process of taking it down.
"We have taken help from the police," he said.
The terrifying encounter has left the manager shaken.
"They asked if we had Muslim employee. They said that if you have a Muslim working for you then you will be at risk. We had to say that we are Hindus," the manager said. "But what if we did have a Muslim employee? What is wrong with it? We are all Indians."
He continued, "This is business. How does it matter if one is Hindu or Muslim?"
The men, the manager said, also harassed him because he is from Telangana, not Karnataka.
"I spoke to them in Telugu and some Hindi. Some of them also knew a little bit of Telugu," he said. "They made fun of me because I was not from Karnataka. They made fun of me because I cannot speak Kannada fluently."
"I was scared. I'm an Indian. This is a free country to live and work where one chooses," he said.
The manager asked what kind of people would attack a bakery over its name.
"Life is so busy. Who has the time to do this? These are crazy people," he said.
Popular in the Community