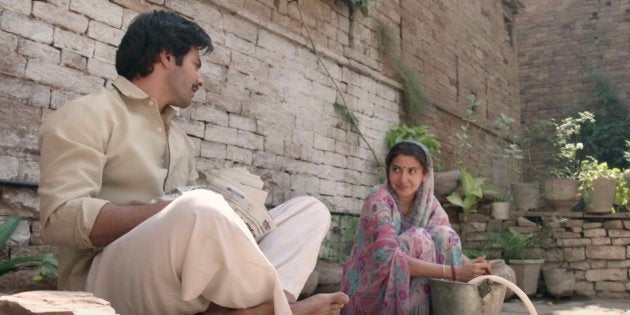 Probably the only scene in Sui Dhaaga that is not a Khadi Emporium version of what urban India thinks small-town India is like is when Mauji and Mamata, the film's protagonists, arrive at a free sewing machine distribution programme on the outskirts of Delhi. Hundreds of men and women, with vacant stares and dispassionate faces, have queued up in the scorching heat to try their luck at getting a sewing machine for free. It's difficult to read the crowd's mood—is that resignation or resilience on their faces?
But then, Sui Dhaaga has to heighten the pathos of its protagonists with a familiar dose of Bollywood melodrama—hence we are shown Mauji's feet bleeding from an accident he meets with while cycling to the venue. Mauji, played by Varun Dhawan, lunges at a bottle of tincture at a dispensary, gets into a fight with the truant manager and does all the right things that a Bollywood 'hero' does. His overly dramatised, carefully scripted rage, in sharp contrast to the impassive supporting cast in the same shots, is almost vulgar in its lack of understanding of the life it claims to represent.
The film tries too hard to recreate small-town India, and somewhat unwittingly, reveals its incapability to do so
This conflict runs through the course of Sharat Katariya's Sui Dhaaga which revolves around Mauji and Mamatatrying to set up their own business after the former quits his job. The film tries too hard to recreate small-town India, and somewhat unwittingly, reveals its incapability to do so. Katariya's first film, Dum Laga Ke Haisha, was also the kind of small-town fairytale that Sui Dhaaga aspires to be, but the former was a more personal film devoted to fleshing out the story of two people, unlike Sui Dhaaga which aspires to rage against the great wrongs of the world. No prizes for guessing which works.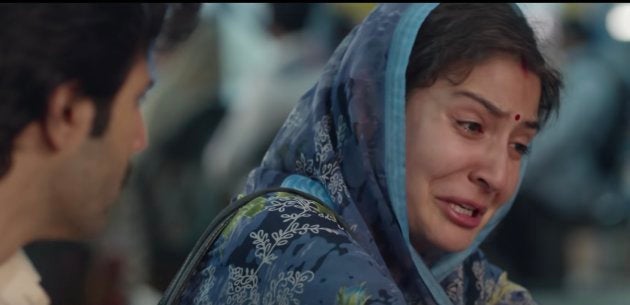 The same dichotomy plagues the film's approach to gender. Sui Dhaaga begins with Mamata (played by Anushka Sharma) helping her husband Mauji recognise his agency and leave a job where the owner refuses to treat him like a human being worthy of respect. As Mauji flounders and is filled with doubt, Mamta is his source of strength. In the film, Mauji treats Mamata as an equal, seeking her help and apologising when he is wrong. The script makes Mamta the enabler to the protagonist Mauji's success.
However, Mamata does all this while not deviating from role of the traditional daughter-in-law. She lives with her in-laws—the film doesn't show where she comes from or who her family is—and is committed to the success of her husband. Which would all be fine, if the film didn't try to portray the character of Mamta's sister-in-law as a foil. Because unlike Mamta, she lives separately with her husband, works independently and is directly responsible for her husband's financial stability.
Right from the beginning, Mauji complains about his brother being too deferential to his wife, as if that is a crime.
Right from the beginning, Mauji complains about his brother being too deferential to his wife, as if that is a crime. The film makes Mauji, who lives with his parents and is married to a homemaker, the ideal, whereas his brother Jugnoo, married to a woman who has set up a home away from her in-laws, is the opposite of the ideal. In fact, whereas, Mauji seems quite liberal and feminist when it comes to his wife, he doesn't extend the same courtesy to the other woman. For him, his sister-in-law is someone who has taken his brother away from the family—a mothballed, patriarchal complaint that families of Indian men have had against their wives down the ages.
The film, strangely enough, seems to encourage this notion by urging the viewers to dislike the sister-in-law's character. As opposed to Mamta, she is outspoken, has more agency and commands a grudging respect from her husband which, in the film's world, is shown to be something that must be frowned upon.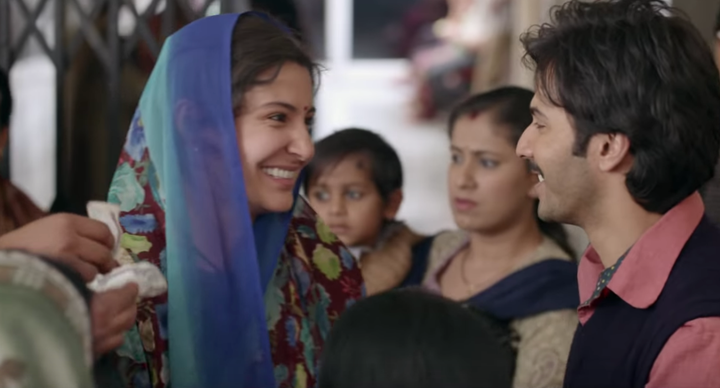 In fact, at one point, during an altercation between the sister-in-law and Mauji, the latter's primary complaint seems to be that his brother is silent. It doesn't matter that even Mauji's own wife and mother both remain silent, as patriarchal societies expect women to be when men fight. When the altercation reaches a peak, Mauji shouts at Jugnoo, "Will you forever be your wife's dog...?"
Jugnoo hits Mauji, but for the viewers, it is clear who the film's sympathy lies with.
The film's conflicted view of equality also extends to a small, but telling sequence. When the men in the neighbourhood hesitate about helping Mauji set up a textile manufacturing unit, the women are shown giggling and conniving to make them see sense. How do they do that? By denying sex. The men give in, saying, "We can go without a roti, but can't fast in bed as well."
On the one hand, while Mauji and Mamata's relationship is based on communication and understanding, the other relationships between men and women in the film seem to be based on manipulation.
As a woman viewer, it is a little disappointing to see the film endorse the idea that the most important exchange between a man and a woman is sex and that it can replace communication or reasoning.
Sui Dhaaga's heart is in the right place, but its incomplete understanding of equality and gender relations means it is not as well-stitched a film as it should have been.