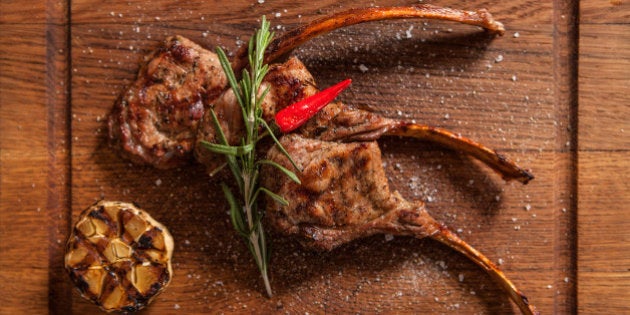 Here's an easy experiment: shut your eyes and try to think of the foods you have seen in Indian television commercials. Can you see the ridiculously green peas being flung around a pan, which you're told is so non-sticky that you wish your exes were made of the same stuff? Oh, there are also carrots and capsicum bobbing up and down in an orange gravy a good boss-cum-wife made in that Airtel ad.
Let's not forget the potatoes--neat squares waiting to be spiced with Maggi Magic cubes to make school children go nuts. And the rice--in Borges Olive oil and rice brand ads--is done in more ways than Lady Gaga's hair has been all her celeb life. Then there's the gajar ka halwa--apparently a test of a great, resilient cooker. Oh, there's baingan ka bharta, stuck on someone's teeth so delectably in a toothpaste ad that people invite themselves over to have the same... from plates, hopefully.
If you're a non-vegetarian, your food habits are grossly underrepresented on Indian television. No matter what you watch, in ads and in programming, there is no risk of you encountering a non-vegetarian apocalypse ushered in by vegetables cooked in the most expensive oils, in the fanciest of cooking pans, by the best looking people and then washed up with dishwashing bars endorsed by the hottest celebrities of Bollywood.
If you're a non-vegetarian, your food habits are grossly underrepresented on Indian television.
If you watch Hindi general entertainment channels, it would seem that meats and fish don't exist on Indian plates. You can spot non-vegetarian food occasionally, say when the government is promoting the consumption of eggs, or KFC is promoting its chicken meals. Otherwise, in most conceivable situations, non-vegetarian food is non-existent on commercials and programming beamed on Hindi general entertainment channels.
You may get to watch your Masterchef in the English entertainment channels, but try spotting a commercial with non-vegetarian food in it. Yeah, that's a rare sighting. And if you have had the misfortune of watching the last season of Masterchef India, you couldn't spot a morsel of fish or meat on the cookery competition itself. It was as if our nation's motto is 'Shaka-meva Jayate'.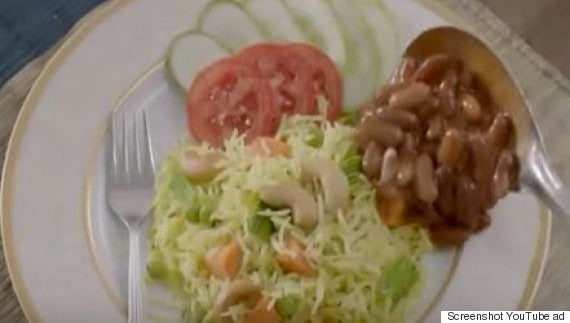 A screenshot from a Borges Olive Oil ad.
The sample registration system (SRS) baseline survey 2014 released by the registrar general of India showed that 71 percent of Indians over the age of 15 are non-vegetarians. Then what explains the conspicuous absence of non-vegetarian foods from television screens? The answer lies in that some vegetarians have delicate sensibilities and are offended by images of meat. The executive producer with a leading production house in Mumbai told me that during shoots that involve food, they mostly follow the no-offence rule.
It was as if our nation's motto is 'Shaka-meva Jayate'.
"Non-vegetarians don't exactly mind the regular dal-chawal, rajma, paneer and vegetarian food. Some of them may not be great fans of such food but, they are not going to be pissed off seeing paneer being cooked on their TV screens, right? Some vegetarians may not be okay with seeing meats cooked on TV screens. So we avoid the latter, no one's offended," she explains. As processed meat brands become aggressive with television promotion, there might be more non-vegetarian food on Indian TV commercials, she added.
The fact that meat eaters also eat what is staple for vegetarians, makes the omission of meats from infomercials easier and somewhat practical.
Also, there maybe more to just keeping viewers happy and safe from chicken nightmares, paneer nightmares notwithstanding. Sumanto Chattopadhyay, executive creative director, South Asia, Ogilvy, says he hasn't worked with a lot of food products, but can guess why advertisements are mostly meat-less.
"Apart from pleasing audiences, my guess is the business community in India is pre-dominantly vegetarian. They maybe a small percentage of people in India, but also produces the most number of entrepreneurs and businessmen, whose own preferences reflect in the ads you see," Chattopadhyay tells me.
That apart, palak paneer or baingan bharta has no proven history of hurting any sentiment, unlike meats in India. "Even if it's a small minority, there's a strong possibility that some of them, even at a subliminal level associate a product with cooking meat. People can be very sensitive about these things," Chattopadhyay adds. And nobody said any business was worth losing.
A pressure cooker commercial.
It's not too difficult to notice that these commercials slip seamlessly into the scheme of Hindi general entertainment channels, where meat is not only a strict no-no in the plot-lines, but its consumption is often villainised as traits of evil, vampish characters. For example, a 'period drama' titled Ek Tha, Ek Thi Raani telecast on Colors, involved scenes in which the heroine--a pious, kind, generous, simpleton--encounters meat on the table. She mistakenly puts a morsel of meat in her mouth. What followed would make any meat-eater think that what they eat is no less terrible than tar laid to metal roads. The woman rushes out crying inconsolably--tragic, fearful music playing in the background--as she confronts the idea that world is full of terrifying truths, like meat eating.
Honestly, I would be less horrified to find an alligator on my bed than she was to have meat on her plate. What I thought was an amusing trope of a silly soap, is actually a cultural narrative endorsed by a million dollar industry, this Caravanarticle confirms.
The article reports the following conversation between Rajesh Joshi, star writer of Balaji Telefilms, and his proteges:
"She will eat clumsily and hastily, smearing mutton all over her mouth," Joshi said, digging his hands into an imaginary plate and shoving meat into his face. Paridhi is a vegetarian. She will wonder how "America-returned Manjulika does not have the right table manners. Paridhi would be so disgusted that she would run away and puke," he said, contorting his face and mock-retching. "Manjulika loves non-veg. She will explain to Rajbir that mutton is her favourite dish. She could not control herself."
In Hindi television, beamed across thousands of homes in northern, western and eastern India regularly, meat is synonymous with evil.
No surprises, the said mutton-loving woman is also supposed to be some evil witch who practices black magic. Now there may be several alarming stereotypes in this sentence, but that would require a separate discussion altogether. Our takeaway from this is, in Hindi television, beamed across thousands of homes in northern, western and eastern India regularly, meat is synonymous with evil.
Again, it also perhaps makes business sense to feed prejudices. The same report which found that majority of Indians are meat eaters, found that over 70% of people in Rajasthan are vegetarians and nearly 60% of people in Punjab and Haryana are also vegetarians. This is the main demographic Hindi serials want to target. How not offending their viewers justifies endorsing their prejudices and suggesting a few new ones, we can't tell for sure.
And as the business of taking offence flourishes in India, chances are meats will have to contend with being upstaged by bhindi and karela on Indian television for sometime to come.