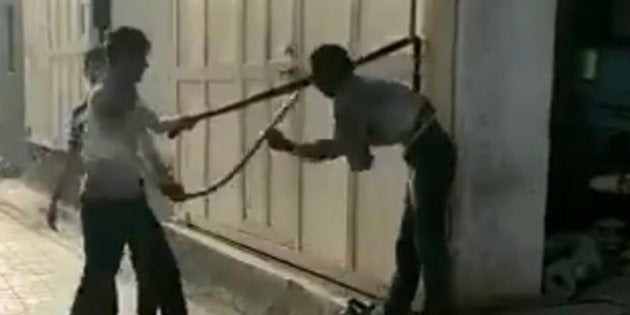 Mukesh Vaniya, a Dalit man from Rajkot, Gujarat, was tied to a factory door and repeatedly beaten with a metal rod according to a video clip circulated on social media by Gujarat MLA Jignesh Mevani. Vaniya subsequently died, according to news reports.
"This is far more gruesome incident than Una," Mevani wrote in a Facebook post, referring to a widely reported 2016 incident in which a group of young Dalit men were chain to the back of a vehicle and beaten with iron rods. "In Una, the victims were beaten up and humiliated. Whereas, here a man lost his life amidst caste violence."
The incident in Una, and the death of Dalit scholar Rohit Vemula, are widely believed to have marked a new political movement in the transformation of Dalit politics across the country. Mevani, for instance, gained public prominence as an outspoken advocate of Dalit causes in the aftermath of the Una incident.
This most recent video from Gujarat, NDTV reported, was shot on Sunday when Vaniya and his wife were attacked by factory workers as they gathered scrap in an industrial area. While Vaniya's wife escaped, he was thrashed till he lost consciousness. He was declared dead at the hospital.
"We have arrested five people, including the factory owner. I cannot reveal his name yet as it's not mentioned in the FIR (first information report). A murder case has been filed under the SC/ST Act and a deputy rank officer will probe the case," Rajkot senior police officer Shruti Mehta told NDTV.
Popular in the Community