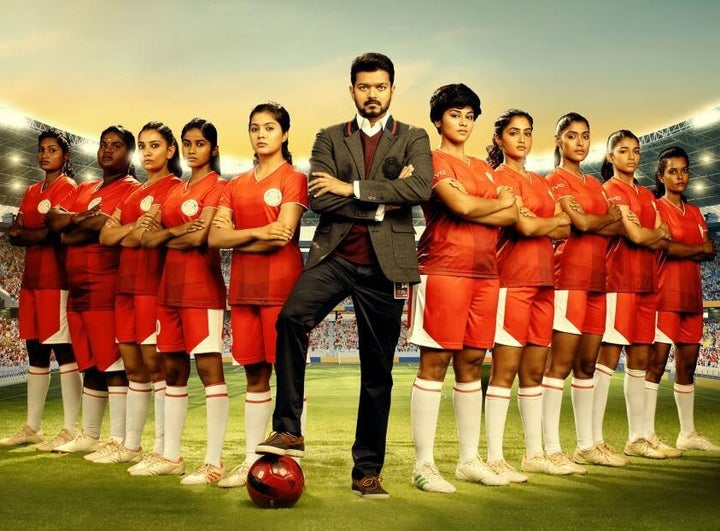 Many writers and directors around the world have tropes that they keep going back to—if the supporting characters in Mysskin's films scream incandescently, the protagonists in Mani Ratnam's universe whisper sweet nothings into each other's ears. So it shouldn't come as a big surprise that some people keep dying in Atlee's movies.
Atlee has directed four feature films so far, of which three star Vijay in the lead. In every film of his, he has killed off a key character to take the story forward. So Bigil already fits into a template we have grown to expect from the director.
The movie, superstar Vijay's big Diwali release, feels like two movies in one: first, a paean to the superstar and second, a message to women that they can achieve whatever they want if the men in their family support them.
Unfortunately, the two halves seem like disjointed narratives: one about the struggles of the depressed classes (à la Vetri Maaran's Vada Chennai) and another about the struggles that sportswomen face because of patriarchy. The scene that introduces Michael (Vijay)—complete with all mass elements, i.e. slow-motion shots, grand background score and punch dialogues—is built around a protest staged by the students of a college who have been asked to vacate the building. Unlike a typical hero, Michael doesn't swoop in to save the day. In fact, it takes some time before he's pulled into the action. After that happens, though, that the film just forgets about that particular plot point. It just acts as a warm-up session for the Verithanam song.
It's like the same cycle gets repeated with the footballers. They're introduced as the players of the Tamil Nadu team and then are forgotten for a good hour-and-a-half of the film. They come back later to the centre after Rayappan (Vijay, again) and Michael deal with their own losses and stories.
As Rayappan—considered a middle-aged messiah by the people of his neighborhood, and a rowdy by the police—Vijay does a pretty good job. He's a stutterer who doesn't mind showing what he's made of every now and then to his opponents and rule-breakers. However, he isn't fond of demonstrating much dynamism. Those flashes of heroism are reserved mostly for Michael.
In commercial potboilers, especially the ones starring A-list actors, the romantic scenes often follow a set script, like the writers picked them out from the same House of Clichés. Boy meets girl, then follows her until she turns around and throws a coy smile his way. Here, it almost feels like Michael falls in love with Angel (Nayanthara) as they're both Christians. No, there is no need to stuff in caste or religious conflicts all the time, but there should be a workable design around which the protagonists begin dreaming of one another.
The male gaze is everywhere is Bigil, whether it's the Singappenney anthem, or the various ways in which Atlee finds an opportunity to lecture men and women, through Michael, about what's the need of the hour. Football, like carrom in Vada Chennai, doesn't get its characters out of poverty. Rather, it enables them to become achievers in a society filled by the likes of Sharma (a dominant-caste villain, played by Jackie Shroff, who looks down upon people of Michael's ilk).
While Atlee's intention, in spite of seeming 'inspired' from other movies, doesn't come across as sincere, it might help some folks pick up the ball.
My biggest doubt at the end of the movie was how the makers spent Rs180 crore on this. Where did the money go?