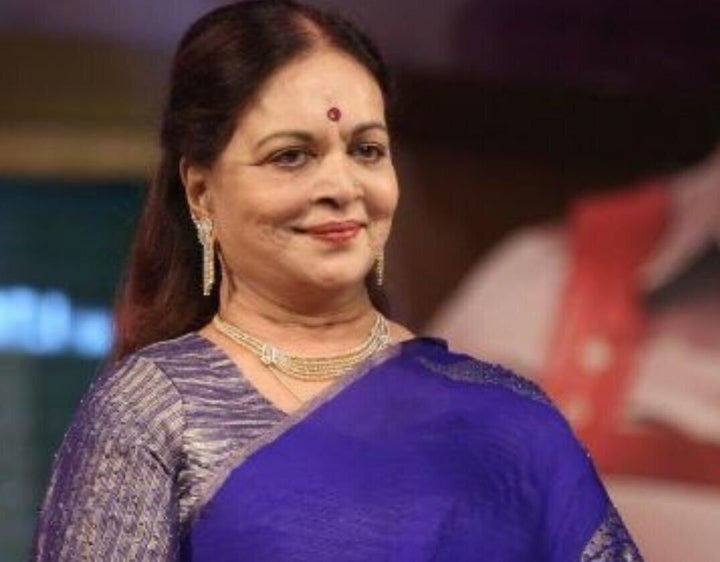 When Malayalam music composer and singer MS Baburaj recommended a 20-year-old aspiring Telugu actress for a role in director A Vincent's upcoming film, he was not sure that she could even bag a casting call. The year was 1964 and the film for which young actor G Vijaya Nirmala was being considered was the iconic Malayalam blockbuster Bhargavi Nilayam — scripted by legendary writer Vaikom Muhammed Basheer and starring Malayalam superstars Madhu and Prem Nazir. The music was directed by Baburaj.
All doubts were put to rest when Nirmala stood in front of the camera for her audition take. "Her wide eyes were captivating," Vincent, who died in 2015, had told the production executive of Bhargavi Nilayam RS Prabhu.
"We had auditioned four women, including Nirmala, for the role. Of them, Vincent felt she was the right fit for the part-real-part-mystic role of the spirit of Bhargavikutty, a young woman who wanted a writer to avenge her murder," Prabhu told Huffpost India. On the very day she auditioned for the role, Nirmala was signed on for a remuneration of Rs 1,000 — about one tenth of what her male co-stars were getting. But the role gave her the first break. She went on to act in over 200 films produced in three film industries in south India — Kerala, Andhra Pradesh and Tamil Nadu.
Nirmala, who died on Thursday following a brief illness, directed 44 films to become the first female director to enter the Guinness book of world records in 2002 for this distinction.
Nirmala entered the industry as a child actor twelve years before Bhargavi Nilayam with the help of her aunt, Raavu Balasaraswati, who was a playback singer in both Tamil and Telugu films in the 1930s-50s. In Machcha Rekhai (1950), a Tamil film directed by the Telugu director P Pullaiah, Nirmala's aunt bagged her a small role. Back then, like most child actors she was not too keen to act. "The film's crew had to scold her to make her cry naturally for her first take. For the second take, when she could not laugh they offered her pooris which she liked. She smiled after the meal and the crew filmed that," said A Prabhu, a Telugu film critic who had followed Nirmala's film career for the past three decades. Though she was a reluctant eight-year-old child actor, Nirmala grew up nurturing the silver screen dream. She could chart her future course because her family of Guntur (Andhra Pradesh) origins was settled in Chennai. Her father Ram Mohan Rao was a sound engineer in Vani studios in the city.
Married young (when she was 19-years-old) to Krishna Murthy, she kept scouting for roles in South film industries. "Her husband was a friend of music director Baburaj. That's why Baburaj recommended her for the role in Bhargavi Nilayam," said Malayalam film researcher Ravi Menon who had interviewed director A Vincent during the 50th anniversary celebrations of the film. Her next film in Malayalam, Kalyana Rathri, in which she starred with Prem Nazir again was the first A (adult) certified film in the Mollywood. While she did another Malayalam film Udyogastha in 1967 with Nazir, Nirmala also debuted in Telugu by starring in Rangula Ratnam in 1966. In the latter she starred with Telugu actor Chandra Mohan. In Saakshi, her fourth film as the lead, Nirmala starred with actor Krishna Ghattamaneni whom she later married. The duo acted together in 47 films during their career which spanned over five decades.
Even though she was a star in the Telugu film industry, Nirmala always wanted a bigger role. According to film critics who followed her career, she was insightful when she tried to take up a directorial role. "Most female actors end their careers early. She chose to diversify her role to extend her lifespan in the industry," A Prabhu said. The dream, however, did not come true till she met IV Sasi, the Malayalam film director, in early 1970s. Sasi, who was then an art director, and Shareef, a Malayalam script writer, were working together on the film Kalippava when they met Nirmala who played a role in the same film. The friendship led her to direct her first film, Kavitha in which Sasi was the art and associate director and Shareef was the script writer. "All three of them worked together in Kaattu Vithachavan, another Malayalam film later," said Poovachal Khader, the music director of Nirmala's Kavitha.
While those in Malayalam film industry maintain that Nirmala only shadowed Sasi in her directorial debut, Telugu film veterans have a different take. "She was a successful commercial film director. In the early 1980s she used to direct four films per year. That's a distinction which male film directors in industry could rarely achieve," A Prabhu said. While Nirmala did not direct any Malayalam film after Kavitha, she went on to direct 43 Telugu films. Most of her films were not self-produced — by the production company run by both her and husband Krishna. "Producers of Tamil Nadu and Andhra Pradesh trusted her to produce blockbusters," Prabhu said. Nirmala, who directed her first Telugu film Meena in 1971, also has the distinction of directing big stars in the film industry including Tamil superstars Shivaji Ganeshan and Rajinikanth.
While most films directed by her were hits that raked in good revenues, Nirmala was also known to be a good businesswoman who made prescient investments. In the early 1990s she bought acres of land at Nanakramguda, a little known place on the outskirts of Hyderabad. By mid-2000s, the land prices in the area had soared because of the Information Technology boom. Her calculative investments could also have been directed by her family' association with former Chief Minister of Andhra Pradesh N Chandrababu Naidu. While Krishna was a Congress MP from Eluru constituency in the 1980s, both he and Nirmala went on to support Telugu Desam Party when Naidu took over the reins from his NT Rama Rao, popularly known as NTR in both the film industry and politics. Nirmala contested on a TDP ticket during Naidu's first term as Chief Minister. She, however, could not make a political debut. In recent times she was found to keep a distance from active politics.
Nirmala, is survived by her husband Krishna and her son Naresh Vijaya Krishna. Telugu superstar Mahesh Babu is her stepson.