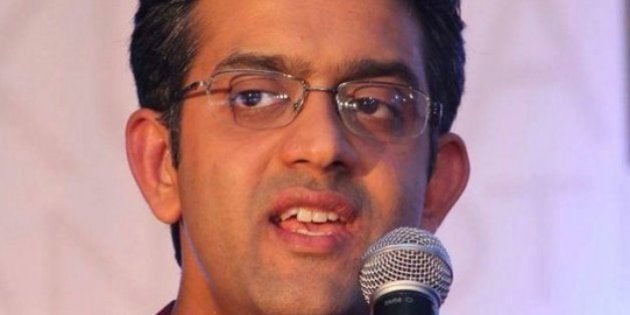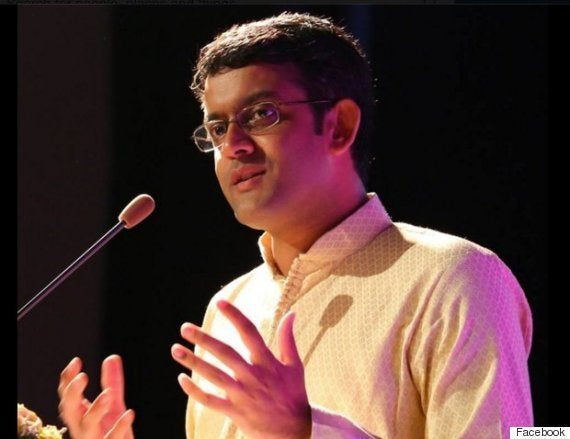 Author Vikram Sampath is finding an outpouring of support after he announced his decision to step down as the organizer of the Bangalore Lit Fest.
On Saturday, Sampath, the co-founder of the Bangalore Literature Festival (BLF), stepped down as its director following withdrawals from participating writers over his views against returning awards to protest rising intolerance in the country. The apparent reason many writers were withdrawing was his position on the return of awards as a means of protest that he articulated in this article.
"They are boycotting an event because their opinions don't match with some. Isn't this intolerance?" asked Sampath, talking to HuffPost India.
Earlier this week, Sahitya Akademi award-winning Malayalam novelist Sara Joseph, her daughter Sangeetha Sreenivasan, Kannada poet Arif Raja, literary critic OL Nagabhushana Swamy and writer TK Dayanand had pulled out of the festival, to be held on December 5 and 6.
However, now many are showing support to Sampath. Using the hashtag #IAmBLF on social media, writers and journalists are saying that the protesting writers' move was 'intolerance for the sake of tolerance.'
"I am overwhelmed with the kind of support I have been getting. There are people I have never heard of and there's support from eminent writers too," Sampath said.
Sampath's supporters include Shobha De, Chetan Bhagat, Aatish Taseer and Amish Tripathi among several others.
I am with the Bangalore Lit Fest. Aren't you ?

— Shobhaa De (@DeShobhaa) November 29, 2015
Shocked at @BlrLitFest happenings Been a part of it and Vikram Sampath is one of the coolest open minded guys I have met. Hope it resolves.

— Chetan Bhagat (@chetan_bhagat) November 29, 2015
Shocking that Vikram Sampath should be dismissed from the Bangalore literary festival for not supporting award-wapsi.No outrage?

— Tavleen Singh (@tavleen_singh) November 29, 2015
Vikram Sampath had been let down by the intellectuals. Where is the freedom of speech? And dissent

— Omerta (@loud_engineer) November 29, 2015
Kudos to Vikram Sampath 4 exposing hollowness & 'Intolerance' of 'reputed' writers in Bengaluri LitFest

— Sonal Mansingh (@sonal_mansingh) November 29, 2015
Sampath, a historian and a Sahitya Akademi award winner, had written an article in Mint last month, criticising the returning of Sahitya Akademi awards by a number of prominent writers.
"The Akademi award is not bestowed by the government, as the Padma awards are. Several eminent writers, some of whom I regard as my literary role models, are recipients of the Padma awards as well. I fail to understand why they are barking up a wrong tree and insulting a jury of compatriots—writers and scholars—who have selected their work. The Akademi is not a political or an activist body," Sampath had written.
Not many agreed with his view. And, in turn, some eminent writers, who had initially accepted invitations to participate in the festival decided to boycott the event.
In a letter to the organisers, literary critic OL Nagabhushana Swamy had said: "I feel reluctant to be a part of a festival organised by those who are not willing even to pause and examine the anguish of the writers who have returned their awards."
Following several such letters, Sampath decided to quit from the position. "This is a question of selective outrage," he said.
For Sampath, it was "painful but necessary decision to take", as he says he believes an individual is not bigger than the festival.
Sampath had started the organization along with Shinie Antony, Srikrishna Ramamoorthy and key advisor V Ravichandar in 2012. "It is India's largest community funded festival. You wouldn't think that expressing opinions can be wrong here," he said.
In a Facebook post, Sampath explained why he decided to quit.
"The Festival has strived hard to maintain an independence and neutrality that is so hard to achieve in today's market-driven ecosystem. The organizers and advisors, all eminent Bengalureans, believe and continue to believe that while the city of Bengaluru has its fair share of urban disasters and crumbling 'hard' infrastructure, forums like BLF are quintessential to create the 'soft' infrastructure where the city comes alive in open debate, discussions and dissent," he said.
The other organisers of BLF have now got in touch with the writers who decided to withdraw from the event and have informed them that Sampath is no longer a part of it.
"I am hopeful that my withdrawing of involvement will now make them more comfortable with participating," Sampath said.
However, the Sahitya Akademi winner said he stands by the article that he wrote and his views won't change. "I am not apologetic about them in any manner and will continue to cherish the freedom that my country gives me to air my opinion fearlessly," he said.
Although Sampath is listed as a panelist in the festival programme, he says he will speak only if the organizers want him to. "Else, I will enjoy the sessions from home via live-streaming," he said.



Popular in the Community