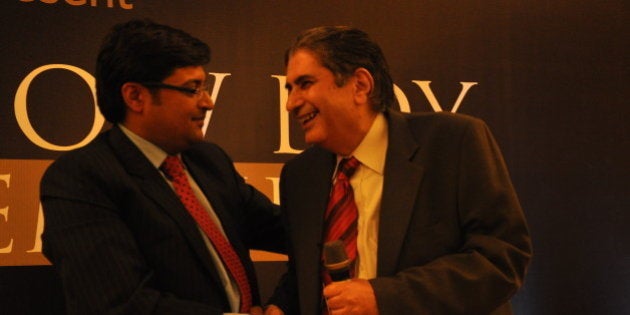 In July 1995, as a recent college graduate with nine months of print experience under my belt, I got a job at the Outlook. It was a matter-of-fact, ten-minute interview for the post of Kolkata correspondent, and I was screened and approved for the job by the man known at the time as India's best political journalist--Padmanand Jha or 'Paddy'.
"So when is the next stage, sir?" I asked Paddy.
"What next stage?" Paddy asked me.
"With Mr Vinod Mehta sir?" I answered, haltingly.
"That won't be necessary, I will tell Vinod we have met and you are ok," said Paddy in his straight style.
"Well ok then, thanks sir," I said, and proceeded to wait five hours in the dusty market in Safdarjung Enclave, outside the main gate of the Outlook office, hoping to catch Vinod Mehta walking in or walking out and announcing to him casually that I had just finished an interview with Paddy and was all set to join the Outlook.
"How excellent this is," I imagined him telling me, proceeding to invite me in for coffee and a chat with the man who was already a legend on the principles and purpose of journalism.
"I wish I had told Vinod in as many words, but since that day, even more than ever, I was convinced that he was the editor I never had."
Unfortunately for me, Vinod neither walked in or out of the Outlook office that day. And since I desperately needed a break in Delhi, I walked into a couple of other interviews the next day, and started my career as a TV reporter.
Fifteen years later, I told Vinod this story when we were on a flight sitting next to each other from Mumbai to Delhi. Times Now had done a string of exclusive stories on scams, and things were getting exciting. Vinod wanted to know all the inside details, and for two hours we were in journalistic seventh heaven sharing notes on different players and how they see reacting to the fast paced developments.
"So Vinod," I said when we had landed, "What's your advice for me?" hoping to make up for the conversation I never had in 1995.
"Don't slow down," he said. "Don't slow down. If the story is ok, then you're ok. Don't worry about the rest."
We picked our luggage and I walked him to his car.
"If I were your age I would be doing the same," he said.
I wish I had told Vinod in as many words, but since that day, even more than ever, I was convinced that he was the editor I never had.
Throughout my journey as a TV editor, he would come up with nuggets of advice. Pithy to the core, just like his writing. Straight, to-the-point nuggets of advice. Advice in short phone calls or text messages I have stored in my phone memory. "You are on the right track" or "the headline is right but the story on your channel was weak" or "you picked the right story to debate, doesn't matter if others didn't", and so on.
Sometimes he would get frustrated at the anger and stress of a TV debate. "I do TV for fun Arnab, I think I will skip the next one," he said to me after one of the more heated debates when his views came up for attack from the majority of panelists. I immediately called him up and explained. "Ok if you say so, let's leave this behind. Now tell me what's the news?" He had moved on.
That was Vinod. No grudges, no hard feelings, no ill will, no politics, no agenda, and nothing to hide. Just terribly honest and very hungry for a good story.
But does this admiration for Vinod mean I agreed with him? Absolutely not. In fact he and I struggled to agree on anything more weighty than the quality of sandwich served in the Times Now studio. We disagreed on Kashmir, on Pakistan, on naxalism and the long essays his magazine published on it, on the Congress and the Aam Aadmi Party. In fact the disagreements on issues were so obvious he chose to stay away on Newshour debates on the subjects because he and I would end up quarrelling on it, taking up most of the time. But it was an honest disagreement, a direct one. Not the cloak and dagger kind that some circles in Lutyens journalism like. Unlike those who boycotted him after he did journalism a good turn by exposing the Radia tapes, Vinod was neither judgmental nor preachy nor defensive. He was just himself.
"Will you be on stage in conversation with me for my new book?" he asked me somewhere in the third week of November last year.
I of course didn't hesitate a moment in saying yes. I had the pleasure of being in conversation with him at the launch of Lucknow Boy.
"I'm really excited about it Arnab. This event is very important for me. I am even getting on Twitter these days," he said with childlike enthusiasm.
"Vinod sounded so happy, just so happy that day, the last day we spoke. He sounded utterly content and chilled out. And I was really looking forward to the book release as well."
"Well I will see you there, we will do the event and I will get to the studio in time for Newshour," I told him.
"Don't worry about it Arnab. We can do the Newshour from the venue if you want!" Vinod said, laughing aloud.
Vinod sounded so happy, just so happy that day, the last day we spoke. He sounded utterly content and chilled out. And I was really looking forward to the book release as well. The week after our chat I read the advance copy of the book his publishers had sent me. To be honest, I read it twice. I had never read a more complete sequel. The master craftsman that Vinod was with words, he has neatly divided his life into two equal halves, and through anecdotes and experiences, had completed all the chapters of the Lucknow Boy in this book. It was almost as if in his mind he had his life mapped out. It wasn't as if he was signing out. But it was clear that he was at peace. With himself.
He took ill before the event happened and our scheduled conversation was indefinitely postponed, along with the launch of Editor Unplugged.
When I met him at AIIMS on the 9th of February, I talked to him about what the exit polls were predicting in Delhi, about how much I would miss him on my election panel the next day and how much I liked his book. For a long time, I just stood there talking to him.
He clasped my hands and I told him how proud I was of him, of his honesty and his journalism and how much I regretted the fact that I had never worked under him. Vinod wasn't speaking much in the ICU, but I know he understood. I had so much more to say when I was gently nudged by the doctors to leave. But somewhere as I walked out, I felt the conversation was not complete.
I kept talking to Sumita, his pillar of strength, as I left AIIMS. I was trying to reassure her but was terribly restless myself. What do you say after all when your idol, a man you would strive to be, an editor you never had, was fighting such a difficult battle.
So today let me say it as it is, to all those who ask me whether I've had an idol in journalism.
My idol is and will always be Vinod Mehta. The finest human being and the greatest editor of our time.