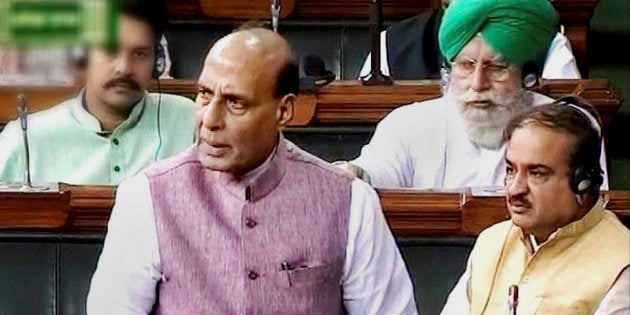 Under attack over atrocities against Dalits, the government has said the states should take strict action against anti-social elements indulging in activities like cow protection as it pitched for a united fight against the "perverted mindset".
"Some anti-social elements are indulging in nefarious activities in the name of cow protection...I appeal to all state governments to take strict possible action against them," Home Minister Rajnath Singh said in the Lok Sabha while replying to a discussion on atrocities on Dalits.
"To deal with 'vikrut manasikta' (perverted mindset) of those who resort to such atrocities is a big challenge," he said.
The discussion was marred by acrimony and walkout by Congress and the Left members who alleged that the incidents of atrocities against Dalits have increased since the NDA came to power two years back.
Singh insisted that the incidents against Dalits have come down since the Modi government took over and reeled out statistics to buttress the point.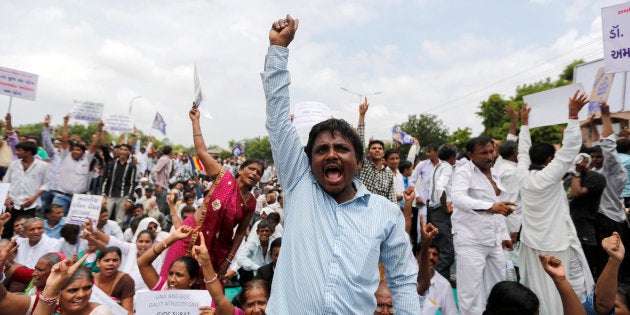 He said the number of registered cases of atrocities against Dalits were 39,346 in 2013, they went up to 40,300 in 2014 and thereafter came down to 38,564 in 2015.
"We have to accept the truth that the atrocities against Dalits are going on. We have to stop it and this is a challenge for all of us," the Home Minister said while regretting that the House had to discuss the issue even 70 years after Independence.
Countering the opposition charge of not doing enough for the Dalits, he said "what you could not do in 55 years, our government did in last two years".
To questions as to why Modi did not speak on the Dalit atrocities for so long, he asked the opposition to spell out if earlier Prime Ministers since 1947 used to speak on each and every issue.
"The Prime Minister may speak or may not speak, but his aura should be such that action is taken against the perpetrators," Singh said.
Information and Broadcasting Minister M Venkaiah Naidu and Food Minister Ram Vilas Paswan also intervened in the debate which lasted for six hours.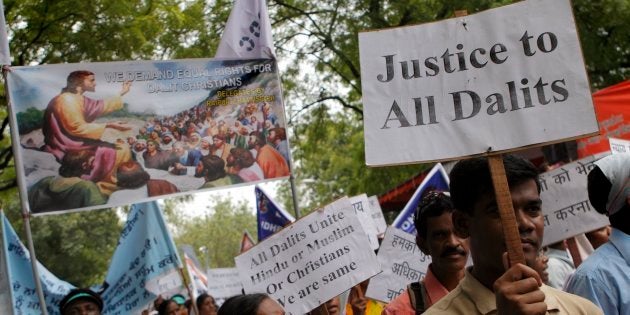 "You did everything possible to humiliate B R Ambedkar, the messiah of Dalits", Paswan, a Dalit leader, told Congress MPs who protested vociferously.
Singh said the Centre has issued advisories to states asking them to take stringent action against people resorting to such atrocities in the name of cow protection.
He said it was unfortunate that Parliament has to discuss the issue of atrocities on Dalits 70 years after independence. The Home Minister said that laws have been made to protect Dalits, but much is desired to be done.
"Our government is trying to check atrocities on dalits. For their socio-economic upliftment, new laws have been made," he said, adding there was need to deliberate on how to stop such incidents.
"There is an illusion that since our government came to power, atrocities against Dalits have gone up", he said, condemning the Una incident in Gujarat that triggered nationwide protests.
He praised the work of Sangh parivar affiliates Sewa Bharti and Vanvasi Kalyan ashram for working for the cause of Dalits and adivasis.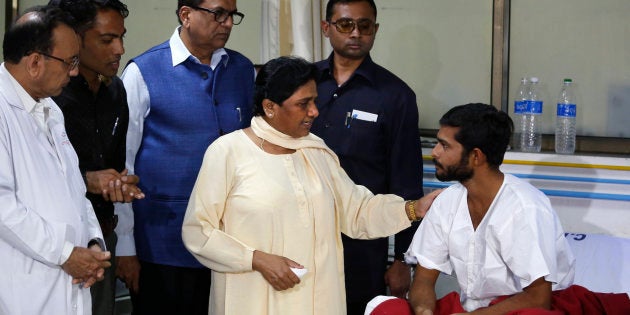 Suggesting that Ambedkar and Keshav Baliram Hedgewar were contemporaries, he said while the Dalit icon fought for the socially deprived sections, the RSS founder worked for national renaissance.
Noting that government is totally committed for the development of dalits, he said no one could accuse them of being anti-national and they have never demanded creation of a separate country.
Paswan regretted that atrocities against Dalits have continued to increase over the years and "we are discussing it after so many years of independence".
He said the issue should not be politicised and all efforts should be made to put an end to the discrimination against Dalits. Paswan said Dalits are being discriminated even after they become Christians, Muslims and Buddhists.
"Hindu religion is the most flexible religion. You continue to be Hindu even if you worship Lord Rama or you do not worship Him," he said.
Pointing towards Congress, he said, "You criticise RSS and Modi ji....if Modi ji says take action against so-called cow vigilantes, taking action against them is the duty of the state government".
His remarks that Samajwadi Party came in the way of ensuring reservation for dalits and promotion evoked sharp response from Dharmendra Yadav (SP) who said the same facility is extended to people belonging to backward classes and Muslims.
"You criticise RSS and Modi ji....if Modi ji says take action against so-called cow vigilantes, taking action against them is the duty of the state government".
Paswan appreciated Modi's remarks in which he said, 'if you have to attack, attack me but stop attacking my Dalit bretheren'.
Jyotiraditya Scindia (Congress) said such a statement by the Prime Minister reflects his helplessness.
Scindia said the atmosphere of the country has deteriorated after the BJP came to power.
Taking a dig at Paswan, he said, "If you were so much unhappy with the UPA why did you not leave the government... We need to work for principles."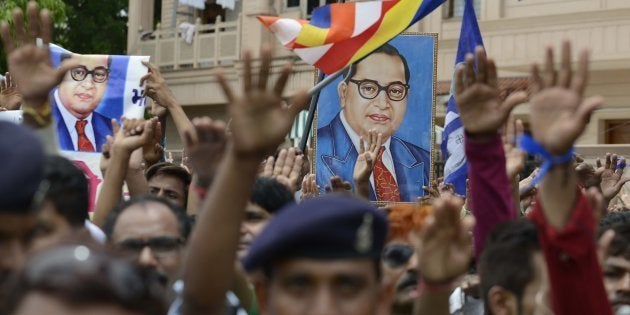 He said the government's campaign for Swachh Bharat will not go anywhere until and unless "we clean our heart and mind".
He wanted to know why the Prime Minister did not speak about the Dalit and Kashmir issues in the House when Parliament is in session.
After Scindia's emotional speech, BJP members took a dig at Rahul Gandhi as they were heard saying that he was a better speaker than the Congress Vice President.
Asaduddin Owaisi (AIMIM), while talking about cow protection incidents, said animal life is "taking precedence over human life and for the first time we are seeing something like "skin for skin."
He said "Muslim can never be part of Hindu nationalism and shall always be a part of Indian nationalism."
Earlier, P K Biju (CPI-M) alleged that a district judge, who is a Dalit, in Andhra Pradesh was "brutally attacked and harassed" and later suspended after he did not delete the name of the brother of a High Court judge from the dying declaration of a man.
The judge, he told the House, met him last week.
"In that dying declaration there appeared a name of one person who happens to be the brother of one sitting judge in the High Court. He called the district judge and asked him to delete that name. How can a name be deleted from the dying declaration of a person?
"He was brutally attacked, harassed and sent to some other area of jurisdiction. That harassment is still going on. He was suspended also."
The judge approached the Registrar of the High Court and the Supreme Court but "nothing positive came out of it", Biju said.