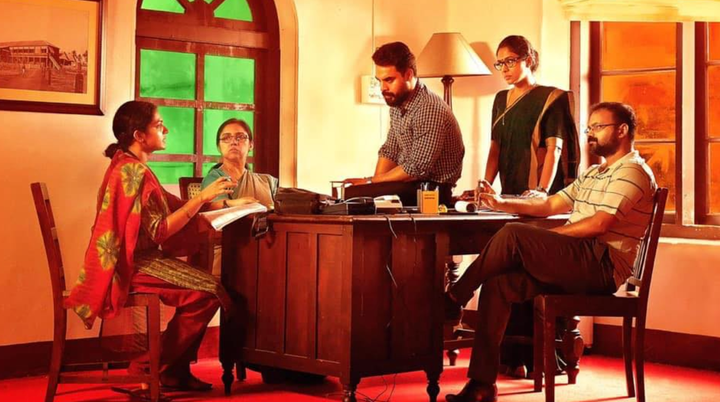 How do you turn a rare, fatal virus outbreak that killed people and kept a state and its government on tenterhooks for weeks into a compelling script and film? With Virus, possibly Malayalam cinema's first big-budget medical thriller, director Aashiq Abu has figured out the answer. You do your research, etch out characters that you feel like you've met, convince a bunch of really talented actors to work with you and make a film that almost allows the reader to travel back in time to experience the tragedy and triumph Kerala experienced in 2018 during the first Nipah virus outbreak.
From its opening shot, an aerial view of Kozhikode, cinematographer Rajeev Ravi makes you feel that there is no filter between the human eye and his camera. When he takes us through the government hospital's casualty wards, bustling with patients, nurses, doctors and anxious bystanders, it's as if you're actually in there with them, taking in the familiar, gloomy sights, smells and sounds of a hospital.
The characters stride in just as rapidly and undramatically, while the film latches on to their stories, going back and forth while maintaining the thrill and suspense. Abin (Sreenath Bhasi), a young doctor in love with medical student Sara (Madonna Sebastian)—their love story seems to have run into trouble and even in the middle of the rush of patients, it's clear half his mind is on her. A young couple (Asif Ali and Darshana Rajendran) battling financial problems, who get a moving scene where the man's insecurity and complexes are underlined. Unnikrishnan (Soubin Shahir, heartbreakingly good) who is dealing with personal demons at home, gets involved in counterfeit money deals and seems to be hallucinating about his mother as he lies under an oxygen mask. A hospital worker (Joju George), also the local union leader, who decides to join as a volunteer to help just so that his position is made permanent. A doctor (Indrajith, brilliant) who is summoned for the mission despite his dubious reputation. A lower middle-class Muslim family from where the virus gets transmitted first to their eldest son and then the father. Virus makes all these characters come alive.
The Nipah virus outbreak scenes—patients being admitted with high fever, vomiting and tremors, followed by the initial fear and confusion—and the possibility of a new epidemic and diagnosis, the involvement of the state government and health sector are flawlessly crafted.
The writing is thoroughly researched and more importantly, the medical jargon has been broken down well for the layperson.
Though Aashiq Abu has tried to keep the narrative without frills, there is a deliberate drama that accompanies some of the character introductions. Like Rahman's Dr Salim, who is the first to suggest the possibility of the Nipah virus, Kunchako Boban's Dr Suresh Rajan, who is the pragmatic medical brain behind the entire operation, or Indrajith's Dr Baburaj, who is defiant but does his job well.
The most emotional storyline, however, is that of Rima Kallingal, who inhabits the role of nurse Akhila (based on Nurse Lini, who died after contracting the infection). Even her entry shakes you up—feverish, panting for breath and even then, warning the doctors of contagion and worrying about her daughter.
The state government is well represented, especially Health Minister KK Shailaja, played by Revathy, who looks uncannily like her. Having said that, her role for the most part is that of a gentle spectator, though they allow her a long climactic speech which unfortunately turns out to the only sore moment of the film (possibly because of the dubbing, which sounds unnatural).
Parvathy, as always, is efficient as the dedicated medical research officer who is instrumental in changing the narrative around the virus with her findings. In her comeback role, Poornima Indrajith is measured as Dr Smriti, Chief Health Officer. Tovino Thomas's district collector role also feels like a departure from the usual celluloid representations. He brings a sensitivity to his scenes, noticeable especially when he sits for a chat with ambulance drivers for chat, masking his anxiety. No actor phones in their performance—they all just slip into their roles.
This is a triumph of a movie, and what makes it even more poignant is watching it while remembering that the state is once again dealing with fears of a similar outbreak.