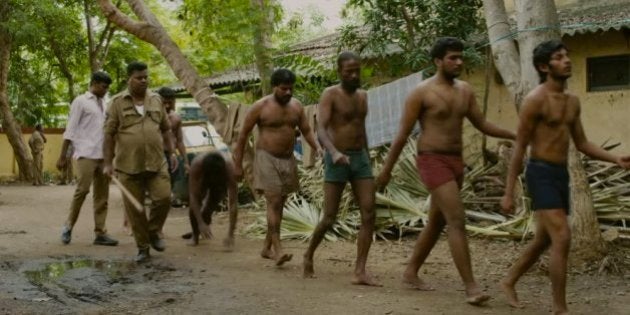 53-year-old Coimbatore-based auto rickshaw driver M Chandra Kumar not only dodges traffic and speaks nicely to strangers, but he also writes whenever he has free time.
This habit of his led to him writing no less than six books in Tamil, starting with Lock-Up, published in 2006. He was, understandably, speechless when critically-acclaimed Tamil film director Vetrimaaran came to him a couple of years ago and asked if he could adapt it into a film.
On Thursday, the film Visaranai will become the first Tamil movie to have its premiere in the Orrizonti section of the ongoing 72nd Venice International Film Festival, which ends on September 12.
Kumar, a Class 10 dropout, who has been a driver most of his life, likes to document his experiences whenever he is waiting for passengers or stuck in a traffic jam. He said that he likes to observe life, which has been "his teacher", reported Hindustan Times.
Extremely disciplined and a yoga practitioner, Kumar always sticks to his usual routine, never forgetting to grab a few minutes, at least, for his writing, say his fellow rickshaw-driver friends.
Based on Kumar's first-hand experiences, Lock Up, and now Visaranai, revolve around the time when Andhra Pradesh's Guntur district police arrested Kumar and two of his friends and allegedly tortured them for 13 days for no reason. That experience spurred him to write his book, emphasising on the police atrocities as well as his opinion that the poor don't have a voice.
Vetrimaraan, who is known for his award-winning Tamil films Polladhavan and Aadukalam has credited Kumar prominently in the trailers of the film. "I liked the earnestness and honesty with which Kumar documented his suffering in Andhra Pradesh at the hands of police," the director told HT.
Visaranai has also gathered a lot of attention because Tamil film star Dhanush has co-produced it. This is Dhanush's second film as producer to get international recognition after the critically-acclaimed Kaaka Muttai.
The film stars Attakathi Dinesh, Anandhi, and Aadukalam Murugadoss in the lead roles.
@VetriMaaran' s "Visaarnai" to play in the Orrizonti at Venice.. way to go for Tamil Cinema.. what a super thrilling film it is..

— Anurag Kashyap (@anuragkashyap72) July 30, 2015