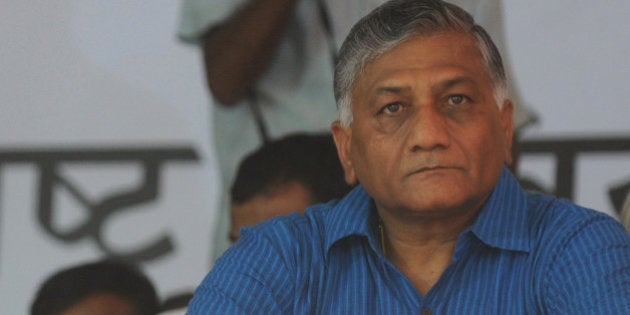 The BJP on Wednesday decided to distance itself from Union Minister VK Singh's sarcastic tweet directed at journalist Arnab Goswami and the TV channel he helms and a party spokesman said the retired general should be the one to explain his 'presstitute' comment.
'Presstitute', a play on the word prostitute, was meant as an insult and it's definitely not the first time that Singh has used the word to berate the media. In 2014 Singh allegedly used the word to describe journalists who wrote a story on the movement of army units.
It has not gone down well in the political circles.
Friends what do you you expect from presstitutes. Last time Arnab thought there was 'O' in place of 'E' #TimesNowDisaster

— Vijay Kumar Singh (@Gen_VKSingh) April 7, 2015
"Twitter is a personal platform. The meaning of tweet can be best explained by the person who has tweeted," Times Of India quoted BJP spokesperson Sambit Patra as saying.
The Minister of State for External Affairs also rubbed many the wrong way when he compared the Yemen evacuation operation with his visit to the Pakistani mission recently.
"Actually speaking, the operation (evacuation) in Yemen is less exciting than going to the Pakistani embassy," he said in Djibouti when asked about his overseeing the evacuation of Indians, reported PTI.
"It is very unfortunate that a minister is using abusive language against the media. He is holding a very important position. It is for the Prime Minister to take a call on this," Congress spokesperson Shakeel Ahmed told Hindustan Times.
The Left parties said such comments "revealed the mindset" of the minister, reported HT.
The tweet also upset the Broadcast Editors' Association general secretary NK Singh who told CNN-IBN that such comments "deteriorate the image of (the) government."
"It is very unfortunate that a minister is using abusive language for the media. Modi should take a call about this. VK Singh has done these kind of things earlier too," said Nationalist Congress Party leader Tariq Anwar.
While many politicians wanted Modi to decide Singh's fate, journalist Rajdeep Sardesai said that he expected an apology from him. "You have insulted my profession General Saab, and if you felt offended as a soldier when you were targeted all those years ago, then I have every reason to feel offended today. Hisaab barabar (tit for tat)," he wrote on his blog.
Last month, a major row had erupted when Singh had attended Pakistan's National Day at the High Commission in New Delhi.
However, after the reception, Singh posted some mysterious tweets with the words "disgust" and "duty" in them, which were widely interpreted as his displeasure over being asked to represent the government at the Pakistan reception.
The next day, he had called a press conference and had said that his tweets were directed only towards the media persons who questioned the intent of the government and also the stance on countering "Pakistan sponsored terror".



Popular in the Community