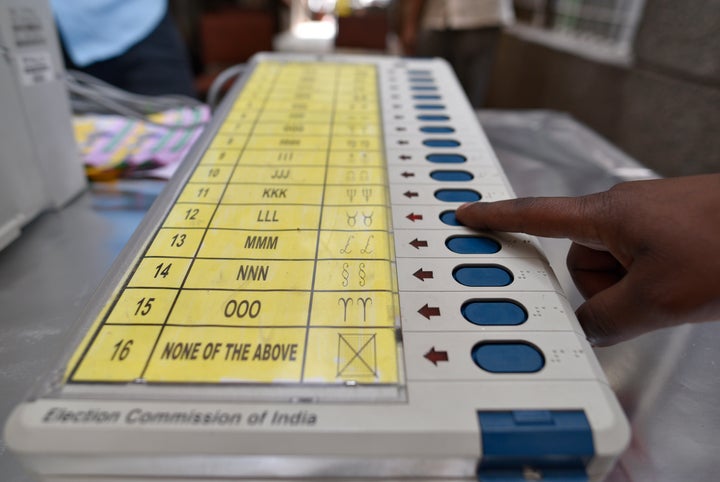 In the Indian elections, voters have the option of not just voting for the candidates in their constituency but also rejecting those candidates by voting NOTA.
What is NOTA?
NOTA, meaning None Of The Above, is an option on the ballot which allows the voter to exercise the option of not voting for any of the contesting candidates in the fray.
The NOTA button is the last button of the Balloting Unit below the panel for the contesting candidates, the Election Commission says.
If any voter asks about NOTA, the polling officer of the booth shall explain it to the voter and allow franchising his/her option, the EC's website says.
When and why was it introduced?
According to the court's judgement, not allowing a person to cast a negative was against "the very freedom of expression and the right ensured in Article 21 i.e., the right to liberty." The court said providing the option of NOTA would encourage more voter participation and compel political parties to nominate a sound candidate, while protecting the voter's right to secrecy while casting his/her ballot, Firstpost reported.
How many voted NOTA in the 2014 election?
Tamil Nadu's Nilgiris seat registered the most number of NOTA votes at 46,559 while Lakshadweep had the lowest at 123.
News18 reported the results of assembly elections in Chhattisgarh, Mizoram, Madhya Pradesh, Rajasthan and Telangana saw NOTA votes outperform against parties like Aam Aadmi Party and Samajwadi Party.