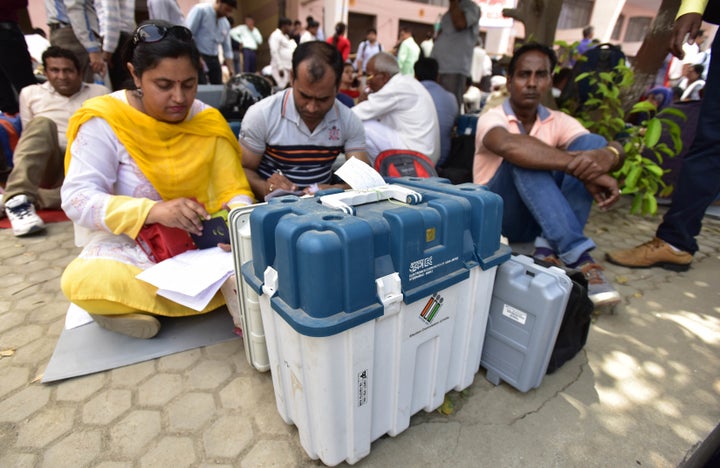 1. The EVM Smashing
The day began with Jana Sena party candidate Madhusudan Gupta smashing an EVM in Andhra Pradesh's Guntakal, alleging that party symbols were not properly printed on the ballot unit. He was arrested.
2. Allegations Of Fake Votes
BJP MP Sanjeev Balyan decided there was "fake voting" going on in Muzaffarnagar because officials were not checking faces of women wearing burqas while voting. The EC had to fact-check him on that.
3. The 'Coincidental' Food Packets
'Namo Foods' packets showed up for personnel working at a polling booth in Noida's Sector 15A, which had absolutely nothing to do with any political party and was completely "a matter of coincidence", the Noida SSP said.
Congress voters in Jammu and Kashmir's Poonch said they were not able to vote for the party. Omar Abdullah tweeted about it, but the district's EC official claimed the glitchy EVMs had been quickly replaced.
Several voters tweeted that indelible ink, meant to stay on your finger for weeks as proof of having voted, was washing off quickly.
6. Andhra Candidate Who Locked Himself Up
Andhra really couldn't catch a break. TDP candidate Kodela Sivaprasad Rao reportedly locked himself up in a polling booth and had to be dragged out by the police. We don't know why yet. Will we ever?
I know you didn't ask for more, but BONUS!
While people voted or attempted to in the world's largest democratic exercise, BJP chief Amit Shah held a rally in West Bengal's Darjeeling where he said, "We will ensure implementation of NRC in the entire country. We will remove every single infiltrator from the country, except Buddhists, Hindus and Sikhs."
What a day! Only six more phases to go before we get to the counting.