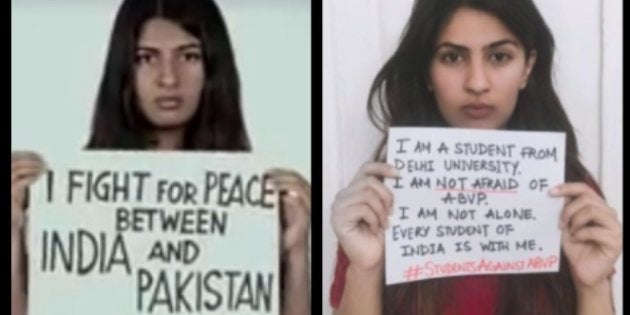 Twenty-year old Gurmehar Kaur, who had started a Facebook campaign against Akhil Bharatiya Vidyarthi Parishad's (ABVP) role in the 22 February fracas in Ramjas College, has been facing the wrath of social media trolls. However, unlike the numerous trolls, an association of war veterans from Patiala have come out in support of the Delhi University student, and has even come forth to fight a legal battle on her behalf. Reiterating these veterans and extending their support is the Delhi Sikh Gurdwara Management Committee that has condemned the attacks on Kaur.
Kaur had changed her Facebook display picture to one where she is seen holding a placard that reads, 'I am a student from Delhi University. I am not afraid of ABVP. I am not alone. Every student of India is with me. #StudentsAgainstABVP.'
After that, social media trolls dug out a year-old video of Kaur's where she is seen making a case for peace between India and Pakistan, extracted one sign that reads 'Pakistan did not kill my dad, war did', put it out of context, and trolled her for being pro-Pakistan and an 'anti-national'.
Kaur has claimed that she has even received rape threats. After the incessant trolling, Kaur said in a series of tweets that she was withdrawing from the campaign as she had endured enough.
Now, according to a report in the Times Of India, the Punjab State Ex-Servicemen Welfare Association (SEWA) has offered to help Kaur with filing charges against those who threatened her with rape. Members of the association, who are war veterans themselves, have voiced concern over the rape threats Kaur received.
According to the Times Of India, SEWA president Colonel Kuldip Singh Grewal said that they will ensure that a formal complaint is lodged against those who threatened rape. The veteran, who fought in the 1971 India-Pakistan war, said that Kaur was free to air her opinions and that they deserved to be heard.
Another veteran, Colonel Tejinder Singh Bajwa said that no one should remain unaffected when a daughter is threatened with rape. Brigadier Balwant Singh Tejey also condemned the rape threats.
Adding to this, Manjit Singh GK, President of the Delhi Sikh Gurudwara Committee, condemned the vicious attacks and also said that along with their support they will also provide foolproof security to her if need be.
You can watch his message on Facebook here:
Popular in the Community